By Ayo Onikoyi
With two weeks in the Biggie's House, the Big Brother Titans are beginning to stir things up – big time. Just as Biggie has enforced a siamese-kind of partnerships among the 24 Housemates, splitting them into 12 units of two Housemates each, the shape of what to come has begun to materialise.
From the first day of the show, it became apparent that sex would be very much in the air as many Housemates made it succinctly clear they would be taking on the opposite sex for good measure.
So, pheromones are in abundance in the air. For those not so up to speed with big word, essentially, pheromones are a hidden form of communication. They send signals from one individual to another of the same species. This triggers a response in the individual receiving those signals, such as a hormonal change or specific behavior.and we are beginning to see a lot of that.
Highlights.
Last Sunday was supposed to be an eviction day with 15 Housemates up for eviction. But Biggie came with his usual twist and no one got the hammer. With 24 Housemates still in the house and looking to clinch a whopping $100,000 prize, everyone appears to be unraveling their gameplans just as things are beginning to take shape.
Instead of the eviction last week, Biggie introduced a new gameplay where he paired the housemates (male and female), and from different nationalities with their respective partners. He paired every male South African housemate with a female Nigerian housemate and vice versa.
In a typical "sink or swim" situation, whatever happens to one partner affects the other. They will both share evictions, strikes, and even disqualifications – making each housemate accountable for the other who they have been paired with.
Thabang got paired with Nana, Nelisa with Yemi Cregx, Juicy Jay with Olivia, and Jaypee with Lucay. Justin is Yvonne's partner, Tsatsii partners Ebubu, Kanaga Jnr partners Blue Aiva, Yaya's partner is Marvin, Mmeli partners Jenny O, Sandra partners Theo, BlaqBoi partners Ipeleng while Miracle partners Khosi.
Perhaps the biggest highlight of last week was BlaqBoi and Ipeleng emerging the Head of House after their dexterity at the games.
The "Ships"
It is said that Biggie's House is always about situationships and relationships. And the early gladiators in this instance have taken to the arena to display their crafts, guile and trickery. From the Friday pool party to the Saturday night party, it has been razzledazzle of emotions, twists and counter twists.
Yemi-Khosi-Blue Aiva love triangle
Housemate Yemi appears to be the most active male in the house when it comes to dipping into the female territory. Barely days in the house, Yemi appeared to have been attracted to Khosi who also looked set for the ride. They were clearly an item and even shared a couple of kisses until penultimate Friday when four new Housemates were introduced and Blue Aiva waltzed in.
Yemi and Khosi may have had a good thing going but Blue Aiva didn't get the memo as she warmed up to Yemi who many have come to tag a natural "Yoruba Demon" on accounts of his looks and big libido. Blue Aiva and Yemi took the Saturday night party by storm, frolicking together, sensually and otherwise, leaving Khosi looking rather forlorn.
The heartbroken Khosi was spotted a number of times sulking and she was seen telling another Housemate she was done with Yemi while Blue Aiva appeared to be steering the wheel of Yemi's heart, with cosy moments and a few kisses.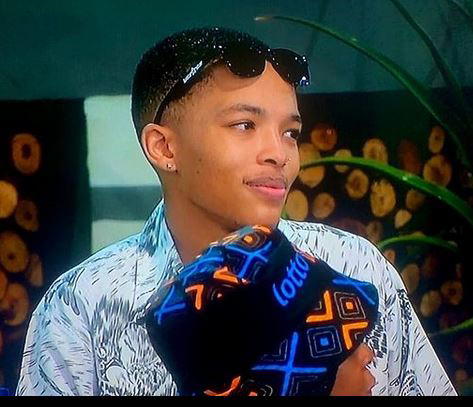 "You should have waited at least three days before you moved on," Khosi was seen telling Yemi. And Yemi had retorted, "If I were to be with anyone, she has to be okay with sharing". While Khosi appears to be having issues with sharing Yemi with anyone, Blue Aiva appears to be carefree and enjoying the ride.
Lukay and Ipeleng
Housemates Lukay and Ipeleng have started their romance slowly but appears to be the first to have crossed the Rubicon. Many believed the duo actually had sex on Friday morning, after days of haranguing by Ipeleng for Lukay to take the bull by the horn.
"You have allowed me intimately beyond the borders and I appreciate that,especially from you. You don't strike me as a type to just let someone, thank you, you won't regret it," Lukay said to Ipeleng, suggesting they must have crossed the Rubicon after looking ruffled while exiting a room.
Yvonne and Juicy Jay
Housemates Yvonne and Juicy Jay have been romancing each other without very much in the way of crossing limits. But last week they shared a couple of passionate kisses and cuddling. But it6 appears Yvonne is more keen that Juicy Jay and one may be right, something commitall is in the offing.
Thabang and Nelisa
Housemates Thabang and Nelisa are playing it close to the chest but no doubt, there are huge pheromones circulating between the duo. They cuddle, neck and only need to kick something soon to show the level of their seriousness.
Marvin and Yaya
Housemates Yaya and Marvin aren't exactly guilty of anything yet but there is no denying there is a sort of attraction between them. They appear to get a kick out of each other's company.
Nudity
Maybe there haven't been many naked bodies. But two South African girls have shown us the size of their girls. And one even flashed her bum by undressing in front of others.