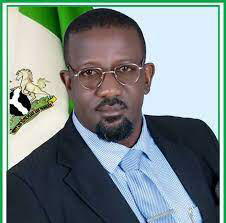 South East Campaigner for the Presidential bid of Asiwaju Bola Ahmed Tinubu of the All Progressives Congress (APC), Dr. (Denge) Josef Umunnakwe Onoh, is also the Executive Chairman of Enugu Capital Territory Development Authority (ECTDA). He was one of the 17 Governorship Aspirants of the Peoples Democratic Party (PDP) for the 2023 election in Enugu State. He didn't emerge victorious but gathered experiences which he shares in this Interview. Excerpts:
Don't you think it as an anti-party activity for you to campaign for the APC presidential Candidate, Bola Tinubu, while you are still a member of the PDP in Enugu state?
By perception there is nothing like anti-party in it when we go by the guidelines and set aside the party constitution, there are no criteria that constitute anti-party. I am not claiming to be campaigning for Asiwaju Ahmed Bola Tinubu, indeed I am campaigning for him and I am committing my financial resources, independent of the PDP or the APC, personal resources to ensure that I contribute to producing the next president of Nigeria. You can't say it's anti-party because the issue started with the PDP deviating from the agreement, so my party started the anti-party by deviating from an agreement which led to producing a northern presidential candidate which is disgraceful to some party members because you already said there should be the rotation and so the party defaulted.
Everybody that participated in the emergence of a northern presidential candidate is also responsible and guilty of anti-party activity, but not me. Mine is based on the principle that a lot of politicians don't have and so it's not an anti-party activity. They should first of all sort out a problem they have internally and that is in respect of the presidential candidate, but in the other political offices, I will still support PDP.
As one who is still working under Governor Ifeanyi Ugwuanyi who is still in PDP, did you take permission from him before taking a decision to campaign for an APC candidate, or are both of you in agreement?
I am a full-grown man and I have my political future. I did not take the permission of Governor Ugwuanyi to go ahead and the relationship between me and Governor Ugwuanyi is not about party or politics but transcends the political realm. We are brothers, good friends, before any political party. So as a free Nigerian vested with all the constitutional rights, I have the right to association and I am exercising my fundamental right which has nothing to do with my relationship with Governor Ugwuanyi.
As one of the 15 PDP governorship aspirants from Enugu East senatorial district who signed an MoU to support any one of you that emerges as candidate, do you still abide by that agreement going by this your deviation to campaign for an APC presidential candidate?
No, I do not abide by that agreement. The reason is that the agreement was made in lieu of a cooperative coexistence and that agreement was made with the hope that we will unify in a closed-door meeting where the candidate will emerge and everybody will go home with their self-respect intact, but what happened after that agreement was signed was a total deviation from the objectives of which that agreement was signed. So I can say that I am not abiding by that agreement because that agreement was already floored by the time a candidate emerged.
Does that mean that you are in support of some of your colleagues who have violated the agreement and have moved on to join other political parties?
I support their choices to seek for political offices in any where they can find them, but as a line of principle I will defend their rights to go to any political party, but I am not going to any other political party because I am still in PDP, but I support them in taking any move they like in pursuit of their political aspirations.
Were you disappointed that Governor Ugwuanyi did not choose you as an alternative to Peter Mba or Chijioke Edeoga who hail from core Nkanu and Isi-Uzo, respectively?
I don't know how to play politics of the gallery or praise worship, but as to whether I was disappointed, yes, if I tell you that I was not disappointed, I'd be lying. I was disappointed at the process through which Peter Mbah emerged, but I have also come to understand the forces of things in life, I've come to understand causes and effect, that in every race somebody must emerge and so irrespective of my personal fillings, before I went into this race, I knew that somebody will emerge and having in mind that somebody will emerge, the process is what I am disappointed in but not on who emerged. I am comfortable with Peter Mbah and whatever happened that made him emerge is the will of nature and for me not to have emerged is the path God set for me. I am happy for Peter as I am with myself and I was the first person to congratulate him. I can also conveniently tell you that Peter has been my very good friend for over twenty years; therefore, his emergence is equivalent to my own emergence. He is the only person closest to me among the other aspirants and I respect every other aspirant that contested the primary election through which we all grew close bonds with each other which has brought brotherhood and friendship that would not have been achieved.
Are you in the same school of thought that Mbah is not popular but is relying on his running mate, Ifeanyi Osai, to actualize his campaign?
I agree that Peter is not popular in Enugu state. Yes, he is a fine person and it takes once achievement to become popular. So, it's for him to divest himself from every ethnic political tentacle and prove himself. He cannot just be popular overnight but he needs to do something that can endear him to the people. The idea of being popular is up to him, depending on what he does as a governor. If the running mate has more clout, he should use it to ensure that he can become popular by his work. Let his works speak for him and not just about his personality. Osita Osadebe and Fela Anikulapo-Kuti were popular because of the genres of music they played and so if Peter Mbah has a good plan for Enugu state, he would be popular among the Enugu state people.
There is anger against Governor Ugwuanyi for alleged promise to different aspirants, separately, that they would emerge as preferred candidates. Some even said he bought the forms for them giving them assurances of victory whereas he had Peter Mbah close to his chest. Do you think their anger is misplaced?
Well, in my own case I bought the PDP nomination form for myself, nobody bought the governorship nomination form for me. I had to sell a properly of mine to buy the form, but like I said my being part of the Ugwuanyi administration is more of a brotherhood and it's not about politics. If I tell you that their anger is misplaced, I'd be lying to you. Their anger is well placed because the process was not well-handled. As human beings we are bound to make mistakes because nobody is perfect. Yes, the processes that triggered this anger were not well handled by the Governor and the party did not also handle it well. The truth however is that most of those that went to the Governor all went to take from him and none had anything to give. I am close to the Governor quiet well and I feel bad quiet alright but I also feel happy because if it was not me and it was Peter. Peter is my friend and I appear victorious but whether the process was okay, I would say no. So these people have to be angry.
However, Governor Ugwuanyi is someone I can never deny irrespective of whatever that transpired. There are two people I owe in Enugu state, first is Chimaroke Nnamani whom I have so much respect for because I benefited from his administration and political support and the second is Governor Ifeanyi Ugwuanyi whom I also benefited immensely from as his SSA political matters, SSA security matters, SSA Special projects, he made me chairman joint task force for ministry of Environment and Capital Territory and latter Executive Chairman Enugu Capital Territory Development Authority. So I would be lying if I say that I am not one of the political beneficiaries of Governor Ugwuanyi and I owe him so much. Yes, as a human he has his faults but the bond that unites us transcends politics.
He is first my brother, my very good friend; governorship is an office where people come and go but brotherhood and friendship lasts beyond political offices. So in as much as there is anger generated by Mba's emergence among the aspirants, mine died the same moment. My father paid dearly for Enugu state, the bulk of politician in Enugu state would rather spend anything to eliminate the Onoh dynasty and so I cannot in any form disrespect these two people.
How do you hope to combine campaigns for two political parties, one for the APC presidential candidate and possibly for PDP governorship candidate in Enugu?
I am not going to campaign for Atiku Abubakar because I do not support a northern presidential candidate. Presidential election comes first and I am not asking anybody for money. I am campaigning for Asiwaju Tinubu with my own money. Then after the presidential election, even if Asiwaju does not win in Enugu state, he would have gathered reasonable votes in the state. It would be one of the best ambitions fulfilled. On Peter Mba's election, I will support him because I do not see these other candidates in Labour party or APGA winning Peter Mbah of the PDP. The greatest politician is that one who commands influence outside office and that is the difference between Asiwaju and others. If Peter Mabah remains focused, he will do well because he will win. Frank Nweke and Chijioke Edeoga are my very good friends but they will not win. They go with politics of sentiment but Peter has not and I will support Peter to the end
Subscribe for latest Videos