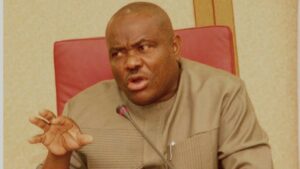 By Bose Adelaja & Olayinka Latona
"Considering the financial situation in the country, Governor Wike should have tempered justice with mercy, by making the owners of the demolished buildings pay fine. Also, the hotels' activities should have been delayed for months because this is a trying time for everyone." -Aanuoluwapo Ogunjimi Businesswoman
"Should one shoot a baby to death for urinating on his body? Honestly, the judgment is grave for the offence committed and the governor shouldn't have been sentimental about it.
"Also the hotel owners should have obeyed government order to aviod this kind of scenerio." -Ben Oyedele, Artist
"The demolition of the two hotels and auctioning of the cars, is a welcome development and acceptable than thousand loss of lives resulting from COVID-19 pandemic.
"The fight against Corona Virus pandemic is like the fight against an unseen enemy which needs the maximum cooperation." -Victor Okoro, Publisher
"I think Governor Wike he has taken the right step at this point in time. In most cases, Nigerians don't just learn in a simple way. The governor has warned them several times but they won't listen.
"I think the governor's actions are in order." -Opia Ifeanyi, Entrepreneur.
"Governor Wike is power-drunk; I see his action as a full blown tyranny. It would have been better if he had used the building for isolation centers, rather than demolishing it.
"He has destroyed some people's source of livelihood. The owners of the hotel should sue the state government." – Farouq Ibrahim – Corp Member
"The demolition of hotels and auction of seized cars in Rivers state, as penalty for violating the lockdown directive to prevent COVID19 is an abuse of power by Governor Wike.
"It is unlawful and against his constitutional power. I appeal to the court and federal government stop him now." -Sanni Shakiru, Student