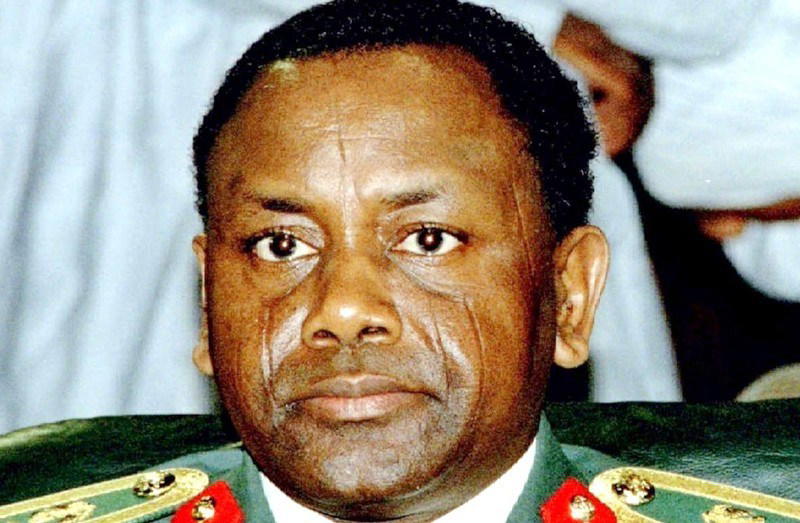 Gen. Sani Abacha
By Olu Fasan
Sani Abacha, Nigeria's kleptomaniac and despotic former dictator died in office in 1998. But if anything reminds us of him, it is Shakespeare's famous words: "The evil that men do lives after them."
For 22 years after Abacha's demise, he is still talked about in local and international media. Not for any good, he did – he did none as a dictator! – but the evil he perpetrated. Worldwide, Abacha's name is a byword for utter brutality and grand corruption!
Last week, Western media carried the latest news in the endless saga of Abacha's stolen assets. A story in Britain's Sunday Times was titled: "£250m looted by dictator returned to Nigeria … with strings". Another was entitled: "Dictator's henchman in line for £87m pay-out"! All these stories referred to Abacha's colossal robbery of the Nigerian state treasury, massive laundering operation and mindless siphoning of public funds overseas.
In his brilliant book entitled The Last 100 Days of Abacha, Olusegun Adeniyi, chair of the editorial board of This Day newspapers, wrote: "Whatever we thought was impossible in our climes, Abacha, without even a show of reticence, and sometimes with every appearance of enjoyment, did." Of course, he did, with utter impunity! I mean, where does one start? Is it his reign of terror, with the state-sponsored murders? Or his plundering of Nigeria's wealth?
Once he eased out the so-called interim government of Chief Ernest Shonekan in November 1994, Abacha entrenched himself through brute force. According to the Encyclopaedia Britannica, Abacha "assembled a personal security force of some 3,000 men". He unleashed a reign of terror in the country, sending assassins to kill pro-democracy activities.
In 1995, Abacha defied the world and hanged Ken Saro-Wiwa and eight other Ogoni activists! Neither the Pope nor Nelson Mandela could persuade him to spare their lives. Nigeria became a pariah state, ostracised by several countries and ejected from the Commonwealth! But Abacha's brutality apart, what about his kleptomania? In 2004, Abacha was listed as the fourth most corrupt leader in history.
In her book, Reforming the Unreformable, Dr Ngozi Okonjo-Iweala, former finance minister, said that in his five years in power, Abacha sent abroad "an estimated $3 billion to $5 billion of Nigeria's public assets". Western countries found evidence of Abacha's large-scale corruption so compelling they concluded that he ran a criminal network.
Indeed, the US government created what it called the "Kleptocracy Asset Recovery Initiative", where about $480 million Abacha's stolen assets were kept. A US Assistant Attorney General said in 2014 that "rather than serve his country, General Abacha used his public office to loot millions of dollars, engaging in brazen acts of kleptocracy."
Yet, throughout all these years of trying to retrieve Abacha's loot, successive Nigerian governments have acted against the country's interests. First, in 2002, the government reportedly struck a deal with Abacha's family, allowing them to keep half of the $4bn or $5bn that he stole. Second, most of the US$500m that the Swiss government returned to Nigeria in 2017 is believed to have been "re-looted"!
Now, according to the Sunday Times story, a current governor who acted as a bagman for Abacha may receive $107m from another tranche of the looted assets "under a sweetheart deal… " All of this led the US to attach strict conditions, including a 'claw-back' provision, to the $301m that it recently repatriated to Nigeria. The truth is that Nigeria risks not retrieving the remaining Abacha stolen funds if the ones repatriated are misused or embezzled.
Sadly, there is an utter lack of transparency and accountability in the administration of the recovered loot; instead, there's arrogant resistance to external monitoring. Yet, Nigeria's failure to safeguard repatriated Abacha loot simply reinforces the perception that it is a fantastically corrupt nation!
But that's not my main angst here. What pushes my buttons, and should push yours, is that Sani Abacha is still treated as a national hero. Everywhere you look, there are national monuments named after him, not before his death but posthumously.
These include Abacha Barracks, Abacha Stadium, Abacha Specialist Hospital, Abacha Way in Abuja, and many others! Go to Uganda, you will hardly see any public recognition of Idi Amin anywhere, or go to Germany, there is no national monument named after Adolf Hitler. The Bible says: "Woe unto them that call evil good and good evil." Yet Nigeria delights in calling evil good! Why?
In 2014, when the government celebrated Nigeria's centenary, President Goodluck Jonathan honoured Abacha as one of the greatest Nigerians of the century! Okay, if he had to include Abacha in the "Centenary Honours Awards", as other former leaders were included, why did he put him in the category he did? For instance, Major-General Aguiyi Ironsi, another former military ruler, was honoured in the category of "Pioneers in professional callings/careers".
But see where Jonathan put Sani Abacha: "Outstanding promoters of patriotism and national development." Really? How could Jonathan's government be chasing Abacha's stolen billions all over the world and yet honour him as an "outstanding promoter of patriotism and national development?" Did Jonathan seriously mean that? It was galling!
Well, even more, galling is President Buhari's deification of Abacha. In 2008, on the tenth anniversary of Abacha's death, Buhari said that Abacha "never stole" Nigeria's money. To date, Buhari has not recanted, even though his government collected $500m Abacha loot from Switzerland and $300 from the US. So, who stole those funds? Here's Buhari's response.
In 2018, he said: "I don't care what opinion people have of Abacha; he loved Nigeria." How? Buhari said because he "built roads"! Abacha built roads. So, his industrial-scale kleptomania and utter brutality become irrelevant? Unbelievable!
Most countries would have removed Abacha's names from national monuments. In the UK, people have been stripped of knighthoods or denied elevation to the House of Lords. Sadly, Nigeria has no moral compass. It calls evil good. But progress will elude Nigeria unless it embraces and embeds the right moral values.
@olu_fasan. LSE account:
[email protected]
Gen. Sani Abacha