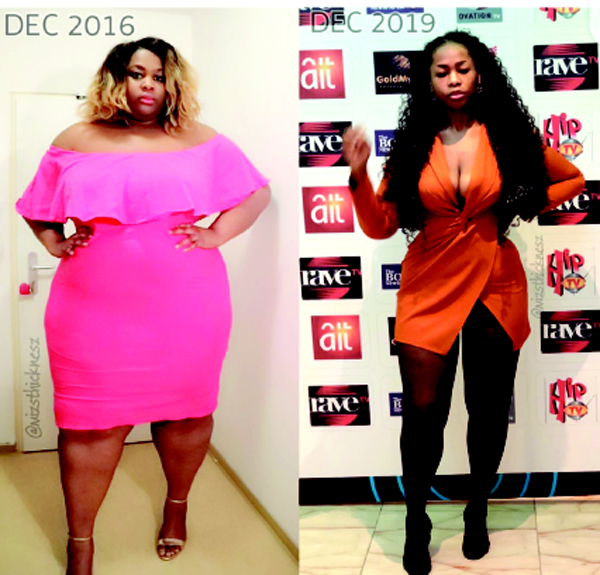 By Ayo Onikoyi
Germany-based Nigerian Deborah Olawoyin, a BBW (Big Beautiful Woman) and plus size model was once adjudged to have one of the biggest, widest backsides on Instagram but in a little over a year she had transformed into a thin beautiful woman, having lost over 120kg of weight.
Of course, this puts shame to the campaign that women should stay BBW and be proud of their body. In fact there's a massive campaign assuming a form of movement that BBWs are the sexiest people and most fashionable, to the extent that many pageants have sprung up to put icing on the cake. But for Deborah Olawoyin who goes by the name "Mizsthicknesz" on Instagram something must have spurred her to shed the garb of BBW to become a slay queen.
"I was comfortable to some extent in my former body because I carried my weight well but diabetes runs in my dad's side of the family and my grandmother died of it in 2013. So, I knew a drastic change was needed", she said in a chat with Potpourri.
Unbelievable, as it may sound, she said when she started her weight programme many of her followers on Instagram left her because what attracted them to her in the first place wasn't there anymore for them to see.
"I lost lots of followers during my weight loss programme but now it's easier to see through the facade of people and know who wants you because of big ass and who wants to genuinely know you but nothing has changed romantically. I never had issues with men, no matter my size. I rocked every size well," she added.
Continuing on how men reacted to the change in her body size, she said, "A lot of men are still attracted to me. The crowd just changed a bit. I lost followers that only followed me because I was BBW.  I gained followers that loved that I was transforming and being healthy. Some that left came back because they loved my determination. Like I said, men were never my problem.  I'm at the normal weight for my height now."
Deborah lost 120kg (2601bs) in a year and half. She started her weight loss programme in March of 2017 and by March 2018 she had lost 100kg. She's been maintaining that since 2019. She had a loose skin surgery, starting with a tummy tuck.
Carole Shaw, publisher of BBW magazine, a fashion and lifestyle magazine, was the first person to coin the abbreviation, BBW, meaning Big Beautiful Women, an euphemism for an overweight woman as far back as 1979 but it never became a campaign of sorts until the advent of social media. The campaign became so loud, plus size modelling became a fad many embraced with great fervour.