By Rotimi Fasan
AFTER weeks of anxious waiting by young Nigerians who participated in the Unified Tertiary Matriculation Examination, UTME, the Professor Ishaq Oloyede-led Joint Admissions and Matriculation Board, JAMB, has finally released results of the 2019 edition of the examination.
The examination held from April 11 through 17. Since JAMB raised the bar in its use of computer-age technology in its conduct of matriculation examinations, the release of the latest results must be one of the most anticipated because of the unusual delay.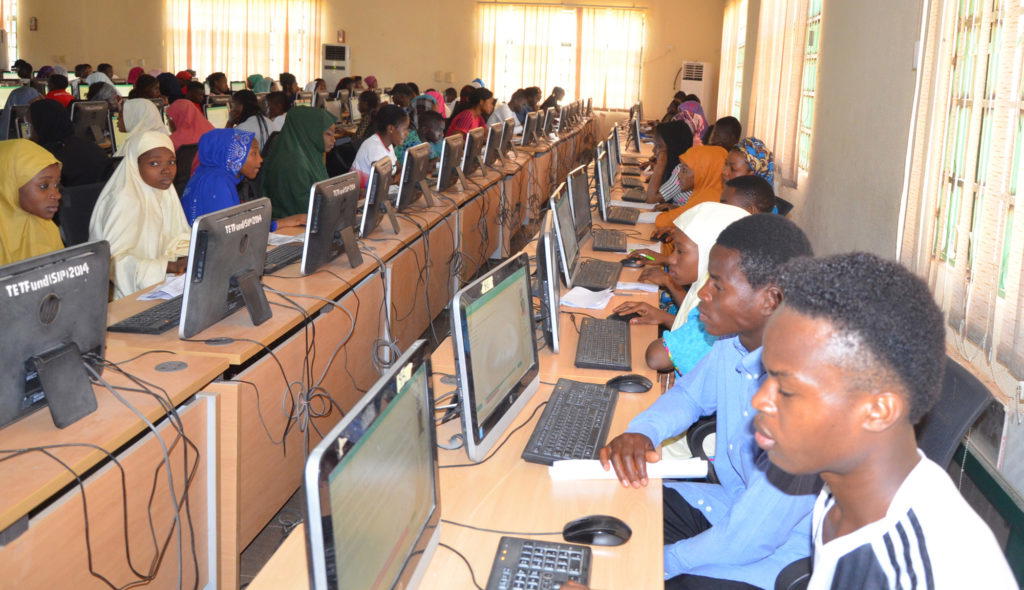 Nigeria's university system due for overhauling – Ezinwoke
In recent years, the body  has been both proactive and innovative in its activities. Hardly a year passes by without the Board introducing new ways of checking examination frauds that candidates and their parents frequently come up with.
The examination body tries to stay at least one step ahead of fraudsters. However, the April exams would appear to have tasked its ingenuity and patience.
Reports of malpractice were widespread. Highly placed and apparently responsible Nigerians were implicated in cases of examination fraud as were centres where the examinations were held. Hundreds of these so-called computer-based test centres, CBTCs, across the country that had become havens of fraudsters, lost their accreditation.
Many candidates and their collaborators, ranging from their parents to operators of the CBT centres are now persons of interest to government investigators. Law enforcement agents paraded a few of them in the media after their arrest. Officials of JAMB caught others in the very act.
The Executive Secretary of the Board thereafter vowed to run integrity test on data collected during the examination to be sure no fraudster beat the security arrangement in place.
The determination to keep things right no doubt came at a cost, part of which must have been the delay in the release of the results. Altogether about 1.7 million Nigerians participated in the exam and nearly 80 per cent of these scored less than 50 per cent.
As the years go by, more and more candidates taking part in the UTME and even the West African School Certificate Examination and similar examinations have less than 50 per cent in their overall score or in English and the STEM subjects.
Yet, most of these make it to universities and other tertiary institutions of their choice all because of lowered entry standards. Many higher institutions today have considerably lower standards of entry requirements, at least in the UTME.
With scores as low as 140 and 160, candidates are making their way into many of our higher institutions. It is as if education administrators and other stakeholders are desperate to open the doors of higher education to just about anyone rather than the best candidates available.
The downward slide began the moment institutions started admitting applicants who scored 180 out of 400. It all seems ages ago that candidates who scored less than half of the total score obtainable in an exam knew they had failed.
Then to have less than 50 out of 100 was failure. But things have since changed. Forty is now a passing grade in most secondary schools to say nothing of higher institutions. It is, therefore, understandable that 180 became acceptable admission score.
It was just a matter of time before we went down to 160 which all led to the outrage that followed a proposition to bring down the passing score to 120 for which JAMB came under fire a couple of years back. Yet, the sustained lowering of admission requirements is a reflection of what things have shaped into in our educational sector. It is a way of facing reality rather than live under the illusion of emplacing standards nobody meets.
JAMB has demonstrated that many institutions insisting on high UTME score are engaged in an illusory game of self-deceit. It is a mere put-on.
he fact, the Board said, is that most of these institutions quietly go behind to lower their cut-off marks, as they often fail to meet their admission quota due to very poor scores posted by applicants. In this age when government is washing its hands off education and insisting that higher institutions find their own means of sustenance, education administrators are resorting to diverse means of survival, and one of these is to open their doors to applicants willing to pay even if they are academically weak.
JAMB: How to check your 2019 UTME result
Our misplaced sense of values is costing us far much more than the monetary cost government requires to adhere to global standards by providing better funding for education while ensuring judicious management of these funds by the administrators.
Where we should accord appropriate respect to the individual gifts of our young people by encouraging them to go in the direction they are best suited and incentivising them appropriately, we shape them into caricatures of our own image and force them into intellectual pursuits for which they are poorly equipped. In a society like ours, we are yet far from realising that university education is not for everyone. Where we have and need people with vocational and technical training, we insist on making doctors and lawyers.
We have turned our polytechnics and technical training institutes into spaces for dropouts who cannot fulfil their quest for white-collar job training in our universities.
Our colleges of education and polytechnics have become havens of the worst our universities would not accept. They crave name change all for societal recognition. Yet, we expect these educators to train our next generation of intellectuals, engineers and doctors.
We need to get a handle of things and realise there is a lot more we need to do. Otherwise, JAMB will continue to struggle with exam fraudsters who are increasingly unprepared for higher education or enjoy the glamour but dislike the hard work it demands.
How could we escape the scourge of desperate UTME candidates where many of them do not even know how to use the computer that is the basis of their computer-based tests? Many UTME candidates simply cannot find their way around a computer.
That is what my involvement in the conduct of the examination has shown me in the last couple of years. Even when JAMB tries to reduce candidates' unfamiliarity with its exams by organising mock exams, the fact is still that many candidates cannot use a computer.
Many Nigerians tend to confuse the fact that these candidates use some of the latest smart phones and electrical gadgets – we confuse the fact that they are social media-savvy with computer literacy. The truth, however, is that many of the UTME candidates are ignorant of how a computer works.
They cannot do the basic things: navigate from one page to another, right click or scroll up or down. Indeed, many are scared of a computer mouse! Is it any wonder that today's undergraduate cannot type their own work? JAMB's fight with fraudsters is far from over.