Collects N460m revenue in Jan-March
By Eguono Odjegba
A total of N460.8 million has been collected by the operatives of the Nigeria Customs Service, NCS, Headquarters Strike Force, between January and March this year from the South West Zone.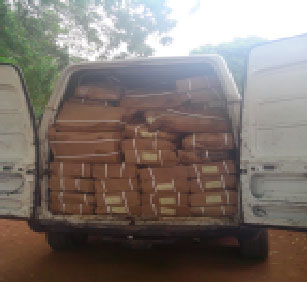 National Coordinator of the Force, Deputy Comptroller Abdullahi Kirawa, told  Vanguard Maritime Report that the seizures included a truckload of fake jewellery declared as mixed bead mould (raw material for its production) as against the actual product, in a bid to underpay the correct duty and levy. Kirawa explained that the truck contained 304 cartons x 150 packets of imitation jewellery worth N36.5 million.
Other seizures include 6, 807x50kg bags of foreign rice; two vehicles, a Toyota Avalon and MAN Diesel Truck; 1698 piece of used tyres; 508 bales of Tie-Dye fabric; 50 jumbo bales of upholstery materials and 127 bales of new Jeans trousers.
The others include 952 cartons of rubber footwear; 140 cartons of rubber soles; 108 cartons of new travelling bags and 6 bales of new school bags; 12 bales of T-shirts, 16 bales of ladies belts, 7 bales of new ladies handbags, and 50 X 25 litres of vegetable oil.
The Strike Force boss said although four suspects were arrested in connection to some of the seizures, he explained that the suspects have been granted administrative bail in line with the provision of the law. He further explained that all vehicles used in the conveyance of the questionable goods are by law forfeited to the federal government.
Further speaking on the seized jewellery, Kirawa said, "It is not contraband but then the importation has a condition. It can be imported if you pay the correct duty chargeable thereon. It was seized because its importation is contrary to section 46 of CEMA (Customs Excise Management Act) apart from it being containerized, there is concealment there and the entry made was wrong. That is a false declaration because what is in there is imitation jewellery while the entry made to the customs is mixed bead mould. The two are quite different, therefore, the person did this to evade the payment of the correct duty and therefore, it is liable to seizure".
"Whether you use the corporate vehicle, passenger vehicle or any other means of conveyance, smuggling is smuggling. By whatever name you call it, it is evil, it must be condemned by all but then, our appeal is for us to ensure that all hands are on deck to reduce the menace of smuggling. We should collaborate and we should work with each other to ensure that we keep our country safe and ensure that the desired revenue accruable to the government is collected".