By Dennis Agbo
ENUGU – ALIGBO Development Foundation, ADF, has noted that the Igbo/Yoruba cooperation has become even more eminent now because it would help fasten the realistion of self-determination pursuits of most ethic nationalities in Nigeria.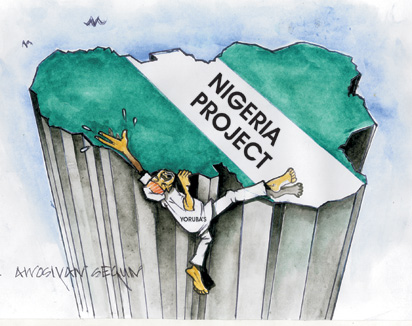 It also said that the bridge for closer ties would not only engender economic emancipation, but would further consolidate the historical and cultural affinity as already identified between the two regions.
ADF made the statements as part of its reaction to what it said was a welcome development on the Ooni of Ife's recent citations of the Igbo origin, traced to Ile-Ife.
Oba Adeyeye Enitan Ogunwusi, the Ooni of Ife, during the recent Aje Festival at Ile-Ife had emphasized the aboriginality of Igbo civilization in Oduduwa which the Igbo group, ADF, said the history should be seen as a welcome development in the restoration of positive relationship between the Igbo and the Yoruba.
Chairman of ADF publicity Bureau, Chief Abia Onyike in a statement on Sunday said the information provided by the Ooni was also reflected in the book, titled, The Cradle of a Race: Ife from the beginning to 1980 written by many Yoruba intellectuals and edited by Prof. I. A. Akinjogbin.
ADF therefore urged the Igbo nation, especially the Paramount Traditional Rulers and Spiritual Fathers in Alaigbo to reciprocate the goodwill demonstrated by the Ooni of Ife to further improve and consolidate Igbo-Yoruba rapprochement and solidarity.
"Ndigbo and the Yoruba should always emphasize those cultural and historical links as well as socio-political and economic issues which unite them, rather than those which divide them.
"Let us recall that Ndigbo, under the leadership of former Premier of the Eastern Region, Dr. Michael Okpara, went a long way to heal the wounds inflicted on Igbo-Yoruba relationship during the Nnamdi Azikiwe – Obafemi Awolowo era, by the care his government took of Awolowo and his wife, Hannah, while Awo was in Calabar Prison.
"We equally recall how Dr Okpara led a contingent of Ndigbo to identify with their Yoruba allies led by Adegbenro, during the operation Wetie, when the Yoruba nation was fighting for political survival from foreign invaders in 1965.
https://www.vanguardngr.com/2019/04/community-calls-out-nddc-on-failed-payment/
"We therefore urge Igbo Traditional Leaders to further reciprocate the goodwill of the Ooni of Ife, by agreeing to participate in the next Aje Festival in Ile-Ife in 2020, as suggested by the Ooni to further consolidate the Igbo-Yoruba solidarity.
"The consolidation of Igbo-Yoruba solidarity and socio-cultural relationship would lay a solid foundation for the inevitable broader solidarity and cooperation among them and other regions in the Federal Republic of Nigeria; we mean those regions which are earnestly in search of political and economic emancipation and self-determination," ADF said.