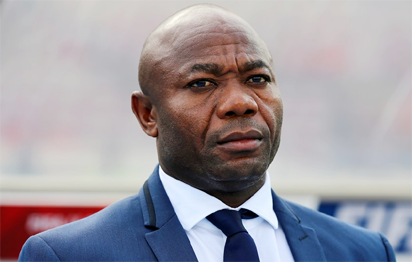 Amuneke
By Patrick Omorodion
Before 1991, not many people knew about the young lad from Eziobodo community in Imo State, Emmanuel Amuneke. Even as a player with Julius Berger Football Club of Lagos, Amuneke's name never rang a bell and seldom played on the lips of Nigerians.
His story changed that same 1991 after his inclusion in Nigeria's U-23 football team to that year's All Africa Games which Egypt hosted. Amuneke was a terror on defenders and became the target of the rugged Cameroonians who believed that once he got out of the way, their ticket for the final was gauranteed.
And they were right as Amuneke retaliated a hard tackle from one of them and got the marching order from the referee. The Cameroonians went ahead to win the gold by beating Tunisia 1-0 in the final. Nigeria got the bronze after trouncing Zimbabwe 3-0 in the third place match.
His exploits at the All Africa Games, despite the red card, attracted him to officials of the topmost Egyptian club then, Zamalek which signed him on from Julius Berger on a free transfer. From Zamalek he never looked back on his career which took him to Germany, Portugal, Spain and fanally Jordan where he retired at Al-Wehdat in 2004.
The high point of Amuneke's football career was his award as African Footballer of the Year in 1994 even as a player plying his trade on African soil. He followed with the rare opportunity of playing for the great Spanish club, FC Barcelona for three years between 1997 and 2000.
Amuneke was almost ignored by Clemens Westerhof in 1994 when he was assemblying his team for the Africa Nations Cup which held in Tunisia. Even after his inclusion following intervention from some quarters, Westerhof benched him for the better part of the competition.
Again as if he was destined to be announced greater after the All Africa Games crash, Westerhof, who was becoming uncomfortable when Zambia's Kalusha Bwalya was running rings round the Nigerian defence, included him in the final match against, Zambia were 1-0 up after only three minutes through a strike by Elijah Litana but Amuneke, combining well with Austin Okocha and  an overlapping Ben Iroha, replied two minutes later to level scores.
Again just two minutes after resumption of the second half, Amuneke put the final nail on the coffin of Zambia and Nigeria won the Nations Cup 2-1, the first time on foreign soil. He and his colleagues were honoured and promised so much, including a three bedroom apartment. It is unclear now if Amuneke is part of the few who have received their houses.
Amuneke's honours, apart from the African Footballer of the Year Award and the Africa Nations Cup medal in 1994 include, two League titles with Zamalek of Egypt in 91/92 and 92/93, a CAF Super Cup medal with Zamalek in 93/94, Olympic gold medal with Nigeria's U-23 team in 1996 and a Spanish Cup gold medal with FC Barcelona in 96/97.
Though not too lettered, Amuneke was not complacent as he continued to improve himself in his chosen career in football, veering into coaching. He obtained the UEFA  'B' and 'A' licences and capped it with the UEFA Pro licence and has been updating himself regularly by attending refresher courses.
"The rule here in Europe is that once you obtain your Pro licence coaching badge, you are mandated to undergo refresher course every year", he once said in an interview. And that may be the secret for his upward movement as a coach.
Despite all these qualifications and exploits, it was a surprise when Amuneke was still placed under Manu Garba in the Golden Eaglets as an assistant coach to the 2013 FIFA U17 World Cup which they won. Maybe the football authorities saw the potential in Amuneke and moved him up as Chief coach of the team in 2015 and he didn't disappoint. He defended the trophy in far away Chile.
From the Golden Eaglets, Amuneke was given a higher responsibility as coach of the U-20 side, the Flying Eagles. But his story with the team was not palatable as he couldn't qualify the team for the 2017 Afcon.
Though he failed with the team against their Sudanese counterparts, a club from Sudan, Al-Khartoum Watani still found him worthy of coaching their players and employed him. His stint there was however, shortlived as he quit, refusing to accept a pay cut. He left the team better than he met them. They were sixth in the Sudan Premier League with 46 points when Amuneke took over in November 2017. They eventually finished fifth.
Amuneke was never deterred. He recoiled after the Sudan experience. He however, returned with a bang, grabbing a national team job with Tanzania's Taifa Stars. He thus joined the club of Nigerian coaches who have handled other countries national teams. One being Kashimawo Laloko, who handled the Gambian national team as a technical aid from Nigeria. Then Christian Chukwu who handled the Harambee Stars of Kenya before Stephen Keshi who managed two countries, Togo and Mali.
Amuneke has done the unthinkable, qualifying Tanzania for the Africa Nations Cup, after 39 years. Only on Friday, his team were given a tough draw against Senegal, Algeria and Kenya. If Tanzania survives the group, Amuneke may have the opportunity of facing his country's team, the Super Eagles along the way.
However, a taste of how that encounter may go will be experienced today when Tanzania's U-17 side, with Amuneke expected to be on their technical bench, battle Nigeria's Golden Eaglets at the CAF U-17 Nations Cup being hosted by Tanzania. Destiny is pitching this great Nigerian against his country and former boss, Manu Garba who tutors the Golden Eaglets. Whatever happens today, Nigeria is the winner.