By Eguono Odjegba
A coalition of Concerned Freight Forwarders comprising of the National Association of Govt. Approved Freight Forwarders, NAGAFF, Nigerian Licensed Customs Agents (ANLCA), and the National Council of Managing Directors of Licensed Customs Agents (NCMDLCA) appeared to have literally collapsed, following the purported withdrawal of NAGAFF from its planned protest against the Nigeria Customs Service, NCS, over alleged extortion through multiple checkpoints.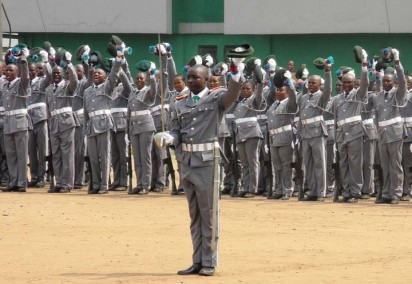 This comes as the Council for the Managing Directors of Nigeria Licensed Customs Agents, CMDNLCA, last weekend, denied being part of the coalition, just as the group has come hard on NAGAFF for allegedly playing the spoiler.
The Port Terminal Multi-purpose Limited, PTML, Chapter Chairman of CMDNLCA, Mr. Ari Ayuba, although expressing displeasure at what he called the negative effect of customs multi-monitoring units outside the ports, said the Council was not part of the decision to embark on either confrontation with the management of the Customs or decision to embark on withdrawal of services.
According to Ayuba, "If you want to down tool, you first of all dialogue, and when no truce is reached, you are entitled to engage in protests; that is the standard rule. We in National Council are Customs agents and we understand the rules of engagement. If there are issues we know how to go about them, we are not aware of any meeting where a    joint decision was taken to down tools, so we are not part of the arrangement nor part of those giving NCS ultimatum.
"Their (Customs) activities are becoming a national embarrassment apart from its economic effect. Once containers have been certified okay by operatives at the port and allowed to exit, it should be allowed to go. But if Customs insists on further checks and issuance of debt notes, then all such consignments should be traced to the valuation, CIU, examination and releasing officers.
"Many officers don't know the job well, like specialized aspects of cargo clearance and this is a major challenge. Customs management should employ professionals, chemical, electrical/electronic, mechanical engineers, and graduates of laboratory science, chemistry and physics."
Assistant Coordinator of the group, Mr Ubaka Johnny said; "There are numerous challenges we have been facing at the ports, ranging from human element to the road infrastructure. For instance, the proliferation of Customs units in Apapa has become overbearing. We also have illegal charges by terminal operators and shipping companies"
"We have situations where it takes more than one month for an empty container to get back to the port because there are no holding bays and also, as a result, the poor state of the port access roads. Who pays for the demurrage that accrues on the truck as a result of these delays? It's the freight forwarder" Ubaka lamented.
"There used to be five operational units in the ports but right now they have metamorphosed into 10 operational units. Some of these units include; CGC Strike Force, Customs Police Special Squad, Surveillance Units, Federal Operations Units, etc., discharging virtually the same functions thereby impeding smooth clearing of goods in the ports" he said.
Speaking on the withdrawal of NAGAFF and the shaky ultimatum purportedly issued the NCS, a member of the group, Pastor Edwin, said he was not surprised that NAGAFF turned coat, accusing the group of being a perpetual blackleg.
"Which dialogue are they talking about; how long now have they been dialoguing? Strike, protest and the downing of tools is the hallmark of trade unions, even NLC, ASUU etc employ it when necessary. But in the maritime industry, NAGAFF will always play holier than thou and align with the interest of Customs and the government agencies after collecting miserable peanut to betray practitioners.
"Go into antecedents of crisis management in the maritime industry and take an inventory of the roles NAGAFF have played each time there is a crisis. Tell us, have NAGAFF ever led a proactive protest, strike or taken any action either as a Union or in collaboration with other maritime unions to effect a visible change in the numerous problems bedevilling the maritime industry? Remind me if I have forgotten. Instead, each time there is a crisis, it is either NAGAFF pulls out from having a united voice with others, or it would make a statement that would make others in the industry seem like trouble makers".
The concerned Customs Agents had identified 10 different units of the Customs, including the Federal Operations Unit (FOU), Headquarters Strike Force and others which constitutes obstacles to trade in the ports and border stations.
President of NAGAFF, Chief Increase Uche, had in a statement after the issuance of the ultimatum by the Concerned Freight Forwarders, said NAGAFF "will not support any act of unprofessional conduct capable of breaching the public peace by any of its members and/or freight forwarders in general".