When the Independent National Electoral Commission, INEC, finished counting the votes by midnight on Wednesday, a whole of four days following last weekend's presidential election, the results stood at Mr. Muhammadu Buhari winning, with 15.2 million votes nationwide, accounting according to the INEC results with about 3.9 million more votes than his closet opponent, Mr. Atiku Abubakar of the PDP, who reportedly scored 11.3 million votes. Statistical polls released by INEC showed that only 36.5% of registered voters participated in this presidential election against the 44.6% recorded turnout in the 2015 election that brought Mr. Buhari to power. But there's more to these results, and it raises a lot very uncomfortable questions, and ought to alert Nigerians to the true significance of the events.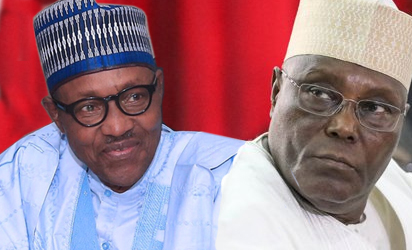 First question is, does Nigeria have a truly elected, democratic and constitutional government? We ask because the very foundational value of democracy and the democratic transition of power is that the votes must count, and that there is sanctity to the process that allows the full expressions of citizens' opinion on who must govern rightfully under the constitution. If the vote of the electorate do not count, there is no democracy. What we have is a tyranny founded on the abrasive use of fascist power to coerce conferment of political authority. Now, let us look at the picture as they emerge from this election: the tables indicate that Muhammadu Buhari won 19 of the states of the federation while Atiku Abubakar won 18 states including the Federal Capital Territory. Very clearly, this is a very divided mandate, and does in truth show the true fissures in the contemporary architecture of Nigeria.
The electoral maps reveal a very startling reality: President Buhari is not the president of Nigeria, he is the president of "Northern Nigeria." He does not have the full mandate of the Nigerian people, just a cross section of narrow, regional interests cobbled together in ways, as we would soon show, that make his victory less obvious and true. Buhari's regional mandate also reveals the particularism that funded his programs, orientation, and thrust of the last four years. In a sense, actually, Nigerians rejected him at the polls in so far as the majority opinion reflected in this electoral cartography suggests the revanchist character of the presidency!
Atiku's spread shows a wider range of national acceptability, and Buhari's winning in Lagos, Ogun, Osun and Ekiti does not obviate the very narrowness of his mandate, given that this strip of the nation, even divided demonstrably by certain factors which we will examine duly, does bring more questions to the alchemy of Buhari's votes and his alliances. As a matter of fact, there are many who dispute Buhari's victory in Lagos and Osun especially. Many election observers have alleged serious vote buying and vote tampering. The picture of an Armored Bullion van photographed, parked inside the famed Bourdillon road lair of the "Jagaban" seems proof to many that the APC leadership in Lagos was brazen in its buying of votes. Votes that could not be bought, they scattered and burnt. Reports of violence, and vote suppression in Igbo areas of Lagos, suspected to be PDP strongholds were captured and widely distributed in images that went viral across the world. This threat, and the use of might to stop voting in these areas not only cost PDP thousands of votes in Lagos, but as many correspondents also consistently reported, there were serious undercounting of votes cast for the PDP in Lagos going by data already captured in the cloud. The post-election counting of votes was therefore not transparent, and there is thus serious doubt about Buhari's electoral victory in Lagos.
Suppression was even more brazen in Osun, where in spite even of all the manipulations, APC's declared votes was embarrassingly slight. Protests broke out, and there is seething anger in Osun, following the declaration of this result. Perhaps it did reflect the true stance of the people, perhaps it did not, but events around the conduct of this election, both before and afterwards, does suggest to too many Nigerians that President Buhari did not in fact win the South West of Nigeria as declared by INEC. In effect, Osun and Lagos clearly were reengineered by INEC officials to put these states by all means necessary in Buhari's corner. As the elections proceeded, and the tenor and directions of the votes became clear, the operatives of the governing party, the APC, deployed instruments of fear and violence to effect the results they desired.
By snatching ballots boxes, burning election material, and by the use of armed military, police and DSS personnel to threaten, disperse, or prevent people from exercising their rights to adult suffrage, and in many cases, by putting pressure on INEC officials to declare false numbers, they swung the election. And these numbers are sham numbers because, in the case of Lagos for instance, the numbers do not match. And as Nigerians suspected, because of the length of time it took INEC to declare these results from already known results, they had all the time they needed to "cook" the results. For instance, in the South East, and in the South South, especially in Rivers and Bayelsa, there were reports of the use of the military and the police to intimidate voters aside from the thugs deployed to cause confusion. One courageous INEC official, Mrs. Mary Efeturi sent out an SOS, declaring that the Minister for Transport had locked her up, threatening bodily harm unless she declared results favoring the APC.
A truly tragic outcome of the presidential elections in Bayelsa was the needless, and senseless killing of Ms. Ibisiki Amachree, an INEC returning officer, on her way back from her assignment by a trigger-happy soldier. In Imo state, another INEC official refused but under threat, was forced to declare Rochas Okorocha of the APC winner of the Senatorial elections in Orlu. My younger brother, an Attorney, left his flats in Owerri very early in the morning on election day to his country home some 25 minutes away where he registered to vote, but reported the deployment of soldiers from Obirinze on the roads in Imo State.
The soldiers had effected a lock-down which stopped people from going on their way to their villages to vote. He was lucky to escape the cordon, and cast his vote. But many polling booths had electoral materials meant for other polling centers sent to them, which prevented them from voting. My old mother, herself once a political activist who takes her rights to vote very seriously, lamented to me when I called her that she could not vote, because the polling booth in front of her house where she had registered to vote could not be allowed to open and vote because of this mix-up, and it incensed her to no end. This rash of state-induced violence was mostly carried on in the Southern and Middle belt states.
The result being, that the recorded number of voters registered to vote in these places, who collected their provisional voting cards, were far fewer reported as voting in the poll numbers. In other words, using the coercive might of the state, the incumbent president deployed state agents to suppress the voting blocs inimical to his re-election bid, in ways that rigged the elections to his ultimate benefit, in terms of numbers. The PDP Presidential candidate, Mr. Atiku Abubakar did quickly repudiate the results calling the process a "sham." I'm personally inclined to side with him in that description, and I hope the readers of the "Orbit" will see why: it is just simply that the numbers not only do not add up, but also the means by which we arrive at them is far too tortuous and suspicious to warrant any credibility. Take, even the Northern states where Buhari won heavily like Sokoto, Kano, Borno, and Yobe. The numbers were clearly fudged. And Atiku makes the point that it must amount to something of a miracle that in the states of Borno and Yobe, where even on election morning, the Boko Haram insurgents were operating, Buhari not only earned the highest votes, but the votes were cast in near-total peace. How did the people of Rann who ran to the Cameroons and are reported now to be eating sand there, vote? Well, it is a miracle? Beyond the fudge factor, is what Atiku called the "statistical impossibility" of those numbers awarded to Buhari.
It is as far as one is concerned, voodoo numbers, not true reflections of the will of Nigerians. And that leads me to say that what happened on Saturday was a brazen heist, not a shellacking of the PDP. The evidence is all round us: there is no celebration, no spontaneous eruption of electric joy nationwide to suggest that Nigerians are wildly happy. You would expect this kind of expressive outbursts, at the least, with these figures. But no. Buhari enters his second term with a contested mandate, and a legitimacy question, and a very divided nation. His opponent has refused to concede and congratulate him, claiming a stolen mandate, and the evidence seem to be in Atiku's favor. Secondly, Buhari's claim to integrity has now been laid to rest with this election: if this election is the example he seeks to leave behind, then "corruption" must mean something else in his dictionary.
Ironically, Buhari forcefully led the soldiers that overthrew the elected government of Mr. Usman Aliyu Shagari in 1983, citing the "corruption of the electoral process" among his reasons. That election was far cleaner than last weekend's election. If anything, Buhari has proved that for him "anti-corruption" is all talk. Buhari himself does not even believe himself. Poor, poor Nigeria! With this election, she has ascended next-level stupidity and brigandage. Some call it, "next level one-chance." Pity.