Brethren, you are welcome to the month of March. This month, you will march into victory and celebration in the name of Jesus.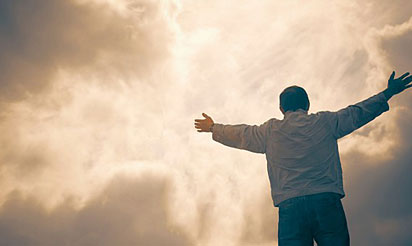 I urge to you to wake up spiritually. Play your part and submit the rest to the Almighty God with whom nothing is impossible.
Today, we continue from where we stopped last week, which is the importance of obedience in our Christian life. We need to do some reflection on why we should obey, whom we should obey, the consequences of obedience and whom we should not obey.
Many of us have dreams of what we want to be in the nearest future. Most of the time, these wishes for a comfortable and fulfilled life but sometimes, we are hindered either by physical or spiritual forces.
For instance, a couple that gets married certainly wants to have children, live a comfortable life and enjoy each other's company as much as possible. Where this is not the case,  we then begin to seek physical or spiritual assistance.
In the process of doing so, we are subjected to the authority of some persons who are either men and women of God, doctors, marriage counselors, etc.  We usually connect with these people because, we believe that through them, that which we desire can be fulfilled.
Obedience in simple dictionary meaning is " the act of obeying; dutiful or submissive  behavior  with respect to another person".
Most of the time, it costs us something. I mean, you may need to let go of something in order to obey a certain instruction. How do I mean?  If your Pastor suggests to you that you need to fast for even one day, it simply means that for that day, you cannot eat at your convenience.    In other words, you have deprived yourself of something.
My first witness in the Holy Bible is found 2nd Kings 5. This chapter is the story of Naaman the king , his maid, and Prophet Elisha.
For this purpose, we'll consider specific verses.  Verses 2&3 " And the Syrians  had gone out by companies, and had brought away captive out of the land of Israel a little maid; and she waited on Naaman's wife. And she said to her mistress, Would God my lord were with the prophet that is in Samaria! For he  would recover him of his leprosy".
Naaman's wife informed her husband.   Verses 9-11 tell us of Naaman's encounter with prophet Elisha " So Naaman came with his horses  and with his chariot, and stood at the door of the house of Elisha. And Elisha sent a messenger unto him saying, Go and wash in Jordan seven times, and thy flesh shall come again to thee, and thou shalt  be clean.
But Naaman was worth, and went away, and said, Behold, I thought, He will surely come out to me and stand, and call on the name of the LORD his God, and strike his hand  over the place and recover the leper". Brethren, there are lessons for us in this story.  First is that  the one who made the suggestion is somebody  who is regarded  as nobody in the  in the home of Naaman.   A  maid, a stranger from another land.
Note also that Naaman's wife  did not look down on her  maid, rather, she took  to her suggestion.
When, Elisha told Naaman what to do, he was angry.    Just the way, many of us behave today.   Naaman  had expected an instant miracle .
Many Christians go to the church today expecting magic instead of miracles. The truth is that miracles could come at a cost .  People don't want to play their own part but expect God to play his part .    It doesn't work that way.
From this story of Naaman we find that God can use anyone and any method to give you that desired miracle.
Her God used a maid and used an unusual method to heal Naaman.
Many Christians go to church and do not have faith in some of their pastors.  They would rather insist of a meeting with the founder or general overseer of a church. While it is not sinful to do this, we should always bear in mind that God can use that Pastor that you call 'ordinary' to link you up with your miracle.
Even in his anger, Naaman was still a good listener. Verses 13 and 14 of the same chapter states,   " And his servants came near,  and spake unto him, and said, My father, if the prophet had bid thee do some great thing,  wouldest thou not have done it? How much rather then, when he saith to thee, Wash and be clean?
Then went he down, and dipped himself  seven times in Jordan, according  to the saying of the man of God:  and his flesh came again  like unto  the flesh of a little child, and he was clean".
Did you  note that it was a servant that persuaded  Naaman to obey.   A lesson here is that we should not look down on any person especially fellow Christians.  Had Naaman shunned this servant, he would have died a leper.
Let's not miss the point that Naaman did not consider his status when he obeyed.  He obeyed completely.
Brethren, as we pray and  we have the grace to be led by the Holy Spirit either speaking directly, or through  dreams or vision or through the Word of God, we must be prepared to obey completely.
Sometimes, the key to your breakthrough could come through another person's testimony.  This is one of the reasons why you must be regular in church.
Complete obedience got Naaman a miracle.   You also need to obey God completely to receive a miracle.  Sometimes, it comes with discomfort but the end is that  your worries become testimonies.
In the name that  is above all names,  Jesus,  your testimonies will manifest beyond your imagination.
Are you having health challenges, is your worry about  unfruitfulness in any area of life, marital, business, academics etc.
God is able but you cannot sit in your house , doing nothing, and expect a miracle.  No.  When you do that , nothing happens.  Rather, you need to take steps to move closer to God and be  prepared to obey .  Total obedience is the way of the Lord,  you cannot choose to obey some and disobey some, to  do that, is to delay  a miracle or prolong a challenge.
Always bear in mind, 2nd Chronicles 20 vs. 20 , the later part of which states, " Believe  in the LORD your God, so shall ye be established; believe his prophets, so shall ye prosper". However, we must beware of false prophets.
Our LORD Jesus sounded a note of warning  in Luke 21 vs. 8 " And he said , Take heed that ye be not deceived: for many shall come in my name, saying, I am Christ; and the time  draweth near; go ye not therefore after them".
Once any one who calls himself a prophet, or pastor begins to demand money to do something on your behalf, just know that you are in the wrong place.
You have a duty to cross check whatever you are told to do with the word of God.  Where it runs contrary to the word of God, do not comply.
Obedience to an ungodly  instruction compounds challenges and multiplies sorrow.
I pray that   you will hear the voice of God this season in Jesus name.
Wishing you a happy and fruitful month in Jesus name.
Peace of the Lord be with us all.