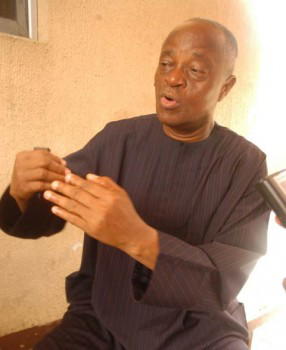 Senator Ogunlewe
 A chieftain of the Peoples Democratic Party (PDP), Chief Adeseye Ogunlewe, on Tuesday said the outcome of the March 9 elections in Lagos did not reflect the wish of the people.
Ogunlewe, a former Minister of Works, made the statement in an interview with the News Agency of Nigeria (NAN) in Lagos.
He said the governorship and House of Assembly polls were marred by irregularities and that majority of registered voters did not vote due to fear of violence.
Ogunlewe said though the Independent National Electoral Commission (INEC) declared Mr Babajide Sanwo-Olu winner of the All Progressives Congress (APC) winner of the governorship election, he could not sincerely claim the mandate of the people.
He said that the APC candidates declared as the winners of all the 40 legislative seats did not also have the mandate of Lagosians.
"The APC did not have the mandate of the people in the elections. It is clear from the figures.
"How many people voted out of the 6.5 million voters? About 1.1 million, where are the remainders?
"This is not a majority vote, it is minority vote, and those who voted were area boys and others who had been compromised.
"The people who were supposed to vote were prevented from voting. The area boys took over the whole place and were doing all sorts.
"With all these, you cannot have a government of the people, by the people and for the people. APC doesn't have the mandate of Lagosians," he said.
Ogunlewe said the conduct of the elections in Lagos and other parts of the country meant that the country was yet to get it right.
He alleged that multiple voting was recorded in many polling units, while massive vote-buying and violence occurred in some parts of the country.
The minister said that the militarization of elections was not in the best interest of the country.
Ogunlewe suggested the overhaul of the electoral system to strengthen the democratic process and improve the credibility of elections in the country.
"We must do an overhaul of the electoral system. We must go back to the Uwais report which suggests that INEC should get more involved in the congresses of political parties.
"The primaries of all political parties should also be conducted by INEC.
"Also, as suggested by Uwais report, we must go back to our national ID cards as voter cards, and without the national ID, nobody should be allowed to vote.
"We have four years to prepare, the national ID has the security number of everyone, and that, if used, we will have some sanity.
"There was so much multiple voting in the last election, that was why you saw big, big results; we must end all these, we must reform the system," he said.
The former minister said vote-buying thrived because of high poverty rate and called for concrete actions to fight poverty to strengthen democracy.
He regretted the loss of his son, Moyo in the state assembly election for Kosofe constituency 1, saying the PDP candidate was a victim of electoral fraud. (NAN)