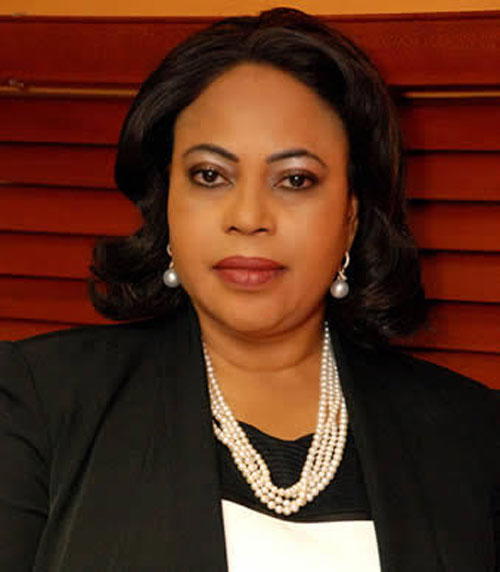 *Princess Vicky Haastrup…Nigeria is very strategic economically and politically compared to other countries of the world
By Ebunoluwa Sessou
Princess Vicky Haastrup is the Executive Director, E and L Consortium, in this interview, she speaks on the role of women in technology and why every woman should explore technology in all ramifications to boost their self esteem and make them relevant in life.
Recently, Managing Director, International Monetary Fund, IMF, Christine Lagarde said during its annual general meeting that 26 million women would lose jobs to technology. What would be your reaction to that?
Orgasms have saved me many times, therapist speaks on importance of good sex
I do not expect that statement should be directed only to women as both genders work in offices and are professionals in their own fields. Therefore, I do not know why she thought more women would be affected as a result of automation on technology, I totally disagree.
I think it should actually affect both genders – men and women, so I do not know whether I want to agree to her submission. There are other places where women can work, not necessarily in an office. There are other things to do that would put food on the table.
Women are practically seen in all spheres of life. For instance, women open restaurants and because it is one of the fastest growing businesses in Nigeria, I have seen many graduates who ventured into the restaurant business. I also know children of influential Nigerians after studying abroad, still came to Nigeria to start a restaurant business. One of them is a daughter to my friend who despite her degrees from America; still ventured into food and healthy business. She is making more than she would have made if she was working in an office.
I believe that such statement would pose challenges to women in Nigeria especially as it came from the IMF president. But, if I may suggest, women should take the statement as an instrument to strengthen them in all areas of life. Women should rise up to the occasion and I think deeply that all they need to do is become innovative and creative in whatever they find themselves. I am actually proud of young people today especially women.
Some of them are in higher institutions doing business. These people are not bothered that government cannot create jobs for them, rather they are creative and innovative. I have encountered young ladies that are into fragrance and cosmetics, I can categorically tell you that they have raised the standard to an appreciable level. You could customise and get any fragrance you want, they are creative, women would need to sit down and be creative, and think of what they can do which the society needs. As much as they are producing the same product, it cannot be presented the same way.
Stop borrowing, Senate, NSIA, others warn FG
In Nigeria, fashion and styles have been raised to the standard that it can no longer be relegated. Any woman who is taking on such profession should know that creativity is the only feature that would make her stand out. So, Nigerian women should have the tenacity because they really do not need to work in an office before becoming celebrities.
Do you see technology as a barrier to women as it serves as key to promote their businesses?
I only see it as added advantage, we talk about twitter, Instagram, Facebook among others. Those are part of technology and they are the platforms to showcase your products. Today, social media has become a negative influence such that people do not use it for the purpose for which it was created. Women should explore the positive aspect of social media so as to move their lives toward. There are people who are into hair and styles and they have taken it to another level. They also showcase their products on Instagram and connect to people who patronise them. For instance, there was a London-based Nigerian woman who got her customers through Instagram. I believe you can stay at home as a woman and make money, advertise your goods on Instagram or other platforms. I bought a nice chin-chin from a woman via social media. This lady works in an Oil and Gas company.
Women need to be educated before they would thrive in their businesses. So education adds value to creativity. That is why I said women should possess holy anger. Like I had earlier stated, I do not believe men should only be responsible to put food on the table. Both women and men should be. Women should be helpers to men. But, if their husbands are not able to put food on the table, nothing stops them from doing so. Creativity is our sense of entrepreneurship. All we need to do is to get up and do something.
There are so many opportunities to explore and the good thing about Nigeria is that it possesses the population strength in the whole of Africa. That is why Nigeria is very strategic economically and politically compared to other countries of the world. Nobody jokes with Nigeria. America as well as European countries do not joke with Nigeria. It is because of our capacity. It is a game of numbers. Women in Nigeria should key into this, it is a great opportunity and I deeply think that we can explore the opportunities.
One last question; when is the foundation for women and young girls expected to kick off?
Very soon. I am very passionate about women having their rightful place in the country – in politics, economy and otherwise. Women need to occupy positions of authority because they have not been fairly treated. There are lots of discrimination against women and that does not make us happy. I believe this is the time for women to rise up to the occasion, we need to let them know that we have the capacity to do the right thing and do it better, we have the intelligence, strength and what it takes to make Nigeria a better place.
Annuity business bounces back, leads contribution to gross premium
Until women are awake to reality, things'll not be done rightly——Tobun 
A member, Lagos State House of Assembly representing Epe Constituency 2, Mr. Abiodun Tobun, Lawmaker 1, in this interview speaks on why women find it difficult to make headway in decision-making in the country.
Are you aware that a lot of women are going to lose their jobs to technology; maybe because of the fact that they are not knowledgeable about it?
I am not aware.
…Back to Nigeria, are you optmistic that women would take their rightful place, especially when it comes to power in the nearest future?
Power is not served at-lar-carte. There is a statement that says, women can do better than men. And that is to say, they have to struggle and fight for their rights. Power will not be given to them on a platter of gold.
Unfortunately, women are their own enemies when it comes to supporting themselves. They are never there to support their fellow women and in the process, become their own enemies.
When it comes to election, women would not vote for their fellow women. When it comes to corruption, they are excessively corrupt. Therefore, until Nigerian women realise that they are duty bound to  take responsibility, they would not be able to assert authority.
Nigeria's downstream sector records $56bn revenue yearly
Meaning that, this might stall the vision of parity against them?
Some women are canvassing for gender parity and emancipation, saying they want women to have full recognition but they are lagging behind because they are not doing things rightly.
But these people are being muscled out of the system …
No, they are not being muscled out by men, rather they ganged up against one another. Women do not trust that they can get things right. And until, they understand the guidelines naturally, they will not be able to get the best out of them. I believe they still need to align with men of substance so as to gain confidence and reclaim their rightful positions. Until they have confidence, they might not be able to fight for women emancipation. They should leave paperwork and face reality.
…Perhaps, they do not have enough money like their male counterparts?
What stops women from possessing enough money if that would make them win? But, if they are given money to spend, they would rather keep it because they believe they are good managers. Women should change their orientation.
I am not happy because most of my children are women and they are expected to get to the pinnacle of their career.
When it comes to entrepreneurship, women are so good, they are out there, they are doing massively well, they can turn anything around, are you saying on this note that women are not doing their best?
Women are highly intelligent, what I see as challenge is their inability to take the right decision at the right time. Secondly, their inability to bring human face to issues when the need arises, they are easily manipulated.
Women must take the bull by the horn—-Stakeholders
Using technology as a means to promote business has been identified as major instrument in business and entrepreneurial environment.
But, this is contrary to the view of the Managing Director of the International Monetary Fund, IMF, Christine Lagarde, when she spoke recently on the premise that about 26 million women might lose their jobs to technology.
The big question, therefore is, how will technology affect women in business negatively? What are the critical areas women can explore to make technology work positively for them in business? How do women explore technological opportunities around them to promote their businesses and help their entrepreneurial lifestyle?
A survey carried out by guidant financial revealed that the latest numbers regarding women in business can't be ignored. There are 9.1 million woman-owned businesses nationwide, employing 7.9 million employees and generating $1.4 trillion in sales, according to the National Association of Women Business Owners. While these numbers are encouraging for female entrepreneurs, there's still more to learn about who these women in business are, what factors are driving their businesses forward and the biggest challenges they face.
Fine & Country WA, Lagos Business School holds workshop on Real Estate Marketing
Against this background, WO went round the metropolis to feel the pulse of women. It was revealed that 51 per cent of female under the age of 50 are business owners compared to 44 per cent of men.
And as much as possible, women engage in both formal and informal businesses. But in reality, the vast majority of women entrepreneurs are not found in formal businesses, but in informal, survival-oriented income generation activities. They have limited opportunities to increase profitability, and limited choice in the activities they carry out.
Some business women do not care about technology rather, they prefer to do their businesses the way they know best.
Women are implored to make use of the opportunity and to take the bull by the horn. Speaking with WO, a businesswoman along Okokomaiko, Mrs. Bisi Olatunde said: "The use of technology has helped my business positively. I do some businesses on social network using either Whatsapp, Facebook or Instagram ; it is an opportunity to socialise with people as well as promoting my business." I believe it is important for women to familiarise themselves with technology in order to follow the global trend, it is also used for communication especially with the use of social media platforms which allows anyone to advertise his or her business. Technology should not only be used for business but for day- to-day lifestyle.
On her part, Mrs Pleasant, a businesswoman in Orile told WO how she had to undergo training in order to meet up with her business target. "I went through computer training for a period of time just to step up my business. I believe it is necessary for women to learn how to make use of technology as it helps them in fulfilling some responsibilities at home. With the Google app for example, you could help your child out with an assignment, it also helps you in securing good jobs."
Mrs Loveth, an entrepreneur in Jakande Estate, Isolo advised women to take technology very seriously. "The level of civilisation is high and I believe at a time we wouldn't need to write with our hands so everyone is advised to learn how to make use of technological devices." Also Madam Chidimma, a civil servant called on every woman to take the opportunity to learn technology and not hesitate as it is a wise decision.
Polls shift unfortunate, but we'll vote — Ijaw women
Meanwhile, some told WO that they have little or no knowledge of technology. Mrs Ngozi Patricia, a teacher, said: "I am not good with computers; I feel it does not affect me much because the business I do has to do with hand-based skills. Nevertheless, I think every woman should learn how to make use of it."
Likewise, Miss Victoria, an entrepreneur, said: "I am not educated so I do not have any knowledge of it, but it's good we learn to make use of it."
Mrs Faith, a trader, said: "I am not so good with computers but I am willing to learn. It's just that I have not been able to create time for it but I encourage women to embrace technology."