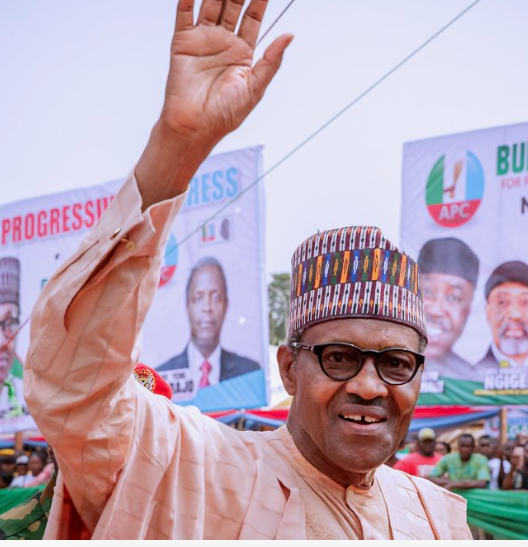 Muhammadu Buhari
The victory of Muhammadu Buhari second term ticket is a huge phenomenon. Not only because political pundits, opinion leaders and analysts had given him little or no chance of victory. All through the campaign period, they had played up what they regarded as his dismal performance high and above any favourable stuff about his last four-year administration. (If they think there was any).
They were very loud in their argument. Everywhere, it was how Atiku was going to displaced Buhari and the Jagaban-led campaign team. I read in one of the media an analysis entitled: Five Reasons Atiku Will Beat Buhari Silly," brandishing unexciting "Atiku intimidating track record', Restructuring and Fiscal Federalism; Robust manifesto of the PDP flag bearer among other drabs. The social media almost caught fire with the 'Articulate' syndrome. Sometimes, when some respected analysts and those who ought to know become so blind to the harsh realities of the moment, simply because pecuniary interest or mundane gain is at stake, they see nothing other than apocryphal. Many even after collecting a fee go the extra mile to swear to their insipid dissection of topical matters as a sacred judgment.
In fact, they blew Atiku's supposedly chances of becoming the President more than how Atiku himself believed he could become the President of Nigeria in the last election. The show trended copiously on the internet since he emerged the flag bearer of People's Democratic Party, PDP till last Tuesday when respite came to the media space. Some of them, still hallucinating, urge their principal to go to court to claim a mandate they never got. Because the promise to enrich friends and associates must be realised even at the expense of the country. It is their right to get richer while other millions of Nigerians get poorer. These are the 'Atikulates' You can find them in Lagos Island, Banana Island, VGC, Abuja and other highbrow areas in the country, they are those who believe the massive corruption should continue. They are businessmen whose none executed contracts and undelivered services can be paid for. They believe liberal democracy is when billions of pensioners fund are stolen, you can only return a paltry sum and walk freely. To them as far as their bank accounts swell daily in dollars, they don't care whether infrastructure remains in shamble. Of course, among them are also those who know that great countries are built from the scratch, but they prefer to have an edifice built for them just in four years without pain.
Even the pastors of some churches are not left out in the ruination these elements could have caused. Because free money was not forthcoming, they fired from every cylinder the spurious story of Islamisation. "Buhari is leading a plan to islamise Nigeria; Buhari is acting a grand plan to exterminate Christians. Don't vote for him" and other bla bla… all because the usual free money has ceased. The wise members of these Pastors who voted Buhari are the heroes today. They have become part of those who further liberated this country from the shackles of egocentric and conceited opinion leaders including those in the pulpit. We have come to realise that liberal democracy is not about spreading lies and hatred about a candidate. In 2015, they did it, but it did not work and it will never work again in Nigeria. Also, the US, UK and EU behind the scene support wasn't enough to curry support for Atiku. Nigerians are completely different and clever people.
They never gave the people from the grassroots any chance. Perhaps because their votes did not always count. Better still, they never believed that the poor, the pensioners, market women, farmers, students would vote against their wish. In spite of the postponement and the ominous signs of violence, they were determined to elect their leaders. Many of them also resisted inducement, voted according to their conscience – the Buhari in whom they have huge trust whose integrity and personalities yet remained untainted.
For now, the Buharism movement is a major theory of our democratic experience championed by the APC Whether we like it or not both political parties will be judge by posterity. The Movement is a new Nigeria, where the masses are now ever determined to destroy the few oligarchy. Those who feel they are the kingmakers have been successfully demystified, while those who are wont to writing letters have been placed where they belong.
It is a movement that seeks to end the old order and give voice to anti-corruption war. The Buharism is socialist faith anchored on making people's lives economically better. Even after his second term, the Buhari philosophy will be one of the deciding factors for who occupies that exalted position. That is the progress the Nigerian masses have made.
The movement is also building a conscious citizenry particularly among the poor masses, who will choose their leaders based on integrity and his antecedents, and not on the trash and drab of hate speech and lies on the media space.
It is important at this point that the opposition accepts results, shows respect for the wisdom, however hard to discern, of the voters, even if they profoundly disagree with their choices. If the opposition exists for the interest of the nation, then the interest of how the nation moves forward becomes the basis for their action.
Allah in the Quran says Whatever He wills happens, and whatever He does not will does not happen. He gives Power to whomsoever He wills and withholds Power from whomsoever he wills; none can withhold what He gives, and none can give what He withholds, and He creates whatever He wills.