By Ustaadh Abulwaarith
Utility of Adversity
Often man finds himself in depressing situations that he cries to his Lord, asking, "Why me?"
Definitely. We do not pray for trials and tribulations. Yet adversity is a reality of existence. For some it comes in torrents. So they hardly know happiness.
For, others the only time they will ever face adversity will wipe of all the happiness they might have known in life. For a few, we might see their entire life as a bed of roses, but in itself is a form of trial.
For the Muslim however, he must ever be vigilant on trial and tribulations and understand how to deal with them to remain constant and strong in iiman.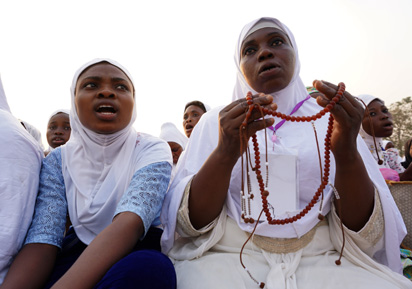 Go through the book of guidance and see in several places where Allah informed us about fitnah and adduwwun.
When a soul is lost, we take a fragment of the Quran to announce or publicize his or her death, Inna lillahi wa Inna ilaehi raajiuuna. But do we always ponder over the beginning of the aayah from where that fragment was picked. The contents of Adversity according to the aayaat are fear, hunger, losses and destruction and death.
Do we not read where Allah explains the rationale of trial as for the distinction of men of truth and liars in faith? Do we not understand the meaning of the extent of tribulations. that we will call on Allah when will your help come.
Certainly the help of Allah is certainly near. Brothers and sisters on the noble path, know that adversity, trials or tribulations are for the confirmation of our faith in Allah, steadfastness in Islam and test of the premium or value we place in the materials and enjoyments of life. They test our spirit of sacrifice. They test our understanding of love of Allah. They test our submissiveness to Him and acceptance of a cardinal pillar of faith, Qadar.
Do we really know or value why the affairs of the true believer is certainly wholesomely rich?
OK, we have heard of the good, the bad and the ugly, abi?
How should the Muslim behave in any of these circumstances?
Happily, we have been guided in the recommendations of the best of mankind. When we encounter the good, our attitude should be of gratitude. And when we suffer the ugly or the bard we should find succour in patience. That is why the Most High says glad tidings are for the SAABIRIIN. those who when they encounter trials say or comfort themselves Inna lillahi wa Inna ilaehi raajiuuna.