…As Dino proves him wrong
By Nwafor Sunday
Director Strategic Communications of President Buhari 2019 Presidential Campaign, Festus Keyamo, SAN, Tuesday gave kudos to the Presidential candidate of the All Progressives Congress, APC, President Muhammadu Buhari, over his statement.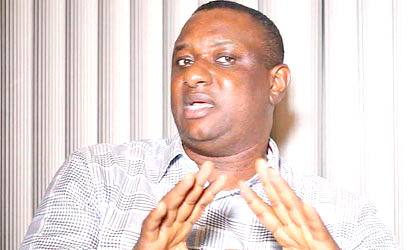 Buhari had in APC caucus meeting issued a death threatening statement to would-be snatchers of ballot boxes in the forthcoming general elections.  "Snatch ballot boxes, pay with your lives", was the statement made by Mr President which many Nigerians including the opposition Peoples Democratic Party, PDP, frowned at.
Buhari's second term will consolidate Nigeria's rebuilding process-Onu
But reacting yesterday on a programme 'VERDICT', organized by Channels television, the outspoken Senior Advocate of Nigeria, Keyamo, commended Buhari for using the statement described by Nigerians as harsh.
He noted that Mr Presidents statement is a correct statement of the law. He added that he would encourage Buhari to make such statement over and over again.
His words, "I have listened to so many uninformed comments, since yesterday, and comments that have political interpretation. But let me tell you straight away, there is no spin to put to the statement of Mr President, there is no need to repackage it.
"What the President said, 100% correct, 100% defensible and I will urge him to repeat it over and over again.
"Let me make it very clear, that Mr President said, whoever leads a band of thugs to go and snatch ballot boxes will pay dearly for it with his life. That is a correct statement of the law, because, if you look at the definition of thugs.
"People speak without looking at definitions. A thug is a murderer, robber, and a vicious person. The law is that when you are found at the scene of a crime committing violence that will put the lives of people in danger, you can be shot dead on the spot.
"Every lawyer knows that one of the defenses of criminal liability is what we call 'Justification and Excuse'. In this situation it is justification and excuse. People have cited the electoral act and I said these people are ignorant. They said the electoral act states that those who are caught in snatching ballot boxes should be given a fine and three years imprisonment and all kinds of things.
"But I will tell you that under the law, if a person commits an offence, the prosecutor has an option to charge him under different laws.
Bello will lead APC to victory on Saturday – Spokesman
"If those who snatch ballot boxes are robbers, by definition of the law, because if you take anything by force, you are a robber and that's the definition of armed robbery under the 'Robbery and Fire arms act'.
"So if you come to a police station, take note, you don't even have to be armed, but in most cases they are armed. The Robbery and Fire arms act, says that, 'if you just threatened violence or use violence, you don't have to be armed'.
"For instance if you use a blow to threaten somebody or to actual hit somebody to snatch the persons bag, that is armed robbery. Even though you are not carrying a weapon. It's armed robbery, under the Robbery and Fire arms act. And what is the punishment, 'the punishment is death sentence', under that act.
"Also, if you try to intimidate and overhaul the state, to take power by force under the constitutional means, that can be 'Treason or Treasonable Felony' and I can charge the person under treason or treasonable felony because you are trying to change the government by force. By snatching ballot box under the constitutional means, you can be charged for treason or treasonable felony. And the punishment for treason is death.
"So for Christ sake, I make no other coloration to what Mr President said, I make no other excuse, the President stated the correct position of the law, and I will tell Mr President to repeat it over and over again.
"We have had a problem of election rigging in our country since election started in Nigeria and it is high time we took a definite and harsh position on it, supported by the law.
'Votes must count in forthcoming elections'
"And whoever does not like it that means that person is the rigger and he is the person who wants to snatch the ballot boxes ………… I want to tell Nigerians that there is nothing wrong with that statement, whoever wants to snatch ballot boxes be prepared to pay for it with your life. If you are shot dead, that it is what is called Justification and Excuse. And if you are charged to court you will also die. Anywhere, whether you are caught or charged to court under Robbery or Treasonable, you will still die. Either, way you will die. Don't snatch ballot boxes if you don't want to die."
Dino Vibrates, Educates Keyamo
Reacting, the senator representing Kogi west constituency, Dino Melaye, counter-blasted Keyamo and reeled out reasons why Buhari should abinitio not to have made the statement. He described Buhari's statement as 'Dracula', adding that it is un-presidential for a president to make such statement.
He charged Buhari to tender an apology to Nigerians and withdraw his statement.
His words, "I am utterly disappointed in my President; I am shocked that in a democratic setting, a president will speak in the anointing of Idi Amin Dada of Uganda. A president will use the word 'ruthless'. A President will order the killings of Nigerians without going through legal procedures.
"That's totally unacceptable and I am utterly disappointed in that statement. The statement reminds me of a quotation in the bible that says, 'out of the abundant of the heart, the mouth speaket'. There is no reason, no rationale for the president of a country, who is the father of this country to speak in such dracula manner.
"I am very appalled and that statement is un-presidential. I expected Mr President to apologize to Nigerians and withdraw that statement before now.  Instead there have been lots of efforts boxing the wind by APC Chieftains, trying to defend what is not defendable. Trying to give different colorations and insinuations to the statement by Mr President.
"Well Nigerians, he spoke in English language and all of us understand that his statement was list expected by Mr President. But because, maybe that is what he meant, but I want to say that the God we serve will continue to intervene in the situation of this country.
Ballot box snatchers: I've ordered Army, Police to be ruthless – Buhari
"I am disappointed because I have kids who watch television. Presidents are supposed to be role models for people in the society. Statements of Presidents are quotations for life. There are people who will would like to read and repeat what Mr President has said. So what would happen to a young Nigerian child who listened to the president of this country using the word 'ruthless', saying they will descend on people and kill people….I mean it's a big shame."