By Bunmi Sofola
You've served up a delicious meal, his favourite, offered him his favourite drink as you cuddled on the sofa, and now, finally, it's time to take things to the next level in the bedroom. You're definitely in the mood for some rumpy-pumpy. 1 mean most women would quite rightly expect a passionate end to such an evening. But these days, it seems, we're likely to get a lot less than we hoped for," laments Nike, married for close to 18 years. She continues: "You might get a peck on the cheek, or a hug. But next thing you hear from our men before they roll over and snooze is, 'Not tonight darling.'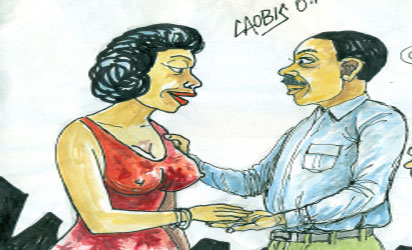 "You lie there frustrated and listen to snores instead of the music of the bed springs and the banging of the head board. Where has all the action gone?" This shocking role reversal is becoming common across the country. And experts believe it's about to get worse as there's been a significant rise in the number of men saying they have gone off sex. Peter, a counsellor that specialises in relationships and sex therapy observes such complaints were unheard of some 15 years ago. "But today almost half the men I counsel claims that sex leaves them cold," he says.
"Men used to come to us at the clinic with impotence problems but we now have a lot of men who say, as women did in the fifties, 'I can have sex, but 1 don't want to'. It's not rewarding. These men tend to be in their 30s, 40s and 50s and married. They haven't simply gone off their partner, but off sex altogether." So, what's going on? Janet Eccles, who works for Relate, the British organisation that specialises in relationship counselling and sex therapy says: "A lot of men tell us they've lost their sex lives. When you ask them what's going on, they may list six or seven really big stressful events. This kind of pressure will override desire every time."
According to him, men rarely talk about their relationships, let alone their problems in the bedroom. He blames the current sex crisis on a lack of balance in the lives of many men. According to him: "Nigeria has the longest working hours compared with most countries which makes for a very stressful life. Stress can build up and eventually people find it impossible to switch off and relax. If a man is still worrying about work when he should be getting in the mood, sex simply isn't going to happen."
He also believes that the credit crunch is likely to make things worse. "It's getting so bad now that men feel they need to talk about it," he says. "They are no longer able to bury it as they have in the past."
How To Lure Him Back To The Bedroom
Create time: "Your partner needs to schedule in some relaxation time for himself and for you as a couple," says Denise Knowles, a psychosexual therapist. So get out your diaries and make some dates. It sounds clinical, but it may be just what's required. "Once you've put these dates in your diary, stick to them no matter what.
Take the focus off sex: Instead spend time on your sensual relationship. Denise advises you "start touching each other again but without necessarily working up to a sexual experience. Rather than just a glancing kiss on the way out in the morning, hold each other for a while. Linger, don't simply pass by."
Remember to say: 'You're special'. "You need to remind each other that there's more to your relationship than paying the bills," so says Denise. 'Don't forget to communicate during the day. A friendly text every now and then will start to reconnect you as a couple.
Have some fun: Denise says: "There's nothing sexier than laughing together and having fun. Go to bed half an hour earlier, have a cuddle and unwind in each other's arms, talking about the day."
Do You Know When You're Having An Orgasm?!
When an agony Aunt gets a question on variation of orgasms or lack of it, she is often in a dilemma as to the most satisfactory answer to give. Although most women enjoy sex, how do they know if they've reached a climax or not? Julia Cole, a relationship counsellor says that women often wonder about orgasms. According to her, "They say they experience feelings of arousal and waves of pleasure but ask: "Is that it?" Others get to a certain point where they feel something stops them and they can't let go. Sometimes this can be because they are uncertain about relationship. Another reason for failing to reach an orgasm can be that they are not being aroused or stimulated enough.
She has helped to develop a special range of vibrators designed to work with a woman's body – she has also helped devise questions to help women identify the sensations of arousal and orgasm. According to her, "every orgasm is different and unique to each woman. You may not experience every sensation described here, but these sensations are the most common."
How To Be A Man (Humour)
If we males are to retain our status as head of the family (what are you sniggering at?), we must show that we can dig in the heels, that we can on occasion keep the stiff upper lip. As 1 said to my wife by way of an encore, "Any man who lets his wife drag him out on Saturday afternoon to waste his wages on costly trinkets for her relatives and moreover carry them home (the trinkets not the relatives) and have his corns punched by a thousand stiletto heels, is a poor sap. Yes, a poor sap. I'm glad I have the strength of character to refuse to be in their situation. I can't go shopping with her on Saturday anyway – I'll have to mind the kids and polish the floor!"
Subscribe for latest Videos