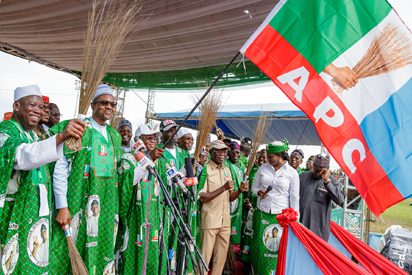 By Muyiwa Adetiba
APC, the ruling party, flagged off its presidential campaign officially on Monday with the inauguration of its presidential campaign council.
Whatever I was expecting, what I saw on TV fell short of it. For a campaign that was just about to start, it sounded flat and tired; almost war weary.
The President read from a prepared speech for the most part, in a voice that was characteristically dull and even. He has never been a great orator at the best of times, but I expected more passion, more verve on this day. It might not be a state-of-the-union address, but I expected something akin to it.
I expected an address that would encapsulate his almost four years of governance; that would highlight his administration's achievements in a more colourful way; that would give us hope for the immediate future. Maybe I was expecting too much.
Maybe I was willing him to excite me, to excite us. Maybe because I believe in his sincerity if not his competence for the job. Maybe because warts and all, and in a strange, undefinable way, he is as at today, my preferred choice—not of all the candidates, I must hasten to add, but of the two front-liners. There is something fake, something duplicitous, something opportunistic about the camp of the other front-liner. But then, six weeks can be a long time in politics and I sincerely hope I am proved wrong.
PDP, APC, guber candidates absent at Taraba peace accord
Neither the speeches nor the body language on Monday indicated any significant change in the party's socio/economic policies. Which is a shame because nobody wants a wholesale continuation of the policy of the past three years which has put many Nigerians in the poverty line in recent times. Even if it is acknowledged that the Nigeria's present economic situation was largely inherited, we expect it to be boldly addressed. We expect a significant policy change. After all, change was the administration's campaign slogan in 2015.
Change means a departure from the way we do things. Not only on corruption, but in appointments, in revenue appropriations, in socio/political inclusiveness. Too much of our revenue still goes towards recurrent expenditures; the Executive and Legislature are still drain pipes given our economic situation, they are under worked and over paid; regional competitiveness is more political than economic; it should be the other way round. Nepotism is still high on our political reward menu.
We hear about cousins, nieces and uncles strutting along the corridors of power. All told, a reform is overdue in the way we conduct our affairs if we really want to unleash the potentials of the country. In many ways, these are what the proponents of restructuring advocate. There was a loud silence on these fronts on Monday. Yet, if there was going to be any upset in February, it would be because of the economy and the refusal to accede to any form of restructuring.
In his speech, the President virtually rescued himself from the rigours of the soap box under the guise of not letting governance suffer. Nobody expects him to neglect governance. But he should remember he was once in the UK for months on account of ill health and the ship of State rolled on. What we expect of him or any incumbent during an election season is an account of stewardship. We expect him to do it personally and with passion.
We even expect him to be coquettish. We expect him to flirt with us, to titillate us, to inflame our passion. In other words, we expect him to woo us again, from soap box to soap box. To use running the government as an excuse to escape the rigours of a campaign circuit is a bit highhanded and presumptuous. Bola Tinubu might be a good strategist. He might symbolise the essence of APC.
Oshiomhole, Okorocha, Keyamo rebuff claims of APC govs' beef with Buhari
But he is not the one in the saddle. He is not the one to answer the tough questions we might wish to throw at government. And we the electorate would want a presidential debate to discuss the present and the future of the country. The APC flag bearer should make himself available for that in spite of 'the demands of State'.
Having said this, I am amazed at the tepid campaign PDP seems to be running. The economy is the Achilles heel of this administration. I am yet to see concerted and well-aimed attacks on this vulnerable heel. Perhaps PDP is only too conscious of its own baggage and the role it played in making the economy comatose. PDP is long on what's wrong with the country and very short on how to fix it. It needs to go beyond the rhetoric of 'People are hungry and when we get there, hunger will stop in the land.'
Or 'We shall create one million jobs within the first year in office.' Or, 'We shall fight corruption wherever we find it.' They are simplistic and well-worn slogans. PDP also seems to be very active on the social media, but not in meaningful ways. Many of us who can see through propaganda and distorted narratives can only shake our heads at missed opportunities.
What some of us expect are catchy but well researched documentaries on where we are as a nation, why we are there and what the short and long term solutions are. We want to see if the analyses and solutions align with ours and how we can get the human and financial capital to achieve stated goals. But PDP seems stuck in time and the old ways of doing its political business.
If there is any silver lining, it is that this campaign is not as monetised as that of 2015 where dollars and rumours of dollars were allegedly being freighted by land, sea and air. There seems to be discipline on that front this time and Buhari should get the credit for that. It is also not as divisive. Maybe because the two front-liners are Fulanis.
But PDP should really stop trying to discredit the integrity of INEC, the umpire at every turn. It is defeatist, petulant and unpatriotic. It is like preparing the minds of the people for a post-election revolt. PDP should be mature and think of the 'law of unintended consequences.'
PDP talking balderdash, reading from its old book – APC
Finally, there is little to choose from in the two main parties in the way they have run their campaigns so far because there is really no difference. I will not be surprised if there is a strong voter apathy in February and March. People are so cynical and disenchanted it is palpable. The country does need fresh faces and brains at the helm of affairs.