By Ayo Onikoyi
Cossy Ojiakor, Seraphina and others may brandish the biggest boobs in Nollywood and rightly so because of their voluptuous frame. But when it comes to perky towering towers on a light frame, few can hold the torch to Ejine Okoroafor, an actress and filmmaker holding her own in the make-believe world.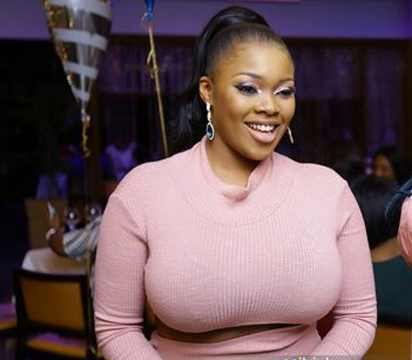 Her birthday was on January 4th and the Oguta, Imo State-born beauty served up alluring pictures which have since gone viral, accompanied by the most juicy comments. In most of the pictures Ejine wore a new look, wearing her hair low and pretty much staying as conservative as she could get but when you are as lavishly blessed in the bosom as Ejine there's little you can do to keep it all wrapped up.
Telecom's 4th edition of Season of Surprises launched 
Unlike some stars who have gone under the knife to alter or enhance their gifts of nature, Ejine had her gifts bestowed on her by mother nature. In fact she once confessed to Potpourri that big breast runs in her family. She's a 5th child among 7 children and all the girls in the family carry just as much load on their chests.