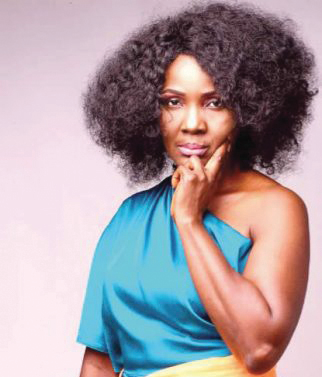 Hope Nwakwesi
Hope Nwakwesi is the founder of Almanah Hope Foundation. She has been a widow for 24 years. The foundation she has built is structured in a systematic way that is addressing the needs of widows physically, emotionally, socially and financially. According to her, empowering widows should be tailored towards ending exploitation and abuse.
She visited Vanguard headquarters in Lagos recently to bare her mind on the gory situation of widows in our society. In this interview, she speaks passionately against the humiliating culture of empowering widows and called on all stakeholders to make a u-turn.
By Ebun Sessou
What exactly is your mission?
I am a teacher by profession and a widow for 24 years. Almanah Hope Foundation is a foundation where we empower widows emotionally. It is a forum that talks about the stigma around widowhood. There is a notion that a widow killed her husband and she is enjoying the husband's death and his assets. This stigma is a threat to widows and it is an instrument of fear.
The mission is to bridge the gap between the cold sweat of stigmatization and the hot flashes of financial and economic hardship encountered in the average life of a widow so that she can work to tackle her everyday challenges with boldness.
Start up point for the foundation?
Almanah is a Hebrew word for widow.  I set up the foundation after my experience. I became a widow at the age of 27 from a humble background. Prior to that, many people have been talking with me, wanting to know how I survived. So, I decided to give it a try, perhaps I could make an impact.
You have been a widow for 24 years yet your foundation started last year. Tell us what informed your drive?
My daily experience with widows and my personal experience as a widow engineered the drive. I also realised there was need to formalize the foundation. The second aspect was the way widows' issues have been handled over time. There are lots of humiliating ways of addressing widows' issues. People have used the platform to enrich themselves. They share rice, clothes, cassava flakes, among other things calling it empowerment. But I felt there are better ways of handling widows' empowerment. Government, churches etc., should find a way of empowering them rightly.
In my early years of widowhood, I was doing all kinds of businesses. There were lots of chances I lost because I was financially handicapped. There was a project I embarked on but the company turned it down and I suffered dearly. So many widows have been disenfranchised. The working mentality of a woman that is bereaved is zero and this would not make her have confidence in herself. There are so many professional widows. This category of people is seen in all empowerment programmes. They are confused. But, if there is a system that engages the widows rightly, they will be better people, and when a widow starts getting stronger, she will think better.
Unfortunately, various systems of empowering widows are put under the hands of people that are not helping the widows in the right way. The widows themselves are not helping matters. There is no system  telling the widows about remarrying, especially the young ones and the churches are not helping matters. People see widows as Jesus' wives. That was one of my major problems. Today, I tell widows that Jesus was not married when he was on earth.
Today, religious leaders do not talk to the consciousness of young widows that they should remarry rather; they call them Jesus' 'wives. You will see a 24-year-old young lady answering Jesus' wife. It is a mental culture. Nobody wants to marry a widow especially the young ones. The young man would not want to take a widow as wife and even the older widows themselves are not helping the situation. I came across a widow who vowed that her son will never marry a widow. I would not blame her because I was also a victim of that opinion. A young man walked up to me and asked for my hand in marriage but I laughed him to scorn because I believed his parents would not consent to it. It is something we have subconsciously transmitted into our generation. Why do men remarry after their wives are dead? Why is the population of widows increasing daily? Widows are vulnerable.
What is the essence of the Widows' Summit?
The essence of the summit is to unveil the mystery behind widowhood and the humiliation involved. The cultural practice in Africa puts the widow in an offensive situation. It is to bring the widow agenda into national planning. The United Nations estimated that one out of 10 women is a widow living in poverty. Widows have been short-changed.
Tell us the age range of the women?
I do not have any widow in my foundation because people take advantage of the foundation. They turn NGO to club. They use the number of registered people in the foundation to enrich themselves. I have a general motive and that is to demystify widowhood. I have seen different things among foundations. Some people will tell you that you have come to steal their members, it is irritating. I have a desire to change the narrative about widowhood. I have done quite a number of programmes including charity walk, a radio programme among others. There is a reality about widowhood and that is the fact that it has become a myth. Widows are caught between shame and fear. What I want is to ensure that the policy of caring for widows is enshrined in the Nigerian policy.
What is your template?
Basically, I have streamlined it to eight activities. The first one is empowerment and for the past two years, I have not relented. Another one is the charity walk which comes up every June 23, the International Widows Day. We must realise that financial and emotional empowerment is crucial. Another idea is the summit. Once we are able to succeed with this summit, we will take it through different states and rural communities.
Away from the summit, how do you intend to convey this message to the appropriate quarters?
I intend to get assistance from the first ladies of states who are into women empowerment. After, the summit, we will meet with stakeholders who would draw the template on the way forward. We should start talking about Cooperative Society for widows. We will lobby the government and I believe one day, our voices will be heard. It is our duty to start re-orienting our youths on the need to take care of widows. The study about widowhood should be incorporated in the school curriculum. Widowhood practice should be our utmost project.
You have been a widow for 24 years, what has been the experience?
It is an experience attached with pain such that I had to save my sanity. My husband was a police officer. Twenty-eight days after his death, I was given a notice to move out of the quarters. I was not given the chance to get my gratuity before I was chased out of the quarters. It was a battle. Three months into the issue, I went to work. I was teaching at the Police College. Unfortunately, I saw my suspension letter pasted on the notice board and until today, I never had a copy of the letter. There was no house, no job, four children and I was 27 years old. But, I was decisive. And that is what I would advise all widows to do. They should not allow themselves to be given to sympathy because it will only expose them to the door of humiliation.
I was doing all sorts of businesses. I was going from one office to another and selling all kinds of things. I was chasing contract and to the glory of God, I was making headway. If I knew what I know now, my life would have been better. I ignored all distractions and I moved on with my life. Three out of my children are married and today I have five grandchildren. The point is that widows can be better people if they are determined.
…And your in-laws
Honestly, I do not have either the best or the worst in-laws. I have a personality that would not want to become a nuisance to anyone. I was not moved by the character of any in-law. I streamlined my lifestyle. My life was all about raising my children, attending church activities and working. I do not want to be a social scorn.
What do your children think about your widowhood journey?
The secret was that throughout my entire journey, I did not leave my children in the dark. I carried them along and so they saw all the pains and they were able to make good choices. We were living on the basics and that is what I tell widows. They need to streamline their life and cut out the excesses.
Advice to widows?
Minimize presenting yourself in the place of pity. It is humiliating and makes you lose confidence. The death of your husband is a monumental shift; you must get up and move on. You must pray hard and work hardest. Continue exploring different things and do not be in competition with anybody. The NGOs should start thinking of how to mop up rice, clothes among others into something that would dignify the widows.  Government should think of putting widows' agenda into the Nigerian policy. If there is a system that penalizes anyone who oppresses widows, things will be working. All gender issues should be treated rightly. The messages should be disseminated in English and native languages so that people will be aware. There should also be a department of prosecution. The church should know how to set up cooperative society for widows so that they can invest in their lives. They should stop sharing rice and beans. My greatest anger is rice, beans and clothes people share to widows. I have a personal vengeance on it. The rice, beans and clothes should be monetized so that the widows can work and earn a living and be useful to themselves and their children.