GENERAL Overseer of the Redeemed Christian Church of God, RCCG, Pastor Enoch Adejare Adeboye on Wednesday night explained reasons why he does not reply his numerous critics, saying as an ambassador of Jesus Christ he only prays for his critics.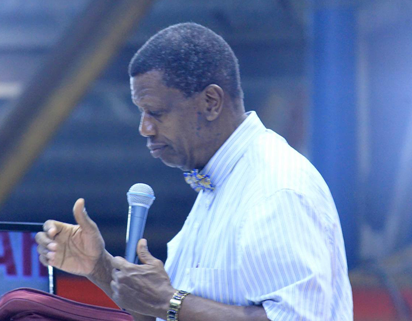 Speaking on a topic titled: "Under a new management", the man of God who has come under unwarranted criticism in the new media, told the growing number of worshippers at the Redemption Camp, said he always have the full backing of God and that is why he always refused to drag himself in the mud with his critics.
According to him, as an ambassador of Christ on earth, his "defence and security are embedded in God. Anybody Who is attacking the ambassador of Christ is only asking the Consuming Fire to fight his enemies."
Adeboye, who began the deliverance service leading the congregation that included the PFN National President, Rev. Felix Omobude, his General Secretary, Apostle Emmanuel Kure and other national officers of the Fellowship, to pray for the fire of God to fall and consume all yokes of the devil.
https://www.vanguardngr.com/2018/12/abuja-2018-team-delta-to-get-n1-million-per-gold-okowa/
"Let the fire fall! Let Your fire fall! Let Your fire fall and consume every yoke of the devil!" And the prayer was thunderous.
If you are a Christian, you have been delivered into the Kingdom of Light and have automatically insulated from any form of harm because such is an ambassador of the Kingdom of God, emphasizing that there is a permanent separation between you and the Kingdom of darkness.
Pastor Adeboye explained that the good thing about the name ambassador is that one represents his or her king and also have the full backing of such king.
Enumerating some of the rewards for Christ's ambassadors, he said Christ Himself is their protector and defender.
In his words: "An ambassador does not need to defend himself because his defence comes from his head of state. In the same manner, Christ ambassadors have their defence in God.
"People do ask me why I do not fight back when people criticise me. I only pray for them. Anybody who is attacking the ambassador of Christ is only asking the Consuming Fire to fight him.
"When a mad man sees fire, he turns away. Have you ever seen a mad dog enter fire? Do you know one of God's name is Consuming Fire? If you challenge the God of Fire to a contest you will be burnt," he warned.
Pastor Adeboye further urged those that are still groping in darkness of hopelessness or have links with any occult groups to renounce such society and embrace God of light, stressing that Satan humiliates, discards and destroys his ambassadors after using them.
"Satan used Goliath to terrorize a nation for 40 nights but immediately he fell down, Satan discarded him. Satan uses people only to destroy their destiny. Judas Iscariot ended up committing suicide", he said.
According to him, God on the other hand, glorifies, promotes, encourages and answers His ambassadors' prayers by fire.
He, however, stated that God expects His ambassadors to be His voice by preaching the gospel, setting the captives free, heal the sick, casting out demons among others.
The cleric said those who find it difficult to witness need deliverance, saying Christ's ambassadors are always eager to witness: "Christ ambassadors can not keep quiet, they witness. And that is why I cannot keep silent. I witness everywhere", he said.
https://www.vanguardngr.com/2018/11/eu-netherlands-envoys-hail-gov-ugwuanyis-giant-strides/
Your birthright in Christ—-Pastor Rathod
Earlier in a sermon, United States-based Indian preacher and senior pastor of Covenant Family Church, Pastor Stephen Rathod, encouraged participants at the Holy Ghost Congress to practically take their rightful position here on earth as overcomers and world changers.
Addressing participants during one of the morning sessions of the programme on the topic: "As He is, so we are", Pastor Rathod said as Christ is, likewise Christians ought to exhibit God's nature in every areas of their life.
He stressed that glory ahead is possible with a life of holiness. He, however, lamented that there are some Christians who are not occupying their rightful position in Jesus Christ.
Rathod said every Christian who want to overcome and willing to make it to Heaven must embrace holiness, use the blood of Jesus Christ, endure challenges for the glory ahead.
According to Pastor Rathod, no candidate for the Kingdom, should try to sell his/her birthright, stressing "you must live holy, do not compromise the message of holiness. Do not lower your standard, speak the word, and must abide in Jesus."
Congress moves to new arena
Today is the Holy Ghost service which is expected to be attended by thousands of people from different parts of the country. Pastor had announced last night that today's event will take place in the three Kilometre by three Kilometre New Arena at Asese area of Ogun State from 6.00 p.m.