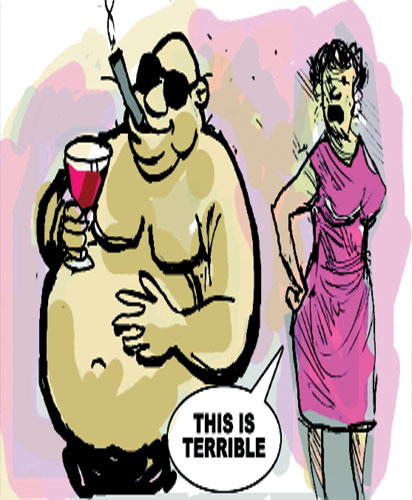 Shapeless man
By Francis Ewherido
Many Nigerians, especially young people, want to be rich and/or famous. Perfectly normal desires; where we have always had issues is the "how." In the last few weeks, we have heard some crazy stories.
First, an 18-year-old boy, who should be thinking of how to join his mates in the university, killed his mother and for two days was having sex with the corpse before he was caught. I know for certain that every man, except those born through caesarean section, passed through the birth canal of their mothers to life.
Police crackdown on ritual killers in Delta
But to go back there again is an abomination. You do not need to be familiar with the holy books or traditional practices to know that. Common sense, which unfortunately is not common, reveals that to everybody. He committed this abomination and heinous crime for money ritual. With or without the law taking its cause, he is in trouble.
While we were still on that, news broke of the brutal murder of Elozino Ogege, a student of Delta State University, Abraka. Elozino was abducted by some young men, with the aid of the Onos, a DELSU security man, whom she had approached to help her get accommodation. By the time her decomposing corpse was found, her eyes had been gouged out, and her tongue and breasts cut off. People, who are employed to provide security, are now the sources of insecurity.
Our society is in trouble. Insecurity and desecration have visited all the places that used to provide a semblance of safety and sacredness. Little children now get raped and vandalized by their own biological fathers, uncles and other relatives. In religious set ups, children are sexually molested by the same people who are supposed to protect and instill morals in them. In schools, they are being raped or forced to sleep with people who are supposed to help groom them.
ACPN unveils logo, launches #SquirrelGang social media campaign
I cannot help but digress a little. In the 70s and 80s, Midwesterners (later Bendelites), who occupy the present Delta and Edo States, were very proud and accomplished people. We were tops in sports and academics. The state was flourishing with many business concerns, both government and privately owned.
Life was good; there was security of life and property. All these are gone with successive bad governance and wrong value orientation. Today, you hear about Bendelites for all the wrong reasons: ritual killings, kidnapping, armed robbery, general insecurity, prostitution in Italy and other European cities, Libyan returnees, etc. It is bad, painful, heart wrenching.
After, we (those in Delta Central and South axes) go dey mis-yan, deceive ourselves say "Warri no dey carry last." Wetin you go call where we dey so? No be last be that? Na so we be before? If we no dey tell ourselves say our mouth dey smell, who go tell us? Na last position we dey now? "Warri no dey carry last" don become slogan.
Rohr sends fitness coach to Ebuehi
While growing up, mentorship and career guidance were not formally structured and commonplace the way they are today. Many people went to school, studied in universities and did courses they got admitted into. Many parents chose courses to study for their children. Thereafter, they got jobs and just started work. Many spent their working lives unfulfilled, while some stumbled on the right path along the line and got their clarity. These days, things are different. Young people, who are willing, have people everywhere to guide them. In addition, there are tons of literature online, on virtually everything under the sun. I maintain that this is a great time to be a young person, or to still be alive and active.
Everybody must work toward rescuing our society. For the youths, get it into your heads: those short cuts to instant wealth are ruinous. Wealth is relative to how much time you have to enjoy it, so I read long ago. These days, you read about young people, who came by sudden wealth at 22. Before they are 30 years, they are dead.
Have you not read about Olorogun Michael Ibru, Otunba Adekunle Ojora, Chief Sunny Odogwu and Chief David Dafinone, who died recently; Mr. Akintola Williams and many other great men? These are men, who lived successful lives over many decades. Some of them are still alive in their 80s and 90s. Why this craze for sudden wealth that you "enjoy" for only a few years and disappear from the face of the earth, leaving no legacy? What is life without legacies?
So, young people, you want to be rich and famous? No problem, but first you have to find your purpose. God did not create you to make the numbers. He created you on purpose to fulfil a special purpose here on earth. Since God does not give you an assignment without giving you the means to accomplish it, He deposited talents in you to enable you fulfil your purpose here on earth.
Your purpose and talents will help you in coming up with your vision. Your vision is your compass with which you will live your life. A man without vision is like a person in the desert, without a compass or guide: he just roams aimlessly.
Once you have found your vision, get the necessary tools to help you get to your destination. You need skills, education, knowledge, people, patience and perseverance. The beautiful thing is that since that is what you were created for, the zeal, patience, perseverance, love and desire to succeed will always be there and get you to your destination.
There is plot to Islamize Nigeria, says Most Revd. Anagbe
And the fulfilment you get ultimately is immeasurable. One wonderful thing going for you (young people) is that you are still young. If you find your purpose early and get to work, it will give you a head start over your peers. You will also be among the lucky few who will live long, fulfilling lives because you knew your purpose early. Many people live all their lives, some up to 90 years, without knowing their purpose on earth.
My young friends, there are no short cuts to success and a fulfilling life. It is a combination of vision, focus, hard work, persistence and perseverance. Finally, even in your current lowly state, you must realise that you have something, not necessarily money, to give back to society and develop the spirit of giving back. All I hear from youths back home is "who e help." That should change to "who I help." Legacies are built on giving, not receiving and as the scriptures say, it is in giving that we receive and are blessed.
Meanwhile, now that Elozino's alleged killers have been caught, the law should be allowed to take its course. No sloppy handling, please. Elozino deserves diligent prosecution of her alleged killers.