Any staff of Peace Mass Transit logistics services who, knowingly or through negligence engages in transportation of illicit drugs, is on his or her own, the PMT management has declared.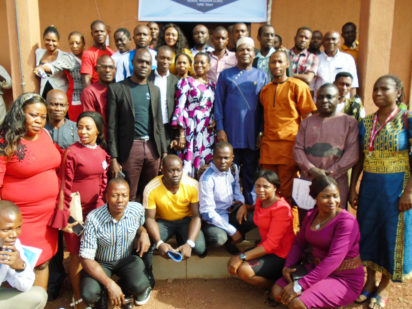 Vice Chairman of the company, Lady Emilia Onyishi, stated recently that PMT had a reputation which was built through diligence and hard work and that all categories of staff had a responsibility to maintain the good name.
Mrs. Onyishi spoke while representing the Chairman and Chief Executive Officer of the company (CEO) Dr. Sam Maduka Onyishi, at a seminar organized by the Peace Mass and the Enugu state command of the National Drug Law Enforcement Agency (NDLEA).
The one-day seminar held at the Emene, Enugu headquarters PMT Tuesday.
Mrs. Onyishi told the gathering, which included PMT logistics/courier staff from across the federation, that the main essence of the seminar was to educate staff on what constituted illicit, illegal or banned substances, to avoid their being accessories to their distribution.
"All eyes would always be on PMT because of the position we occupy as major players in transportation, so we all have a collective responsibility to guard our name and image jealously, "she told them.
The Vice Chairman told the gathering that the foundation of Peace Mass was built on hard work and diligence and not dubious or sharp practices while urging them to take the lecture seriously as any form of complicity or negligence on the part of staff with regards to transportation of banned substances or drugs would be dealt with without sentiments.
In his remark, Enugu State commandant of NDLEA, Dr. Anthony Ohanyere, urged the courier staff to be vigilant at all times, as drug peddlers and users were so smart and desperate they could easily con or compromise anybody.
Dr. Ohanyere told them they didn't have to be experts or have the professional ability to detect banned or illicit drugs, but just be on the lookout for unusual packages or suspicious conducts of consignees of parcels.
These, be said, always gave enough indication that something was "fishy", and therefore prompt the affected staff to be more inquisitive.
"Normal, usual diligence in the course of duty should be sufficient for you all as staff, but you just need to corporate with us at any point we get interested or involved in the movement of any suspected consignment", he said.
Guest Lecturer and Principal Staff Officer Drug Demand Reduction Unit, Enugu NDLEA command, Eyeuche Ome Adjai, urged transport and courier companies to be vigilant as "some of these companies have become distributing agents for illicit drug traffickers in the country though most times ignorantly".
"This has implications on the companies because the position of the law is very clear concerning the use of common couriers to traffic illicit drugs".