By Emman Ovuakporie
Parliamentary Staff Association of Nigeria, PASAN, the umbrella body of National Assembly staffers, on Friday, threatened to paralyse activities of both legislative chambers if management fails to meet their demands.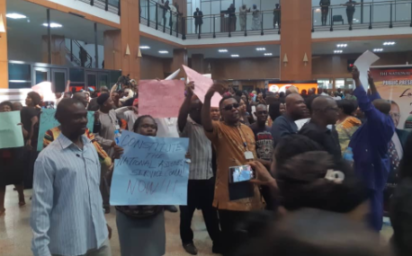 Breaking: Senate adjourns plenary for lack of quorum
Chairman of the body, Musa Bature disclosed this while addressing journalists at NASS Complex.
He said with the consent of PASAN leadership and all affiliate chapters "we hereby reiterate that the proposed indefinite industrial action will ground all legislative activities of the National Assembly."
He said "while thanking the political leadership for their intervention, the leadership of National body of PASAN as well as zonal leadership and members of the two chapters that make up FCT, will still go ahead if our demands are not met as promised.
"It is based on assurances by political leadership that the union, on its emergency Congress held last Wednesday, resolved to suspend the picketing for two days as a mark of respect for the Senate President and Speaker of the House.
"The picketing and pending strike action is predicated on Consolidated Salary Structure which was approved for NASS staff since July 2010 and only 20 percent was approved till date.
"Also, the condition of service and promotion, conversion and upgrading are in the kitty for negotiations.
"We have tabled the issue of training for legislative staff as this is pivotal if our democracy must advance.
Some of the staff members who spoke to newsmen said although NASS is the oldest organisation in the FCT, "yet we don't have a staff quarters. What management does is to build and hire to us.
"As you can see, other Government bodies here have staff quarters and for eight years now, they refused to implement our new salary structure."
When Saturday Vanguard contacted the Chairman of PASAN on why staffers of NASS do not have staff quarters, he simply said "that is a matter for another day."
Recall that last Tuesday, PASAN picketed NASS over unpaid salaries but suspended the picketing after both legislative chambers' leadership intervened.