By Femi Bolaji
Jalingo—An ex-convict has been arrested by Taraba State command of the Nigeria Security and Civil Defence Corps, NSCDC, two days after gaining freedom from prison.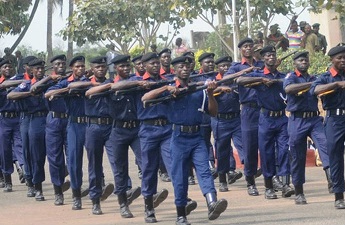 Video: Rochas Okorocha must go to prison, says alleged 'mad man'
The suspect, Michael Andrew, who attributed his offence to intoxication had just been released from prison having spent four months behind bars.
Parading the suspect with seven others for various offences at the headquarters of the command in Jalingo, the state Commandant of NSCDC, Kamilu Isah, explained that the suspects were apprehended within Jalingo and environs.
Speaking to newsmen, Andrew said he was apprehended after being caught stealing a shirt which he wanted to wear.
He said: "I just regained freedom from prison after spending four months. Intoxication triggered me to once again engage in stealing.
"All through my stay in prison, I was not allowed to use drugs and immediately I regained freedom I started taking drugs.
"On that fateful day, I was intoxicated and it prompted me to go stealing a shirt two days after my freedom. I never intended to sell the shirt."
The state commandant of NSCDC, Kamilu Isah, further cautioned members of the public to be vigilant, assuring of the command's pro-activeness to rid the state of criminal elements during and after yuletide.