…Presents N2.1trn investment opportunity
By Godfrey Bivbere & Oko Ebuka
THE nation's transport infrastructure financing gap has continued to widen over the last five years with a noticeable gulf of N900 billion in 2016, the Nigerian Shippers Council, has said.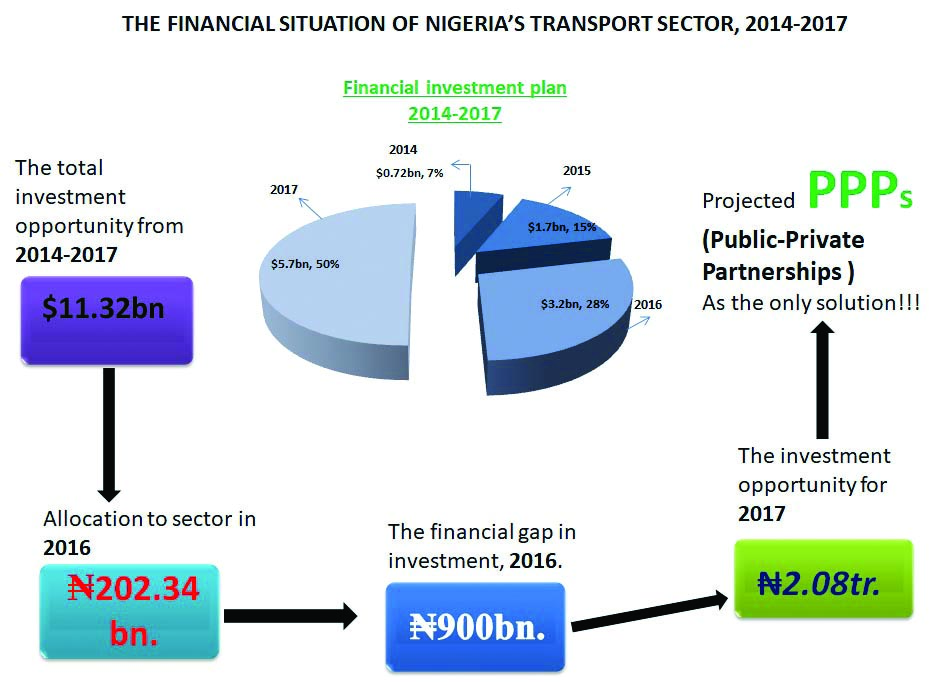 The NSC disclosed that the sector in 2016 got N202.34 billion allocation from the federal government as against the sum N900 billion required for the sector that year.
Executive Secretary of the Council, Hassan Bello, who disclosed this recently, said the transport infrastructure financing deficit would continue to grow because of the near total reliance on government funding and the fact that the nation's dependency on oil sector.
He noted that dependence of budgetary provisions for the development of infrastructure in the sector will be a disservice especially with the shrinking resources available to the government.
Bello, however, noted that the financing gap in the sector is a huge opportunity that is begging for exploration.
National Industrial Council is tackling challenges of manufacturers — Enelama
To this end he recommended the option of Public-Private-Partnership, PPP, as a way out to avert a looming crises in the transportation sector.
He pointed out that the nation's estimated investment need for the sector between 2014 to 2017 stood at $0.72 billion, $1.7 billion, $3.2 billion and $5.7 billion respectively.
He stated: "Public-Private Partnerships (PPPs) is a global trend in both developed and developing countries. It is increasingly becoming more effective vehicle for delivering transport and shipping infrastructure compared to the traditional procurement of budgetary appropriations."
Family planning a must to avoid demographic doom – Expert
He further noted that the NSC has adopted the PPP model for the development of the multi-million naira Inland Container Depots, ICDs, with that of Kaduna already fully operational.
Bello explained that while the government retains the title on the land and the assets, management responsibilities are delegated to the private sector.
"In PPPs, management responsibilities are delegated to the private sector, while the title in the land and assets remains with the government", he added.