By Chioma Obinna & Arinola Kolade
MEDICAL doctors, employed by the Lagos State government, yesterday, lamented the migration of doctors abroad, saying that "there is shortage of doctors in the state's public hospital system."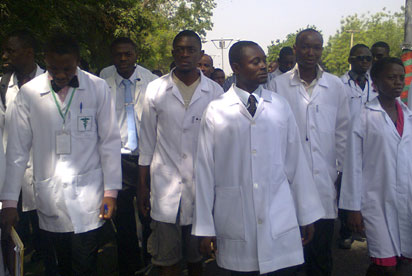 Addressing a press conference in Lagos on its Annual General Meeting/Scientific Conference with the themed Maximising Earning Potential for Doctors in Nigeria, Chairman, Medical Guild, Dr. Saheed Babajide said the shortage of doctors in the system can be addressed by early replacement and recruitment of doctors into the system.
No country can confront climate change alone, says Buhari
Babajide said: "Nigeria may be going back to the 1980s when doctors trained in Nigeria migrated to other countries immediately to complete their training.  Every day, medical doctors in their numbers leave the system without replacement. There is need for quality residency training in Nigeria. It is a problem when the system is facing acute shortage of doctors while we have pool of unemployed doctors across the country. WHO says a doctor to six patients but in Nigeria we have about one doctor to 200 patients.
"The government should ensure that this is done at intervals for all doctors. This approach will be of great benefit to the government in achieving the goal of qualitative healthcare delivery to the citizens of the state."