By Ikechukwu Amaechi
REV. Fr. Ejike Mbaka, the spiritual director of the Adoration Catholic Prayer Ministry, in Emene, Enugu State, is in the news again.
Yes, you guessed right. For the very wrong reason.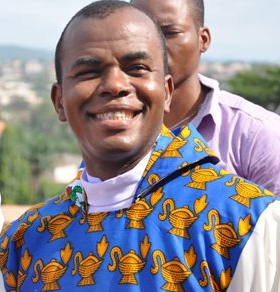 The man loves hugging the limelight with relish. He is a religious showboat who never allows any opportunity to prove that he is also a political godfather slip by.
And that is the crux of the matter. The man, who like the good shepherd, should be busy taking care of his flock is busy in the political arena, throwing pebbles into already muddied political waters. He gets carried away by the appellation of "fiery priest". He sees himself in the mould of the prophets of old – Elijah, Jeremiah, Ezekiel.
On Sunday, Mbaka upped his game, insulting President Muhammadu Buhari and Atiku Abubakar, presidential candidate of the Peoples Democratic Party, PDP, predicting doom for both men in the 2019 presidential polls.
Their crime? They refused to play the role scripted by the self-professed political godfather in religious robes.
Fr. Mbaka turned the occasion of the 2018 harvest and bazaar of his church at his adoration ground into a forum for dispensing political favours and predictions based on the fatness of his victims' wallets and their willingness to bequeath a significant chunk to his church.
Political favours  and predictions
He predicted political doom for Buhari claiming that after their prayers on adoration altar made him president, he refused to do a project for his ministry.
He narrated how his ministry's prayers saved Buhari from death in 2015 and said anybody with the president's ears should warn him that no one cheats God, ominously predicting a possible relapse if he does not show gratitude.
Turning his attention to Atiku, Mbaka said if the PDP presidential candidate does not come personally to the adoration ground to execute a project, he would be disgraced.
But it was his very condescending treatment to Mr. Peter Obi, the PDP vice-presidential candidate, who unlike Buhari and Atiku, was physically present at the adoration ground, that irked many. He poured his worst venom on the former governor
I will come back to that shortly.
First, let me declare my Christian bona fides. I am a Catholic. After half a century in my earthly peregrination, it is too late for me to seek God outside the Catholic fold. I will die a Catholic.
Like most Catholics, I didn't become one by choice, I was born into the faith.
My mother, a retired school teacher, who remains a doctrinaire Catholic, raised us to believe that priests are infallible and beyond reproach. Till date, she hardly disagrees, not to talk of criticising a priest. On the few occasions she did, she will first of all beg God for forgiveness for daring to call out an ordained man of God. She is that fervent.
So, I grew up adoring priests. Though I am not half as zealous as my mother and as someone not given to the faith-induced proselytisation that rules the religious world, I still revere priests and overlook the foibles of some of them.
But Mbaka's unprovoked attack on Obi, former Anambra State governor, a Catholic, who graced the occasion despite his very tight political schedules was way outside the bounds of acceptable behaviour.
The language Mbaka used was beyond the pale.
"If Atiku continued on the same trajectory, he and his running mate would end in shame," Mbaka told his highly embarrassed guest, haranguing him for not doing anything for his church, after warning him of the consequences of being stingy.
Obi's crime was that he refused to be inveigled into publicly announcing his donation at the bazaar.
Rather than assuaging him, Obi's promise that he would get back to the church and let them know how he would help make an enraged Mbaka fly off the handle.
"You can be promising and doing for them in Anambra in your capacity and what God has done for you as governor, God hates stinginess. What I am saying is not to please you, but what will save your life. Otherwise, you and Atiku will fail," he scolded the former governor.
"Governors of Ebonyi and Enugu made donations without announcing at the altar, your own is taking time, the way you and Atiku are moving will end in shame," he ranted.
Mbaka's behaviour was not only disgraceful but disgusting. This is not the way of priests of the Catholic Church I know.
What saved the day was that Obi, whose younger brother is a priest and elder sister a nun, was very dignified all through what must have been a very harrowing experience. He kept a straight face and even smiled.
It was good that he did not succumb to the blackmail of this man in cassock.
But many questions have concentrated my mind since I watched the video of the priest's disgraceful tantrum. What did Mbaka actually think he was doing? Speaking truth to power? Did he think his outburst was a proof of his fearlessness? How can a Catholic priest descend so low to extort money publicly from politicians in return for favourable prophesies? Is it true he made Buhari president in 2015? How?
Fr. Mbaka thinks he is smart. That is why he would fix his ministry's harvest and bazaar, invite all manner of politicians seeking public office – Christians and Muslims – and put them on the spot.
Truth be told, the priest has no right to do what he did to Obi on Sunday.
He does not enjoy the privilege of ex-cathedra whether on matters of faith and morals or even politics.
His pronouncements are slanderous and priests are warned seriously against slander. Decorum and reticence are the hallmarks of priesthood.
When did the apostolic tradition of self-denial become an anathema? No priest should use the pulpit of the altar or even the singular privilege of being a priest to bully, blackmail and insult others to achieve selfish ends.
Blackmailing people to make generous donations willy-nilly in exchange for conjured prophesies is fraud.
God can never be burlesqued. Mbaka is behaving like the Nza bird in Igbo folklore that overfed itself and challenged its personal god (Chi) to a duel. He is beginning to take himself too seriously. He has become arrogant, proud and cocky. He must watch it.
He claims to be Nigeria's ultimate political kingmaker. Politicians who go on pilgrimage to his adoration centre feed this monstrous self-importance ego.
https://www.vanguardngr.com/2018/12/apga-has-handed-over-imo-election-to-god-araraume/
He believes he can get away with anything. Not even the indignation of the Catholic hierarchy is of consequence to him. He is conceited. But isn't it said that pride goes before a fall? Like all blokes who think they are clever, he will sooner than later overreach himself. His superciliousness will be his Achilles heel.
*Amaechi is Managing Director/Editor-in-Chief, TheNiche on Sunday newspaper
https://www.vanguardngr.com/2018/12/why-buhari-atiku-may-fail-fr-mbaka/
Subscribe for latest Videos