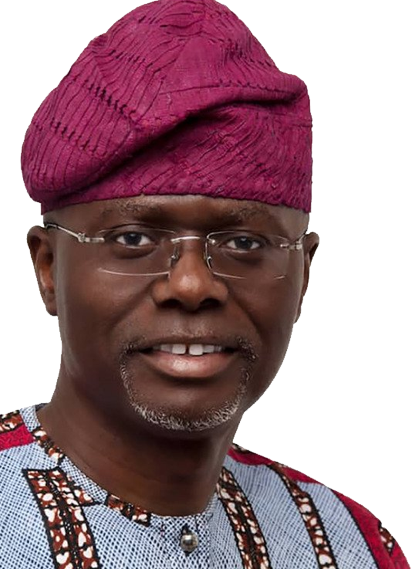 Sanwo-Olu
•Speaks on his ties with Tinubu
•Says Lagos will keep working
By Charles Kumolu,
Deputy Features Editor
 With a background in   the banking sector where he had a steady rise to the top, and an impressive scorecard in governance, the governorship candidate of the All Progressives Congress, APC, in Lagos State, Mr. Babajide Sanwo-Olu seems undoubtedly prepared for the race and the job.
He brings to the table, the multi-sectoral capacity that saw him heading many key Ministries, Agencies and Departments,MDAs, in the state within a short time.
Sanwo-Olu, a descendant of the  illustrious Sanwo-Olu family of Lagos Island, is relying on his strenghts, especially what is regarded as his connection with every class of the society, to emerge victorious in the race.
From his responses in this interview, it is evident that Sanwo-Olu knows   the critical elements that could make Lagos function better.
Saraki blames states on slow treatment of LG Autonomy Bill
You defeated Governor Akinwunmi Ambode in the APC primaries that would have earned him a second term. Will you allow him lead your campaign?
Yes, it is true that I won the APC primary which qualified me as the gubernatorial candidate of the All Progressives Congress (APC) in the 2019 elections. I must also let you know that the last two months have been very interesting for me and the entire political landscape in the country because of the unprecedented nature of the outcome.
That means politics is working. It also implies that when you give power to the people, especially via the type of primary we had, which was direct primary, you certainly cannot second-guess the outcome.
LASG employees to benefit from CILGPAN
The second part of your question, which is whether Governor Ambode will play a role in my campaign.  Governor Ambode is my governor. We have only one governor in Lagos today, and he is Governor Akinwunmi Ambode. We are in the same APC.   He will certainly lead my campaign and play all the important roles he needs to play for us to win.  Beyond politicking, Governor Ambode is my brother. We have known ourselves long before now. As I said earlier, we are members of the same political family.
As party men, we are building a strong coalition and formidable force that will deliver victory to our party in the coming election in Lagos. He has all the machinery that will help me, and the party achieve this goal.   In terms of bitterness, I hold no bitterness and he does not as well. We will do all our best. I will open up to him to give me all the support I require to do well in the election. Party men and women have spoken.
Are you really the choice of APC members, or just a stooge of Asiwaju Bola Tinubu whom he imposed on the party?
I find comments like this interesting when I hear them. I am sure you have been following developments in Lagos APC since the primary, where over one million party men and women came out to cast their votes and the results were out, a product of which I am. My emergence or candidacy has nothing to do with Asiwaju Ahmed Bola Tinubu. It has nothing to do with the party leadership. It has to do with me taking part in a direct primary.   A direct primary in which every card-carrying party member exercised his voting right. It is not fair to reduce this to just a man, who is our leader. Asiwaju Bola Tinubu is not just a state leader, he is a national leader of our party. He is preoccupied with issues about the development of Nigeria. He is busy with how to achieve the Nigerian dream. He is our father. He is our leader. We are all his children. There is no issue about somebody being his favourite.
Some people said you just dropped from nowhere.  At what point did you decide to become Governor of Lagos State?
Babajide Olusola Sanwo-Olu is a 53-year old man. If I begin to say everything about myself it will probably take about 53 years to roll-out the answers to your question. In very simple term, I have been a public and private sector man. I have done 17years in the private sector, banking to be precise, I have done 13 years in the public sector. I was a 3-time Commissioner in Lagos State, and until recently, the MD/CEO of perhaps the biggest and oldest real estate development company in Nigeria – that is Lagos State Development Property Company (LSDPC).
I have been Special Adviser to a Deputy Governor of the state and later to the Governor. I have served under three Governors of Lagos State. I have run the balance sheet of  three different banks where I was Treasurer- Lead Merchant Bank, UBA and First Atlantic Bank (now part of First City Monument Bank). I have worked as a Seismic Surveyor with United Geophysical Nigeria Ltd (a seismic data acquisition company) in a role which took me round the whole Niger Delta and Lake Chad region prospecting crude oil for Shell Petroleum Development Company (SPDC) and the Nigerian National Petroleum Corporation (NNPC).
I also ran a start-up company in the 90s, which allowed for extensive nurturing of my entrepreneurial skills. I have done so many great things. As to when did I decide to be governor, I have always known that the opportunity will present itself one day. Let me say my children too have always said to me that 'daddy with all this your passion for public service, helping people and all that, it would not be out of place for you to run for office and steer the state'.
On a lighter note, with the 'Not-Too-Young-To-Run' people right behind us, if I don't take the opportunity now, I may not have it again. I have always had it in me and since the opportunity presented itself, there is no better time than now to do it.
Your main opponent in the election is Jimi Agbaje. In what ways do you think you are better than him, and has the thought of losing to him ever crossed your mind?
Mr. Jimi Agbaje is a fellow Lagosian. He is an Egbon. He is someone I know and he is someone I have personal respect for, being an Egbon. That is how we were trained and brought up to have respect for people and most especially those who are older than us.   He is certainly older than me, but on the political landscape, our pedigrees and experiences are not the same. If you talk of public service experience, effective representation and credentials, I am certainly better than him. Yes, it is true he has contested three times and you know what the results have been for him. You asked if I am scared. Scared of what? What will a 53-year old man like me be scared of? We are going into the election and I am sure it will be a good contest. At the end of the day, I will win the election. Let me say again that I respect him and his tenacity for wanting to lead the state.
What will you say about Governor Ambode's statement regarding your mental health and allegation of spending fake dollars in the US?
This is the umpteenth time I will be asked this same question and my answer has been the same. You need to know that during politicking, things happen and people say things they don't really mean all in the spirit of politics.
Governor Ambode is someone I have great respect for. He is the governor of the state. He is my governor and he occupies the office I am aspiring to. I am in no way going to speak against that office or the person that sits in that office. Like I said before, it was all politics that went the wrong way.
The simple answer is, none of those things happened. I have never been detained in the US or any country in the world. I did not spend fake dollars anywhere in the world and I am not that type of a person.  I was still in the United States a couple of months back. I have never been to Gbagada General Hospital for any ailment. I don't have any medical record at the hospital.
In fact, the two times I have even been to Gbagada General Hospital were to donate. One was on my birthday when I went around the wards to donate gifts. The second, I was on charity mission, looking out for those who needed help which I provided. That is who I am and who I will always be. I have done this in the last six years.
Will you complete ongoing infrastructural projects initiated by Governor Ambode in the event his administration is unable to complete them before May 2019?
You know governance is a continuum. You take over both assets and liabilities whenever you assume office as governor in the case of a state. And whichever way you look at it, we are the same party. I have been in the system as commissioner. I have run the state civil service as the Commissioner for Establishment, Pensions and Training. I have managed the budget of Lagos State as Commissioner for Budget and Economic Planning. So, I know how some of these things work.
Part of what we will see is the medium-term expenditure framework and projects that are ongoing. We will certainly continue all projects that already have public funds committed to them. It will make no sense to have abandoned projects everywhere. We will complete any uncompleted project and put them to use for the benefits of Lagosians and Nigerians in general. We will certainly bring about other projects and innovations that will complement all of the things that are happening in the state.
Lagos has the largest population of middle-class and possibly the poor people in Nigeria, who often struggle to pay for expensive private schools and private hospitals for their children. What will you do to arrest the decay in public education and healthcare in Lagos?
Let me first correct something here. I think it is not fair to generally use words such as 'decay' and 'complete breakdown'. They are extreme and also suggesting that government is not doing anything at all in the two sectors you mentioned. That is not true, but it may mean that we need to improve on what we have and do much better.
If we begin to compute the number of people in Lagos daily who use existing facilities in the state, then we will realise why effective planning has been difficult. Our plan is to roll-out a lot of initiatives and improve on social planning. Our focus is on the people at the bottom of the pyramid. The very poor people you talked about, who do not have any choice.
The school a child attends is a prerogative of the parents. Those who will take their children to private schools will still do, regardless of whatever government provides. It is the poor people who do not have a choice that the government must give their children the opportunities they need in life a priority.
We have about 1,300 public primary schools in Lagos. We will improve on the infrastructure in our public schools and hospitals, and train personnel to deliver quality services to the people. I am a product of the public school system from primary school to the University.
On health, we have commissioned a research, which will be completed soon. Some of the issues around accessibility, affordability and effective healthcare delivery system will be frontally addressed. We have the facilities, but we need to bring a lot of reforms into the health sector that will make healthcare affordable to Lagosians, and qualitative too.   We will look at the State Health Insurance Scheme (SHIS) for citizens and how all these tie into a working healthcare system. We will integrate the reports of the survey into our policy agenda on healthcare.
There seems to be a logjam around waste management in Lagos with PSP operators and the Cleaner Lagos Initiative championed by the current APC government in the state with Visionscape.   How will you handle the Cleaner Lagos Initiative and also the matter of N50billion Bond Guarantee Lagos State gave for Visionscape?
Let's be very careful about just throwing figures all around. I don't know anything about N50billion. It is possible the government may have given Visionscape some amount. I do not know the terms of engagement of Visionscape as we speak. I am not the governor. I do not have the specifics. What I will say is that we won't throw away the baby with the bathwater.   If there are issues around the Cleaner Lagos Initiative and Visionscape engagement that can be resolved, we will certainly look into them. If it is about the implementation of the initiative, we will see what the problem is. If it is the structure or the process around the whole arrangement, we will look into that too. I am sure that there are positives to keep in the whole idea, while we will certainly do away with the negatives.
On Private Sector Participants (PSPs), I am sure it is not all bad news for them. Whatever must have gone wrong with the PSP arrangement will be holistically looked into. The bottom-line is Lagos needs to be clean. The refuse needs to go. More importantly, we now need to go back to ourselves as individuals and embrace a better culture of refuse disposal, which begins with waste sorting. It is when we start sorting our waste that waste management becomes more effective, and transformable to wealth. We do not need to mix organic waste with plastic bottles for example and all what not.   Advocacy must come into this. Public enlightenment will play a pivotal role in this attitudinal change. It is not going to be a one-size fits all solution.   Lagos will be cleaner and more livable for all.
Too much man-hour is lost to what has become a very bad traffic situation in Lagos and this has led to low productivity. What is    your plan to tackle the gridlock in Lagos if elected as governor?
Traffic management is a very serious issue, but also a low hanging fruit our government will pluck easily. Our first study commissioned a couple of weeks ago on traffic hot spots in Lagos showed that there are about 47 points in Lagos where traffic gridlock is always very bad. By the time we drill further down in the last phase of the report, it may be a little above 60 points, where traffic is usually very bad around Lagos.
One of the things we need to creatively think about is identifying the causes of gridlock in these areas. Already, we have seen that in some places, location of fuel stations have been identified as one of the causes of the problem. In some other areas, offices and commercial buildings without parking spaces are contributors to the jams. Quick Service Restaurants, where vehicles are reversing-out of car parks also contribute to blocking of our roads.   Of course, we also know that bad roads are a major contributor to this challenge.   We need to design solutions and look at each location, case by case. We are currently working with some traffic management experts, who will help us look into the issues and come-up with smart solutions. There are areas all we need to do is reduce the big roundabouts.
There is also the issue of our people; I mean behavioural issues that we need to address. Many of our people do not know that they are not the only road users. People must drive responsibly and respect the right of other road users. We need to take some of these messages back home to educate ourselves. People must know that the same right they have to use our roads is the same right others have. We must respect ourselves on the roads. Appropriate road use conducts can contribute significantly to removing congestions from our roads.
Traffic signs and traffic lights must be obeyed. It is only when we do the little things we need to do as citizens that we can solve some of our problems, including the gridlocks on our roads. People should not drive against traffic when there is no need to do so, or when not directed to do so by traffic management officers.
LASTMA officers will be retrained, and where there is need for recruitment of more officers, we will do that.
Part of the solution could also be, for example, in the morning, during rush hours you see places where traffic is moving on one side and not moving on the other side. A smart solution is to look at how we can extend some of the free lanes in the morning and in the evening reverse same into another lane.   This means that in the morning, we turn a 4-lane road into a 6-lane, and reverse the order in the evening because the pressure point has changed. People are going back home from work and other places they drove to in the morning.  Even, there are health benefits to effective traffic management, so it's a major point of consideration for our government.
On Water 
Transportation
A 3rd of Lagos is water. That suggests that we have a huge water transportation opportunity and alternative. The waterways need to be properly mapped to help navigation. Where we have water body that needs to be dredged to allow boats to move well, we will do. I know one of the problems with water transportation in Lagos is lack of investment, and operators are not willing to invest because of poor returns. The operators complain of poor patronage. When they take people from Ikorodu to Island in the morning, they return the boat empty without passengers because less people go towards the area in the morning. We will have to look at how we can help them solve that problem, such that the venture becomes profitable and water transport more efficient.
We also have the rail projects that we need to complete, especially the Blueline from Okokomaiko to CMS. We need to complete the track and bring the rolling stock to get it operational. It is about funding. We will find a way to complete that rail project. Lagos needs a transportation system outside the roads that can move thousands of people daily.
In cities like New York, Chicago, and Cairo among others, where they have better public transportation system, they still have traffic issues.   It is just that people know the traffic hours, which is usually the rush hours in the morning and evening, and plan their journeys accordingly.
Lagosians along the Festac and Badagry axis have complained about the neglect of the expressway to the Seme border. The road project does not seem to be progressing well. What do you plan to do to solve the problem along that axis?
That is actually a major concern for me. That axis is supposed to be a major Trans-West Africa economic road. It should serve as a major corridor for moving goods and services to the West coast and our borders. I was in government when we conceived the project 10 years ago. It was designed to be a dual carriage, of 5 lanes each. We will have 10 lanes in all. It was a well-conceived idea. I cannot say what the problem really is with the project, but I can say that for our government, the project will be a priority, when elected by the people of Lagos.
There is an impression people have about Lagos as a rich state because of its IGR compared to other states. We know Lagos is actually poor if we compare the revenue to what the state needs in area of infrastructure and social services. What will you do differently to increase government revenue without adding more to the tax burden and other levies on the people?
Very good question. You said people have the impression that Lagos is rich. With the size of our economy, the numbers are not there yet on government revenue. Lagos should in the minimum be doing four times better than her current revenue. We are meant to be doing six or seven times the size of the budget we are running now. Go and check it out, the budget of the New York Police Department (NYPD) that provides security for the City of New York alone, not State of New York, is $5.6b dollars per annum. The budget for New York City Fire department is about $3b dollars per annum. Boston as a city spends more money on its Department of Health in a year than the entire budget of Lagos State that will provide for over 20million people.
The current Lagos State budget, which is the highest in history of the state, is about N1trillion. In dollar terms, Lagos State's annual budget is about $3b dollars. That is too small to what we should be doing. We will work without adding to the burden of the people, but by widening the tax base. There are lots of people who should pay tax in Lagos that are not paying.   That is what bankers and financial experts call financial inclusion. Government needs money to provide what the people need. Our people must recognize that they cannot enjoy social services and have good infrastructure without paying taxes. People who in one form or the other are enjoying the benefits of Lagos State must contribute to Lagos by paying their taxes.
Lagos used to be the capital of Nigeria. The Federal Government too must invest a lot more in Lagos for the burden she is carrying for Nigeria. Some eople who are in Federal Civil Service in Abuja, still have their families in Lagos. It means till-date, Lagos is still carrying the Federal Government's responsibility. This is apart from being the commercial nerve centre of the country, where you have the ports and generate more than 60% of economic activities of Nigeria.
We will continue with the conversation that Lagos should get more from the central government. In terms of budgetary provision Lagos has continued to show capacity and we can only do better. The private sector remains the growth engine of any economy. We will continue to create an environment for the private sector to expand in Lagos so that they can do more, for new businesses to sprout and pay taxes through staff PAYE system.
Lagos will remain pro-business because that is the only way we can thrive.   Government can make more money without even increasing rates and levies, but just by being efficient. If we give better services to people, they will keep coming back to access government services. For example, if it takes 14 steps to get an approval like building approval, we should be thinking of how government can collapse the 14 steps to six at the maximum, without compromising quality control, and do a lot more.  We can get more revenue with same number of people we have. That is part of the creativity we will bring on board to increase IGR. We know these things just because we know the terrain. We know the geography of the state very well. We know where all of these hiccups are.   We will clear them and remove the hindrances to efficiency.
The Federal Government Social Investment Programmes such as N-power, Tradermoni, Farmermoni etc., seem to be working and Lagos too has an Employment Trust Fund that has been hailed as very successful. Will you retain the current Lagos State Employment Trust Fund? 
It is good you said the Lagos State Employment Trust Fund has been hailed as successful. You don't need to re-invent the wheel. If something is working and working right, why do you need to change it? What such requires is to be sustained. From what I know about LSETF, about 47,000 people have applied for the loan to start-up their businesses and only about 8,000 loans have been disbursed so far in 3 years. What we need to know is what challenges are they having? We also need to look at repayment because it is a loan. Beneficiaries must be made and encouraged to pay back to replenish the pool so that other people can benefit.
Your last government position was Chief Executive of Lagos State Development Property Company, (LSDPC). From your experience at LSPDC, how do you think the housing problem many people have in Lagos can be solved?
It is true. I was in LSDPC for two years. You see, people throw a lot of figures around about housing deficit and all that stuff. People often talk about affordable housing; however, I have been searching to know the real meaning of affordable housing and the idea of affordability.  What we require is for our people to understand and have a mindset change. Our housing designs need to be more nimble and efficient. The questions to answer is, are we building what people really require in today's market? Are we building, or reflecting in our housing what is required in a mega city, a massive city like the size of Lagos? In other jurisdictions I have visited they don't waste spaces in their constructions like we do here.
We are building a 3-bedroom or a 4-bedroom flat for people that do not need more than 1bedroom or a studio apartment. You will agree with me that probably all your own housing need is not more than one bedroom. These are issues around housing that we need to educate our people about. If you don't need a 3-bedroom flat, you don't need to look for it or build it.
Our developers and designers must reflect efficiency. Our housing must reflect proper utilization of our spaces. We have a tiny little box that is called Lagos State and we must use it efficiently. We also need to look around things like shared services. How many of our services can be shared. How can we do a pooling system in our housing delivery? These are some of the innovations around housing we will bring on board. We are studying other jurisdictions and what they are doing in addressing the housing needs of their people.
Governors are against Local Government Autonomy. If elected as governor of Lagos, will you allow the Local Governments to function and run as envisaged by the constitution, such that people can hold local government officials accountable on grassroots development issues?
To be honest with you, I will. I believe we have gotten to a stage we have to respect the constitution and allow the local governments to run as a tier of government. There are 3 tiers of governments. The federal, state and local government. There is a reason the constitution makes it such. We need to give the local governments all they need to function well and serve the people as agency of development.
When we do this, we then need to raise the skill and quality of those who go to the local government to work as civil servants and as elected politicians. Service delivery in local governments must go a notch-higher. Maybe, one of the problems of local governments, is also the quality of people running them. The governors may not believe in their capacity, but I believe in their capacity. If they lack any skill, we will train them to build capacity in them to deliver good governance and quality services to our people.  Local Government people need to be trained and retrained.
Like in healthcare, where we have the primary, the secondary and the tertiary. All of the things we talk about in delivering our health system are in the primary health, which essentially reside with the local governments. The local roads, clinics, markets, should be fixed by local governments and undertake other interventions that will accelerate development. I will certainly work with the local governments in Lagos. I will encourage them and also empower them, to enable them deliver on their promises to our people. Local Governments are such an important level of government.
Do you believe in State Police and the clamour for restructuring? Following the experiences of Lagos State government winning many legal battles against the Federal Government in Supreme Court?
You are correct. Lagos State won all the cases against the Federal Government on issues affecting the relationship between the Federal and State Governments. I believe in restructuring and it is a no brainer. It has to happen. It is just a matter of when, and that is the truth.
The issue of restructuring and State police is something we must look at. I hear this argument about how Governors will abuse state police, use them for election etc. Is it every day we have election? Hey, elections happen once in 4 years. Let's be real, policing is about community policing everywhere in the world. How do you police Lagos from Abuja? Or you bring a Commissioner of Police from Zamfara, who does not know anywhere in Lagos. He will use his first one year to study the streets of Lagos and identify crime spots in the state.   As a Police officer, you cannot take me from Lagos to police Ebonyi State that I do not know. It will take me a year to understand the geography and street architecture of the place. How am I going to be efficient? We all clamour for security and policing as we see in other countries. Why can't we do same here? Police Officers should grow in the communities where they are from. People in a community know themselves. They know who is doing what. A community police officer will know his areas, and the places that will pose security challenges for him.
Policing is not about when a crime has happened, it is about making sure the crime never happened. It is preventive approach, and not punitive. It is the preventive measures that we need to enforce more, not the reactive practice of when a crime or the unexpected happens, we begin to run around for solution. I am for state police, and will engage in it.
Fire guts Forte Oil station at Lagos airport
On Restructuring
On restructuring again, there is no better time than now. We need to look at our revenue allocation formula. I believe the Federal Government is sitting on too much responsibilities it should not concern itself with. We all say that politics is local, economy too is local.   Let us be real, we need to have our boots on the ground. We need to understand that when the local economy thrives, it can galvanise and drive the national economy.
The consumptive patterns happen at the lowest level of the society which is our various homes. Whatever is produced is used by the people at the communities. We cannot talk about restructuring only when it is convenient for us, and blank-out when it is not convenient. Our revenue allocation formula should be made more favourable to the states. Some agencies of Federal Government should be controlled by states. They are things states should do.
One day won't win the fight against corruption in Nigeria – SERAP
The Federal Government for example has an Inland Water Ways Authority. I cannot understand why the Federal Government should control Inland Waters. Inland water, from Badagry to Epe, is not the sea or shipping routes. The inland waterways are for canoes and passenger boats, for people to make a living. The Federal Government does not even know what happens on these inland waterways, yet there is an agency of Federal Government in charge of this. These are critical conversations we should be having with ourselves. We must be truthful to ourselves on these issues. Let me say again, I will be for state police and restructuring.
Your wife is a medical doctor with 27 years post-qualification experience. Can you recall where you met and what your journey together has been?
We met in the university. Maybe you do not know I was a Disck Jockey ,DJ. I used to be a paid DJ, meaning that I have my cassette players and other things. You guys now use MP3, flash drive and all. In those days, I used to carry all my cassettes and record box around. I met her at one of the Jambite parties that we used to have for new students. I had been in the university before she came as a Jambite. One of the things that usually happened then was that we always served ice cream in our parties. It was not the conventional parties of rice and plantain you have these days. The good thing about the whole things is the fact that apart from being the DJ, which means I would give them good music, I was also the person to serve the ice cream and that means I would only give the ice cream to whoever I wanted.
So, it was in the course of serving ice cream that I spotted her. I saw her and said to myself, 'wow, this little one". She was very innocent and looked too little. Today, she is a Medical Doctor. As a medical student then, after the first year at Akoka, she moved to LUTH at Idi-Araba to continue her medical studies.
So, we continued. No telephone then, so I had to do the trips. It had to be measured trips of every two weeks. You need to say to yourself that I will be back in two weeks, you better be there. That was how our relationship grew. We dated for a long time, about eight to nine years before we married.
Like they say, everything is now history. Our lives together have been a rollercoaster. We have had our ups-and-downs like other people, which I think is part of life. Life is not bed of roses. There have been times I have not been the perfect guy. I am human. One of the things that I know is that she is the stronger one in terms of family orientation.
She is the one with the kids, and takes care of them, while I go hustling like every man does. I am like your regular hustler. When I was in banking I had to hustle, and in government you had to stay pretty late. She has been very consistent with the children, even with her work, combining everything together.
What most people do not know is that she attended the university more than me. She has so many degrees and professional qualifications. You know the nature of her job where they take Oath   to serve humanity, and to always care for the people. She had to do all the night calls, and was still able to combine them well with her role as a mother and wife.
On several occasions when she had to do her night calls, I also played the night call duty at home with the children too. In all, it has been an interesting journey together. We have different parts to play and we are doing excellently well together. We have grown to become stronger and become better persons. We have become better husband and wife. We have become better friends. We understand ourselves, even better as friends than as husband and wife. I am happy she turned out to be the person I call my wife today.
You have lived a very busy life for almost three decades. How will you describe yourself as a family man, and do you get to spend good time with your wife and children?
It is almost three decades. Almost 30 years now. Well, to be very honest with you, my wife has been the stronger person with the children as I said earlier.   She has been around the children more than I have been. I have missed few tea parties with the kids. You know when your children are in primary and nursery schools, there were tea parties they had at 7 o clock or 9 o clock in the morning. I really cannot see how I would attend some of them –   the meet and greet parties for primary three or two pupils that parents have to attend. She was always there for the children, but once in a while when I show-up, the children were always happy. The little time that I get to spend with them were quality time. We go on a few planned vacation together within and outside Nigeria.
We make sure the children are with us during such vacations and we enjoy such moments together as a family. In terms of being a perfect family man, I really don't know what a perfect family man means or who one is. I have run my race and I think if you see my children, you can ask them how I have done as a father. I cannot sit here and begin to judge myself. My children have turned up very well with God helping us. A lot of credit must go to the Almighty God for protecting them and for helping them to become great human beings they are all turning to. A lot of kudos to my wife and some kudos to me as well.
Olu 8-12-2018