…wants politicians to stop patronising Mbaka's church
By Chimaobi Nwaiwu
Nnewi—Following the alleged humiliation of the Vice Presidential candidate of the Peoples Democratic Party, PDP,   Peter Obi by the  Spiritual Director of Adoration Ministry Enugu, Rev. Fr. Ejike Mbaka, the International Society for Civil Liberties and Rule of Law, Intersociety, yesterday called on the Third Vatican Council to retrain the priest, saying doing so "will help in saving the image of the Catholic Church and its people of good conscience, as Enugu Adoration Spiritual Director  is  in dire need of fresh ideas and higher studies."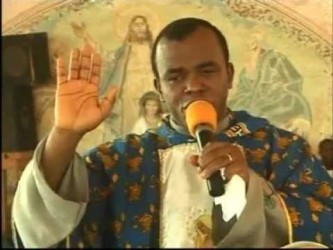 Intersociety also called on politicians to stop patronising adoration ministries whose leaders have turned them to money- making machines, and when they fail to donate money or accept to build projects for such churches, they are castigated and humiliated by their leaders who pretend to be led by the Holy Spirit.
Reps to stop Health Ministry from importing, distributing equipment to hospitals
Intersociety in a statement by its board chairman, Comrade Emeka Umeagbalasi titled "Mbaka Episode and other Immoralities in the House of God: Time to Convoke Third Vatican Council,"  said one of the greatest challenges facing the Catholic Church  and other churches in Nigeria is introduction of "priestly ministries" or "adoration ministries" patterned as "trading and gambling venues using the name of God".
APGA has handed over Imo gov election to God —Araraume
It said that for every priestly ministry set up, it is 95 per cent for prosperity or materialism and five per cent or less for salvation or righteousness.
It noted that "such adoration ministries bank on teeming miracle seekers in their tens or hundreds of thousands per ministry as well as the country's myriad of socio-economic challenges to swindle their faithful and congregation.
"Such congregants are rapaciously brainwashed with bogus promises of solutions to their 'problems' using same to swindle or rip them off."