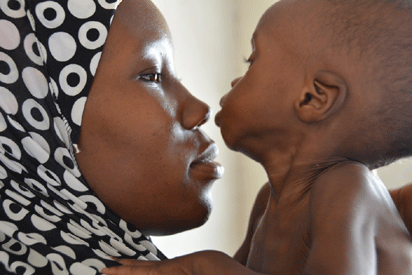 Stock image.
By Ifeanyi Nsofor
Right now, across Nigeria, a shocking 60 percent of primary school-age children—10.5 million children—are out of school. Many of them are hungry and malnourished, and the numbers of malnourished children are rising at an alarming rate.
But there is a solution close at hand for both problems: Home Grown School Feeding (HGSF). The programs have been shown to both combat hunger and keep children in school, and must be urgently scaled-up to reach every primary-school age child in need of food and education. Furthermore, broadening the program to include the delivery of basic health interventions would save lives and prevent years of disability for millions of children, at minimal cost.
Over 2.5 million children under 5 years affected by severe acute malnutrition, says FG
The devastating impacts of malnutrition were recently apparent when my colleagues at Nigeria Health Watch visited the Zamfara camp for children with acute malnutrition. Located in north Nigeria, the camp is never empty. Young mothers who seem lost for solutions hold their children, many so malnourished that sores cover their bodies and their ribs are visible under their skin. The children often suffer from pneumonia, diarrhea and any number of tropical diseases. Camp staff deliver emergency high-nutrient food until the children are strong enough to go home. But these children need daily healthy meals, which their parents cannot afford to provide.
HGSF programs can ensure that children eat. These programs were launched in a handful of countries in 2003, as a partnership between the World Food Program and national governments, and now operate in at least 20 countries. Whenever possible, they purchase foods grown locally by smallholder farmers, assuring farmers' incomes, and creating jobs for drivers, cooks and school staff. The government-led programs feed children during school; some programs also send food home.
Tackling corruption without youth involvement is baseless – ICPC
The benefits of HGSF are well recognized.  A recent impact evaluation of school feeding programs in Ghana showed an increase in school enrollment, a reduction in the chance of missing a school day and a positive impact on girls' learning and reasoning. HGSF programs both provide an incentive to attend school and make it possible for children to pay attention and learn—something difficult to do if a child is hungry and weak.
HGSF is needed now more than ever, as rates of malnutrition, stunting and wasting rise across Nigeria and West Africa. In Nigeria, every year over one million children die before their fifth birthday, and half of these deaths are attributed to malnutrition. Nigeria's stunting rate (low height for age) in 2017 was 43.3 percent, up from 32.9 percent in 2015. The wasting rate (low weight for height) likewise rose to 10.8 percent, from 7.2 percent. While wasting can be reversed, stunting is irreversible, reduces cognition and, in adulthood, reduces earning capacity.
Beyond Nigeria, countries across West Africa face a crisis of severe acute malnutrition in children. Across Burkina Faso, Chad, Mali, Mauritania, Niger and Senegal, 1.6 million children are at risk of the condition, and child mortality across the region stands at 98 per 1,000 live births (1,285,000), with roughly half due to malnutrition.
Expanding the HGSF program to reach every primary school and incorporating complimentary basic health interventions would improve the education, nutrition and health of millions of children.
The government of Nigeria has made progress, spending about US$136 million on its national HGSF program, which now operates in 24 of Nigeria's 36 states, feeds over eight million children and benefits about 100,000smallholder farmers.
More recently, limited budget has slowed a promised nationwide expansion of the program. Yet, the benefits of school feeding far outweigh the financial cost. Furthermore, when basic health interventions are integrated into school programs, they become even more cost-effective.
These health interventions include micronutrient supplementation; hand washing to prevent diarrheal diseases; face washing to prevent infections such as blinding trachoma; and staff distribution of preventative medicines, such as a once yearly distribution of tablets to prevent river blindness and schistosomiasis.
Jigawa Govt registers 722,000 pupils for school feeding programme – Deputy Gov.
All of this could easily be incorporated into the school day, and most would not require extra personnel or budgets, but rather be administered by teachers and the same personnel involved with school feeding.
Of course, such scaling to reach every Nigerian primary school will involve significant investments. The private sector is already an ally, and it can do even more. For example, Mondelez International (the parent company of Cadbury Nigeria) has partnered with Hellen Keller International to fight malnutrition among school children. This involves nutrition education, gardening and physical activity. Over the next three years, this US$50 million corporate social responsibility program will be implemented in Nigeria and nine other countries.
Our children deserve the benefits of good health and the opportunity to learn—HGSF programs could deliver both. When the 10.5 million out-of-school in Nigeria are all enrolled in school and are fed nutritious meals every day, hope will replace the despair on the faces of Nigeria's mothers, and there will be no more emaciated children lined up at the Zamfara camp.
Dr. Ifeanyi Nsofor is Director of Policy & Advocacy for Nigeria Health Watch, CEO of EpiAFRIC and a 2018 Aspen Institute New Voices Fellow.