*As Chapel of Praise of the RCBC of the Redeemed Church marks 10th anniversary
Pastor Samson Apantaku, immediate past Pastor-in-Charge of the Chapel of Praise of the Redeemed Christian Bible College (RCBC) of the Redeemed Christian Church of God, has described genuine salvation and repentance (Rom. 10:9-10, Roman 12:1-2) as a baseline for divine speed.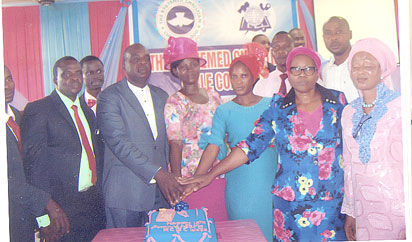 Apantaku defined divine speed as a spiritual enablement and empowerment or uncommon grace to overrun others in the accomplishment of a specific task within a short period of time.
He spoke in a speech at a thanksgiving service to round off the activities to mark the 10th anniversary of the Chapel of Praise of the RCBC held at the auditorium of the church located at Km 14, Sango-Idiroko Road, Idedo, Ota, Ogun State.
Present at the occasion, held under the theme, Divine Speed, among others, was the pioneer pastor of the Chapel of Praise, Assistant Pastor Adeleke Awojobi, (Ph.D), who is currently the RCBC Chaplain, and the RCBC Provost, Pastor Babatunde Adedeibu (Ph.D).
FirstBank's FirstGem clocks 2, promotes female independence
Other activities held as part of the 10th anniversary were couples dinner and open air crusade.
Apantaku listed other baselines for divine speed to include connection with the source of divine speed (John 15:56), desiring a vision to be pursued vigorously, change of friends if need be (Proverbs 13:20), positive confession even in the face of difficulties (Genesis 22:5), strong faith, prayer and fasting, and medicating and believing the word of God (Joshua 1:8).
Highlighting the tools for divine speed, the pastor said "God creates a scenario to lift you up without following procedures or protocols".
He cited the cases of Mordecai, Esther, Joseph and David.
Other divine speed tools, according to him, come when the occupier of your throne is dethroned to pave he way for you, and when God causes your detractors to make errors for your uplifting.
Apantaku asked Christians to beware of obstacles to divine speed which he listed as sin, foundation and family pattern of evil, demonic oppression, delay, wooing association and unfaithfulness.
Subscribe for latest Videos