By Henry Ojelu
THE National Democratic Coalition, NADECO, has said that the late founder of the Oodua People Congress, OPC, Frederick Fasehun left an unrealized struggle to actualize restructuring of the country.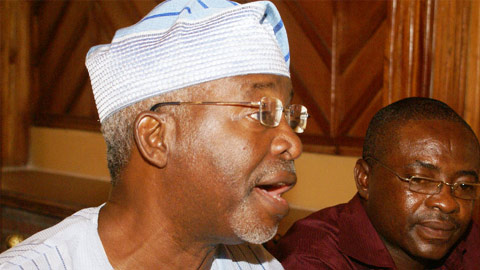 NADECO Chairman, Admiral Ndubuisi Kanu (retd) said this, yesterday, when NADECO leaders, including General Secretary of NADECO, Chief Ayo Opadokun; Dr Amos Ashigba and Comrade Popoola Ajayi, paid a visit to Fasehun's widow and children at their Okota residence in Lagos.
Speaking during the visit, Kanu said that one of the major dreams of Fasehun was to see a well structured country where every component part functions independently as a true federal unit.
Kanu said: "Fasehun stood strong in the fight for restructuring of this country. He made sacrifice for this nation. We were in the struggle together until he departed. In the course of the struggle, we had reasons to disagree of issues.
Our struggle still alive, strike continues – ASUU
"He stood solidly for the ideal of restructuring and we in NADECO still believe that is the best way to go for this country to be better."
Also speaking, Chief Opadokun said that with the demise of Fasehun, the specie of those truly committed to true federalism in the country is fast dwindling.
Opadokun said: "The likes of Fasehun are rare to come by. The implication of his demise is that the ranks of people who are truly committed to true federalism for this country are fast dwindling. We will certainly miss him even as we continue with the struggle."
One of the children of late Fasehun, Remi thanked the delegation for the visit saying: "Our consolation at this time is that our father was a great man. He lived a good live. His dream was always for the youths to take over when he has gone. He served humanity till his last hour on earth."
He was a peace maker —Evah
Also reacting to the demise of the OPC leader, Coordinator, Ijaw Monitoring Group, Comrade Joseph Evah, IMG
Evah, who spoke with Vanguard, said: "When the Ijaw and OPC had issues, Fasehun was instrumental to the peace; when he waded into the misunderstanding, he became a peace maker and he was awarded for that. He was a peace maker. There has been ethnic harmony in Lagos State because of Fasehun's peace effort. We are saddened by his untimely death because the likes of Fasehun would have calm the political tension currently being experienced In the country. So, we are mourning his death and we are going to participate in the burial Ijaws and youths in Lagos."