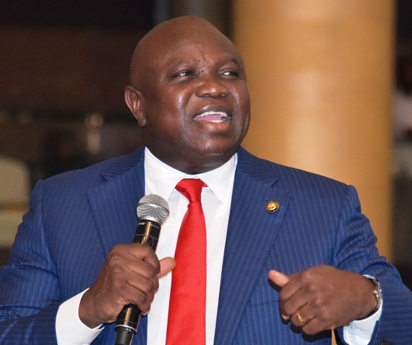 Akinwunmi Ambode
Gov. Akinwunmi Ambode of Lagos State on Sunday warned that all traffic offenders in the state would henceforth be prosecuted.
Akinwunmi Ambode
Ambode gave the warning after paying a condolence visit to the headquarters of the Lagos State Traffic Authority (LASTMA) over the death of Mr Rotimi Adeyemo.
The governor said that the government would no longer condone any act of lawlessness by road users.
Adeyemo, an officer of LASTMA was on Nov. 28, allegedly shot dead by an officer attached to the Federal Special Anti-Robbery Squad (FSARS), at Iyana-Ipaja area of the state.
The LASTMA official was said to have flagged the FSARS official down over traffic issue and the victim was allegedly shot in the process.
Ambode explained that in the last one year, 18 LASTMA officers had died in the line of duty and 24 others incapacitated.
He said that henceforth, traffic offenders would be dealt with strictly.
The governor said that option of fine as a punishment might be stepped down henceforth.
Ambode also directed the Ministry of Justice to as a matter of urgency increase the number of mobile courts in the state to 20.
"I have come here on behalf of the government to commiserate with all LASTMA officers.
"As at today, we have lost 18 LASTMA officers in the line of duty, just because they were performing their civic duties.
"I have 24 LASTMA officers that are permanently incapacitated in various hospitals this year alone.
"We have not been churning out this data, just because we believe Lagosians will understand that these men and women we put on the line of duty are harmless and have nothing to protect themselves.
"All they have is the traffic laws they tend to protect and regulate,'' the governor said.
According to him, government will not continue to fold its arms and allow traffic officers to be in danger.
"First, I appeal to you all that we must obey traffic laws. Secondly, we cannot turn the state into a state of lawlessness.
"So from this moment onwards, all our security agencies and also all officers concerned will discipline any traffic offender that is arrested.
"Government will go down and deal squarely with any traffic offender henceforth,'' Ambode said.
The governor gave an assurance that there would be a better synergy between traffic control officers and other law enforcement agencies, especially as the yuletide approaches.
"This is a sober moment for us but again, I need to encourage and further appeal to all our other law enforcement officers that the state government is with them.
"We will do everything to protect your lives and create a conducive atmosphere for you to work.
"The state government cannot allow people to continue to commit offences for which we need to discipline them for,'' he said.
The governor said that the family of the slain officer would benefit from the N 10 million insurance scheme set up by the state government. (NAN)