By Funmi Komolafe
Glory be to God in the highest, and on earth peace, good will toward men"- Luke 2 vs. 14.
Brethren, Congratulations, God has been good to you.   He made you trample on all challenges in 2018, He gave us all victory.   Today is December 30, within the next 24 hours; we all shall be crossing over to the New Year with hope and aspirations.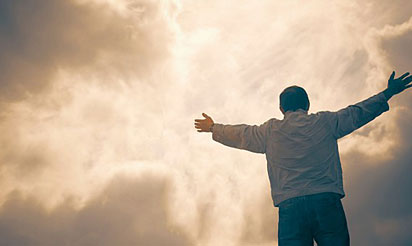 Begin to see yourself in a new dawn.   The birth of Christ gave us a new dawn.  He gave us hope, he gave us life.   Let the words of the Lord in Isaiah 43 verses 18 & 19 ring in your ears at all times.  Let your Spirit take in the words, " Remember ye not the former things, neither consider the things of old.
Behold, I will do a new thing; now it shall spring forth; shall ye not know it? I will even make a way in the wilderness, and rivers in the desert".
What you decide to focus on is what you get?  Focus on a new dawn.
The Miracle of God's Supernatural Touch (3)
The birth of our Lord Jesus Christ gave us a new dawn.  A new dawn of salvation, a new dawn of   healing, a new relationship with God, a new dimension of God's mercy and a lot more.
Let's remember that even for Christ, it didn't come easy.  Once He came as God in person, he went through trials and tribulations.    People mocked him, He was called names. Even the devil tempted him but He triumphed.
As a believer in Christ, whatever has been in your lot in 2018, in the name of Jesus, it's a new dawn for you.   You too will triumph.  You will be victorious in Jesus name.
As Christians, we are serving a living God but he also gave us the Comforter.
John 14 vs. 16 " And I will pray the Father, and he shall give your another Comforter, that he may abide with you for ever".
You may want to ask, why did Jesus see the Comforter as a necessity?   He knows that as long as we are human, we would have challenges. Therefore, we need the Comforter.   Besides, it is to enable us have the Trinity complete in our lives.
Aren't we a blessed generation?  We are.  The generation of Moses didn't have the trinity complete yet God did marvelous works in their lives but we have God the Father, God the Son, and God the Holy Spirit.   It is now our choice to use what we have in the Lord to receive what we want.
Jesus further revealed to us the characteristics of the Comforter.
John 14 vs. 26 " But the Comforter, which is the Holy Ghost, whom the Father will send in my name, he shall teach you all things, and bring all things to your remembrance, whatsoever I have said unto you".
We are further assured that Christ never abandoned us.  John 14 vs. 27 confirms this. " Peace I leave with you, my peace, I give unto you: not as the world giveth, give I unto you.  Let not your heart be troubled, neither let it be afraid".
Brethren, we need to connect with the Holy Spirit. Many of us ,  even as Christians, are not aware of the ever present help of the Holy Spiri
I give an example.  You are looking for something that you need to use.  You have searched and you could not find it yet you know you have that item.  All you need to do is simply ask the Holy Spirit by saying " Holy Spirit, help me, I am looking for X".  You will be surprised that within minutes, the Holy Spirit opens your eyes and you will find that item.
In the same way, we can ask the Holy Spirit to teach us how to handle every aspect of our life and lead in the journey of life.
It is possible and this is recorded in Isaiah 48 vs. 17 " Thus saith the LORD, thy Redeemer; the Holy One of Israel:  I am the LORD thy God which teacheth thee to profit, which leadeth thee by the way that thou shouldest go".
Now you know that God is able to lead you in the journey of life and also teach you to profit.  I mean profit in your academic work, profit in your marital life, profit in business, in every aspect of life you will profit in Jesus name.
If you suffered losses in 2018, an end has come to losses, prepare for a new dawn not just of profit but an overflow in the Jesus name.
Brethren remember the word of God "  Let not your heart be troubled, neither let it be afraid".
Cast fear out of your life.  Let all forms of fear roll away with 2018.  Be prepared for a new dawn of victory.  Get ready to sing new songs in 2019.
Let's for a moment look back and we'll recall miraculous things that the Lord did in the lives of women waiting on the Lord in 2018.
A woman of 65 gave birth to her first baby at a time when humanly speaking, all hope was lost but with our Lord Jesus there is hope.   God proved himself.  Several other miracles were recorded in many churches.
I'll share with you some testimonies.
This testimony was given by a lady at RCCG " I was pregnant for five months but there was no sign of any pregnancy.  I attended last year's convention; when Pastor Adeboye   said we should sing our own song. I fell under the anointing as I sang and the next day, the pregnancy shot out and people began to ask me if I was pregnant.  To God be the glory, I now have my baby".
Another person also testified to miraculous healing for her son.  She said " Due to my son's state of health, I have been attending the Holy Ghost Service and other programmes since 2003. After the laying of hands at the March special Holy Ghost service, God healed him of mental illness and he has not been taking drugs again".
You can imagine what these people must have gone through but God saw them through.  A new dawn began in their lives.
As you enter the New Year, a new dawn will begin in your life too.
As we pray during the crossover night, let's not forget to thank God for the manifestation of his power in the lives of many people in this country just as we commit the year 2019 into the hands of the Almighty God.
It is important that we pray for our country.  Psalm 122 vs. 6 is our guide " Pray for the peace of Jerusalem: they shall prosper that love thee".
We need peace and prosperity in   our nation and we also shall proper.
Let's resolve to bring more people to Christ.  There is joy in heaven for as many souls as we win for Christ.
I congratulate, Star Actress, Funke Akindele and her husband on the birth of their twins.  Recall that we once mentioned her hear and asked that we pray for her.  Glory be to God that answers prayer.
I also thank God for Mummy Tamilore, a younger sister that God blessed with a baby girl nine years after she had a son.  All Glory be to our merciful God.
May I use this opportunity to thank the Almighty God for his mercy and unconditional love for us all in 2018? This is the last edition of Joyful homes for 2018. See you in 2018 by God's grace.
Greetings to our numerous readers, editors that get Joyful homes published and indeed everyone.
Wishing you all a happy, prosperous and fruitful new year in 2019.
Peace of the Lord is our portion in the New Year in Jesus name.