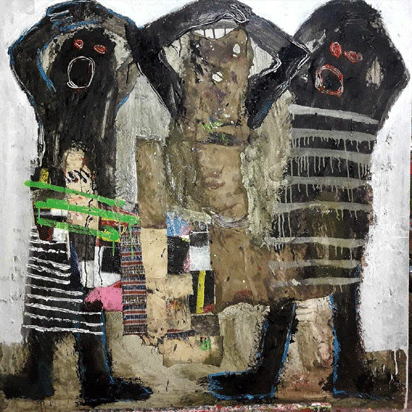 •The Mourners by Bob-Nosa
By Osa Mbonu
Seven years after his last solo, Bob-Nosa Uwagboe is making a comeback with his Obituary series. An artist whose work falls on the radical side of expressionism, Uwagboe, in the new exhibition, continues with his 'Protest Art' mission.
From November 24-Dec 2, 2018, Uwagboe will show his paintings with the title Obituary at Signature Beyond Gallery, Awolowo Road, Ikoyi, Lagos. The artists says the boldness in the title of the exhibition is meant to be of reflective mood and not offensive. In 2011, Bob-Nosa had his debut solo exhibition titled Homme Libre at African Artists' Foundation (AAF), Ikoyi, Lagos.
MTN Pulse Campus Invasion : Ink Eze, Opeyemi Awoyemi, Busola dance into MAPOLY
Uwagboe's paintings of mixed media and sometimes with collage textures draw attention to the sliding values which most African countries, particularly Nigeria, place on human lives. In specific context, the artist is using the body of work in the exhibition to mourn the death of value for human dignity. He is worried that humanity has lost its essence, and needs to be mourned, first and foremost, as a process of recovery.
His works for the exhibition are divided into Obituary series, Yeyeman series and Human Merchandise series.
He depicts the irony of life between the living and the dead in a painting titled 'The Mourners', which he says "is a tribute to the victims of Benue killings and other troubled spots in Nigeria." Uwagboe, whose recent experience as regards losing loved ones notes that mourning has its irony: "those mourners too will be mourned". He advises that "as long as we are alive, we must put our best into whatever we do". He recalls "the deaths of an artist, Ben Osaghae, last year "and my parents as events that changed my attitude towards life."
Highlighting issues of documentation, preservation via photography
As much as he agrees that people don't like to talk about death, some professionals, particularly in the creative sector, should be bold enough to keep this in people's memory constantly for better behaviour of the society at large. Uwagboe's concern for human lives takes him to the issue of tragic story of African immigrants trapped in Libya. He expresses this much in 'Human Merchandise', a series that include paintings and drawings.
Among the series is 'Tortured Youth', which links to what he describes as "disturbing images I saw online during the Libya immigration crisis."
Still on the migrants' crisis, Uwagboe in another painting titled 'Walking Away' indicts poor leadership in Nigeria for "people leaving the country in droves".  He satirizes the leadership in works such as 'Legless Leader' and 'Dying in Power' series. "It means those guys who lost their lives in Libya, for examples, did that as a result of poor leadership in their home countries."I am trying to mourn these poor people, using my art. The exhibition is about mourning the deaths of humanity."
Stan Lee, creator of Spider-Man, dies at 95
As much as the artist's callings in 'Protest Art' requires that he thickens his canvas with raw message, some of the paintings for this exhibition, he explains, "have been toned down". He does such sometimes with bright application of colours in quite a number of spots in select canvases, but says "I couldn't find a better title than Obituary for the exhibition to adequately express my thought."
The exhibition also include some of his oeuvre he calls 'The Police Series', a set of works, though in small sizes, they focus on the role of Nigeria Police as a reflection of the larger society. And then comes 'Purging Series' in which the artist critiques his country's current situation as "so contaminated across generations."  For example, he cannot comprehend what he describes as "the growing quick-fix mentality", particularly among the youths.
Despite his being critical about the impatient attitude of the youths, in other paintings ('Punching Series') he urges the young generation to fight for what belongs to them. Bob-Nosa cites his art profession as an example.
"We must not give up, even within the art profession". He notes that young artists are scared of being successful in the profession that celebrates the masters and established artists more than new talents. Some of his works sometimes come with nudity. There is a link, he explains. "Being nude is part of protest culture, particularly from the Benin area where I come from."
Bob-Nosa is no doubt an artist whose art appears not to have mentorship link to any master or senior artists in Nigeria. "I like mentorship, but I don't believe in discipleship. Every artist should simply 'be himself or herself'.
He however agrees that to be oneself could be tough. "When I chose to pick my kind of identity, collectors were not comfortable, but I stuck to my belief. Today, I am happier. Though it's not much about wide acceptance, but about being happy with what I am doing."
Bob-Nosa's curator, Ekiko Ita Inyang, says his work challenges global political structures. "The exhibition signifies the artist's dispositions towards issues such as irresponsible behavours, reacting to the socio-economic situations."