By Muyiwa Adetiba
I got an early Monday morning call from Senator Bode Olajumoke a while back. It was an invitation for lunch. Not just lunch, but a specific kind of lunch. He pointedly said he was inviting me and a few people to a meal of Amala with ewedu and fresh fish.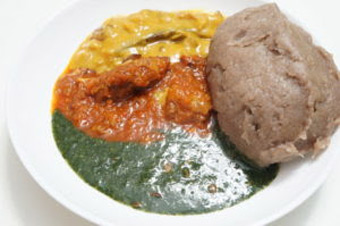 He said it with relish as if it was a high form of delicacy; the way a European of yore, especially of the eastern hue, would relish a meal of caviar. This is not an isolated case. In the past couple of months, I have been invited by people I hold dear to different amala meals.
The choice of meat might differ, but it is almost always accompanied by ewedu soup with gbegiri. It used to be said that the best amala meals were served in local restaurants known as 'buka.' Not any more. More distinguished restaurants and settings now have it on offer. It is now often an eagerly-awaited menu at weddings and social functions. Amala has transcended in a short while from a local meal to a national one; from a staple food to a delicacy.
Amala is made from sliced yam that is dried and ground into powder. The yam, especially in the villages; is often one that is going bad. It is sometimes mixed with dried plantain. It is then stirred in hot water until cooked. The skill is in the powder-to-water ratio and the dexterity of the stirring to prevent lumps. So, there is nothing in the ingredient to put amala above the many Yoruba meals on offer. What has repositioned it is its branding which came recently. Amala, as traditional meals go, is a poor cousin to pounded yam. Growing up, only the rich took pounded yam regularly.
Time for FG to re-establish Education Bank to boost education among youths (2)
It was either amala or eba (gari). Rice was the delicacy that reared its head on Sundays or special occasions. Even then, pounded yam competed with rice and its sister jollof rice, as choice meals at special occasions. In my elementary days, we had this Yoruba poem which categorised the meals of our time. Translated roughly, it said, 'pounded yam is food while amala is medicine. Eko, (wrapped solidified pap) is what you take when you have nothing else while eba (gari) is to prevent starvation.' In other words, amala in my younger days, was not the meal of the rich.
Born to an educationist father who was itinerant because of his occupation, I got acquainted with amala and gbegiri as a staple food of the Ibadan people quite early. Like I said, there was nothing exotic about it. In fact, they had one or two other varieties like 'lafun' that have now been loosely grouped as amala. The branding started when amala became associated with the local politics of a particular Ibadan man.
It represented subterfuge, slyness, cunning or at its best, local intelligence. To be named an apostle of amala politics is to suggest that there is something unwholesome about your brand of politics or ethical standards. It is therefore, not what many adherents would own up to.
As a meal, amala must also have gained some acceptance through the support of some health freaks. It is lighter than (iyan) pounded yam and eba (gari) and therefore sits well in the evenings. It is also said by some nutritionists, to be good for the treatment and control of diabetes.
These combinations have made it acceptable as a social meal whose ascendancy has been quite phenomenal. So much so that when, last month, a small group of friends decided to meet for amala, a young lady of Igbo extraction heard the conversation and screamed in delight at the prospect of an amala lunch and pleaded that she would like to join us.
Omisore's suspension: Fasoranti's group can't speak for Yoruba — Ekiti Afenifere
I belong to a group of largely veteran media people who meet once in a month. Many of us have been friends for over four decades. We have been meeting now for over nine years. The main meal on offer, and for the first five years the sole meal, is amala with gbegiri and fresh fish. The name of the group is, you guess it, 'the amala group;' a name that raises eyebrows anytime a table is reserved for us at social functions.
But given the quality of the members, it is a group many like to affiliate with because it is not just about amala. The convivial atmosphere, the quality of conversation, the variety of input, the depth of knowledge on different topics make the monthly meeting a date many members will do anything not to miss. All these are washed down with old school music and choice drinks.
It is not every amala get together that leaves a sweet taste in the mouth however. Last week, I was hosted to a meal of amala at the Ikeja Golf Club. It was a meeting of a few old friends one of whom was going back to his base in America.
Two things came out of the get together for me. First was the frightening out-of-school children in the country and the fear that many would-be scientists and inventors would never realise their potentials because of education. It was a group of four. Two are steeped in education while the third is a medical doctor. Of the two, one owns a school while the second, a retired Navy Commodore, spent the bulk of his military career in education.
Adeleke is alive, says Campaign Organisation
The description they gave about the declining quality of education and out-of-school children was graphic and disturbing. To illustrate how the country is missing out on the development of future leaders, the Commodore told a story of a young girl of northern extraction in his neighbourhood who was out hawking when she should have been in school. He inquired about her and discreetly arranged to send her to school.
This was over three years ago and to his amazement, the girl had consistently topped her class in examinations. So impressed is he that he has determined he would take her as far as she could go. His identity would only be revealed at her graduation.
The other account involves the medical doctor but also relates to education. The doctor is involved with drug-induced mental illness and runs a rehabilitation centre that is funded by a major church. The picture he painted about the prevalence of drugs in our tertiary education is worrisome. According to him, seven out of ten of students in our private universities are into drugs.
State universities are worse. The situation according to him, is so dire that it would, if left unchecked, be out of control in a short while. Most of his patients are graduates and undergraduates. I promised to visit his setup very soon. I hope I would have the stomach to take in what I might encounter.