Okorocha did not lose anything to Sen Hope Uzodinma. Now, when they   talk of political liberation, I wonder if the state was in bondage; a state where there was free education up-to tertiary education, new roads were constructed and carved out even in the rural areas.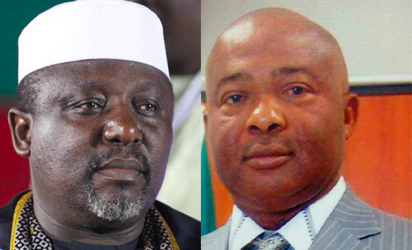 Okorocha will surely be missed as Governor for his massive city reconstruction.
But note that the liberation of Imo took place in 2011." —Dike Philip
"First and foremost,   the outcome of the Imo APC gubernatorial primaries is a clear indication that we are truly republican in nature.
"No man lords it over the masses.   You can do anything against the Igbo (Imo) masses and get away with it, but certainly not imposition and impunity.
"The case of Rochas Okorocha's loss is a case of squandered goodwill. A man who rode to power on the back of mass appeal will be going as a rejected and dejected warlord,   who in the euphoria of victory killed his own people. —Cajetan Akuta
No liberation yet until we see who is coming in. If we are entering into the hand of Ihedioha, Araraume, Hope Uzodinma or Ohakim then we are not liberated. —Igboayaka .O. Igboayaka
Imo state has been liberated from despotism and nepotism.
Zoning will be significant in the upcoming elections. Owerri zone deserve a shot at the Douglas House for equity and fair play
It is left for them to put their house in order and come out massively in support of their own."—Mr. Christian Okororie
Breaking: IMO APC governorship candidate missing as INEC publishes 67 names
I sang the testimony on various platforms that Okorocha's son-in-law losing the APC Guber ticket is indeed a strong relief for the entire populace of Imo state.
"Governor Okorocha's dictatorial display on Imolites are indeed nefarious. His policies,actions and inactions are indeed obnoxious to the entire imolites.—Peter-Charles Nwadike
The masses (Imolites) are extremely happy and excited upon Okocha's inability to anchor the ticket for his son (in-law) and as such that was a positive sign of political liberation for in Imo people.
Governor Rochas Okorocha has disappointed even the generation unborn.
His first four years were   superb although with familiocractic system of govt. But his later, anti-people's policy can never be forgotten in the history of Imo State.—Dan Opara
"Okorocha never lost gubernatorial ticket to Hope Uzodimma, the National Chairman was influenced and did everything to take the hook off his neck by trying to rob Ugwumba of his candidacy but we will recover it at all cost. Ugwumba is the answer and next governor of Imo State come 2019."—Odom Augustin Uche
Brexit deal to be published Tuesday, draft timetable discussed
We shouldn't have short memory in this state, we shouldn't forget in a hurry that the so called liberator was an integral part of the process that brought Rochas Okorocha to power in 2015 with the likes of senator Araraume, Uwajumogu etc.
What Imolites need is a crop of fresh people with fresh ideas other than those recycled politicians of the old."—Franklin Uzowuru
He thinks that Imo State   is his father's housing   Estate that he can control and toy with. But thank God for the kind of people we have in Imo state, and the hand of   God upon the state.   He   wants to create   a dynasty in Imo State   as if he has the final say in the   State, but God proved him wrong.  —Ngozie  Mgbuji
Okorocha is still the one true leader of APC in Imo State and South East at large. All the gang up against him by some cabals are just out of jealousy because of his rising profile."—Wilson Ahamefule
It would be a political liberation if Okorocha loses the senatorial position too… We need democracy not familiocracy"—Manna Ezenwa
"Imo State was not under political bondage,rather encapsulated into the poor governance.
What is been celebrated is but the destabilizing of the Okorocha intended establishment of his political oligarchy and the possible salvation of the State from future maladministration through the emergence of his poorly groomed son in-law.
The effort of Senator Hope Uzodimma is his personal political gain. Imo citizens have never been defeated by the conspirators of evil against the state."—Ugo Stevenson
Electoral Act provisions on donation to candidates unrealistic — Adedipe, SAN
For the record, politics is a game of interest. Hope is not a better leader than Okorocha. And on the issue of losing the gubernatorial ticket to Hope Uzodinma, it is a win for our democracy and not a liberation for Ndi Imo. This is because, I believe in the devil you know than an angel you don't know.—Uchenna Okorie
The scripture is very perfect when it recorded in the book of Ecc that there's time for everything on the surface of the earth, Imo State have had their turn of cruel and excruciating moments in the claws of Gov. Okorocha who sees himself as a demigod and who detects and determines the fate of all Imolites for over 7 years now.
"But behold the collective prayers of Ndi Imo have received an express answer from God Almighty by using the Trio of Ahmed Gulak, Comrade Adams Oshiomhole and Sen Hope Uzodinma to redeem Imo." —Bright Ahamefule
What happened in Imo state is not just about the All Progressives Congress, (APC), but about power returning to the masses that gave their mandate to Gov. Rochas Okorocha,   in 2011 and 2015.
"Just like the APC National Chairman Comr. Adams Oshiomhole stated, Okorocha saw Imo state as his personal enterprise, forgetting the masses that played the vital role in his political career. That was why he insisted on his son-in-law Mr. Uche Nwosu,   imposing him on the people, which is undemocratic and immoral in the eyes of justice and fairness.
Fayose's four-year reign worst ever in Ekiti – Dipe
"I must commed the Deputy Governor, Eze Madumere and others in the Coalition group for fighting against this undemocratic act.
"Imo state is one of the most peaceful states in Nigeria with thousands of intellectuals, and it is sick for one man to feel that he can toy with the intelligence of all, including saying that no other person has the capacity to govern Imo state apart from Uche Nwosu, that's the highest level of insult from Okorocha." —Iheanyi Enwerem