The Edo State Governor, Mr. Godwin Obaseki, has said that his administration will in two weeks' time set up an Advisory Council on Persons with Physical Disability to help implement policies geared towards integrating such persons into the society.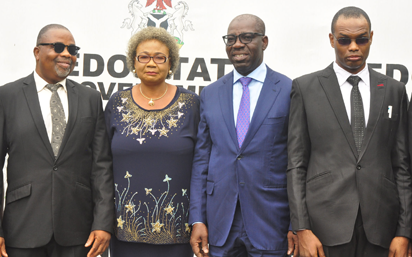 Obaseki said this when he received the Report from the Committee on Integrating Physically challenged Persons into the workings of Edo government at Government House in Benin City, on Tuesday.
He stressed that there was need to put in place a governance structure to monitor the implementation of policies that would make life meaningful for persons with physical disabilities.
"As a society, we should show concern and empathy for the most vulnerable persons and among this category are persons with physical disability" he said, and assured that "we will ensure that all of our programmes will have components for persons with special needs".
He commended the committee for its report and said that the data generated would help the state government in its policy formulation.
He further said that his administration would also work on a policy that will allow employers of labour engage persons with physical disabilities at their workplaces.
Presenting the Report to the governor, chairman of the committee, Dr. Vivian Audu, said about 3,015 physically challenged persons were captured during the state-wide survey.
https://www.vanguardngr.com/2018/11/ozone-layer-is-healing-new-un-report-says/
Audu said majority of those sampled were between ages 18 to 51 and had primary education.
She recommended empowerment in the forms of skills acquisition and interest-free loans, saying "when they are empowered they will not be a burden to themselves and the society.
She also recommended that a policy that would make 10 per cent of persons with physical disabilities employed in workplaces should be formulated by the government.
https://www.vanguardngr.com/2018/11/unido-edo-govt-to-construct-2mw-micro-dam-in-benin-city/