By Henry Umoru
ABUJA- SENATE President, Dr. Bukola Saraki has urged Nigerians to use the opportunity of Prophet Muhammad's birthday celebration to show love to one another and imbibe the virtues of perseverance and restraint.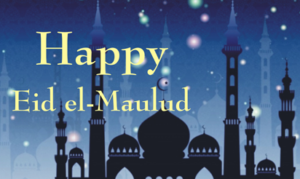 In a message by his Special Adviser, Media and Publicity, Yusuph Olaniyonu to commemorate this year's Maulud's anniversary, the Senate President congratulated the Muslim Ummah on the birthday of the Holy Prophet and said that the occasion should inspire Nigerians to renew their belief in the Almighty Allah and the country.
Saraki charged Nigerians, particularly Muslims to always emulate and promote the virtues of Prophet Muhammad which include honesty, love for others and peaceful co-existence, saying "He, Prophet Muhammad preached and lived for peace and was revered and widely followed for his honesty and perseverance".
According to him, the Maulud, would not have come at a better time than now when the country is about to conduct elections, "this year's Maulud has come at the most appropriate time for Nigerians to use it in praying for peaceful, free, fair and credible elections."
"In all our campaigns, let us strive to live by the teachings of the Prophet Muhammad among which is to show respect for one another, irrespective of our political affiliation."
https://www.vanguardngr.com/2018/11/fela-durotoyes-presidential-campaign-kicks-off-with-social-impact/