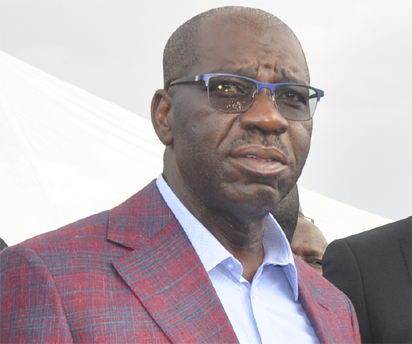 Edo State Governor, Mr. Godwin Obaseki
The Edo State Governor, Mr. Godwin Obaseki, has said that his administration's commitment to the development of an industrial park, a modular refinery and the Benin River Port in the state, will accelerate Africa's industrialisation drive.
Obaseki made the submission in commemoration of Africa Industrialisation Day celebrated on November 20, each year by the United Nations and its partners.
According to the governor "industrialisation holds the key to Africa's prosperity and with ongoing continent-wide conversation about Africa Continental Free Trade Agreement (AfCFTA), any part of the continent that wants to benefit from the agreement must strengthen her industrial base."
He assured that "when the Benin Industrial Park and the Benin River Port come on stream, more jobs will be created for Edo people and residents, while a robust product processing base will be established to add value to goods produced in the state.
Obaseki noted that the 2018 Theme for the Africa Industrialisation Day: "Promoting Regional Value Chains in Africa: A pathway for accelerating Africa's structural transformation, industrialisation and pharmaceutical production," highlights his administration's supports for policies and programmes which envision sustainable development for the state.
https://newlive.vanguardngr.com/2018/11/buhari-determined-to-sustain-basic-education-funding-says-minister/
He said parts of the plans to support industrialisation in the state include sustaining the tempo in providing enabling environment that encourages local and foreign investors willing to site their industries in the state, and by, "focusing on improving employability of youths through technical and vocational education and other skills development programme organised by EdoJobs.
"The transformation of Edo Geographical Information Service (EDOGIS) agency is aimed at ensuring investors acquire land to support the state's industrial growth with ease, while we continue to support human capital development, research and development (R&D), technology and governance.
For the United Nations (UN), "Industrialisation, with strong linkages to domestic economies, will help African countries achieve high growth rates, diversify their economies and reduce their exposure to external shocks, which will substantially contribute to poverty eradication through employment and wealth creation."
https://newlive.vanguardngr.com/2018/10/buhari-signs-instrument-on-accession-to-vienna-convention-on-road-traffic-1968/