By Dr Ugoji Egbujo
Politics must  need a basic minimum of decency. Not necessarily altruism, but some minimal  sense of shame. So that children  are spared disgrace when they read about their fathers and  their  days of greatness. These politicians are fathers and mothers too.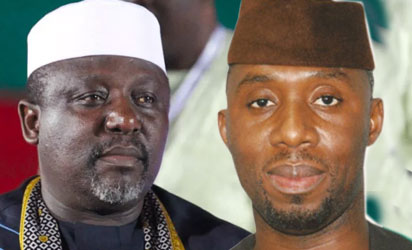 Sometimes they don't seem like those figures that spent every breath teaching us good manners. I know some fathers failed terribly those days. But they are a little different from these noble politicians who seem all too happy to   play the role of scoundrels, in public.
The recent political party primaries  revealed an inner rot. The average Nigerian  politician is still potentially a ruthless ballot box stuffer. The primaries left many ordinary people hopeless.  In every party,  noble men told barefaced lies  and forged documents and results. The sort of conducts which, if found outside of politics,  would amount to despicable crimes.
We'll transform Kwara– Abdulrazaq
We thought we had left falsification of results behind. And advanced to vote buying. The primaries revealed we had only papered over the cracks.   Figures  were freely cooked.  Imaginary  elections, supposedly held at midnight,  were freely legitimized by oaths taken by men of high repute  the morning after.  Candidates, who had paid huge application fees, were effortless disqualified, excluded.
In Imo, one  Gulak  was sent to supervise the primaries. He went there and tried to take politics back to  the Stone Age.  On the morning of the primaries he was no where to be found. He had disappeared from his hotel.  He said  he feared he would be attacked. He ran to Abuja to announce the results of direct primaries no one knew where he conducted it.  He said it ran although the night in the wards. But that wasn't astonishing.
Weeks after the perfidy,  and after his  fabricated results had been disowned by the party, he found the temerity to come to television to demand a validation of the farce.   One would have thought that when the sham was cancelled he would sneak into a hole and let the stench  of his foul play blow away.  But no.  Taboos are dead.
The starkness  of it all was the picture of the degeneracy of our politics. That a political party found  any Gulak worthy of such an assignment must speak of incoherence at its core.  That he did it and  didn't receive any  immediate sanctions  must worry those who faintly believe that political parties would yet be the vehicles for national development and moral regeneration.
But Gulak wasn't all that troubled Imo APC. At the epicenter of the turmoil was a governor whose philanthropy doesn't extend to politics. Had Rochas Okorocha sought to leave  a lasting political legacy rather than build a shambolic political  dynasty, Imo  APC primaries would have gone smoothly. And I do not suggest that he should have surrendered  power to those who once thought he was an Okoroawusa. Those latter day APC lovers,  who came after demonizing  the party and those  who built  it in the state should wait a while.  I know  these parties themselves are desperate. They want to win elections. So they can welcome soulless mercenaries.  But  fair weather party men who joined the 'Islamic party' after they had martyred the reputations of the founders ought to have been made to do penance at the back benches.
Rochas Okorocha could have risen above nepotism. How couldn't he  have found   a brilliant capable,  loyal,   young man or woman  from Owerri zone? Anyone who found Zuma and Johnson Sirleaf and built statues for them cannot be shortsighted. So how did he fail spectacularly to see what even the blind saw in Imo?   Once he got stuck to his son-in-law he got stuck desperation.
Okorocha appeals reinstatement of deputy gov, Madumere
Okorocha wasn't born a royal. His romance with power cannot  therefore be genetic. His bizarre  insistence to keep the governorship of Imo state in his family has emboldened resistance inside and outside Imo state. And made  bigoted cowards of 2015 heroes of 2018. Okorocha knows 'biri ka mbiri,' live and let live; but he hasn't allowed that time- tested wisdom to restrain him.
So immediately  Gulak shocked everyone with his abracadabra, Okorocha responded with his own magic.  With the help of the remnant of the Gulak committee a governorship primaries election result was conjured and sent to Abuja. With an Okorocha who wants to have it all, Gulak and Hope Uzodimma are now freedom fighters.
I don't know what Oshiomhole told Okorocha indoors. But, I guess he must have told him that an  eagle that has perched  should  allow the kite to perch. So that they can all roost in peace and political prosperity. I don't know what Okorocha must have replied. But, the midnight attempt to unseat Oshiomhole was a very bad move. It tended to validate the 'fly-by-night' methods of Gulak which Okorocha christened,  'Gulakian democracy.'
However it ends, one thing is indubitable. Okorocha armed his opponents. He armed them with bazookas.  Even if he manages to install his son-in-law as governor, he has damaged the reputation of charity  and selflessness which he managed to build over the years.
The 'rescue mission' needs an urgent rescue.
Oshiomhole inherited a chaotic situation. The party congresses had held. In many states shams were hurriedly legitimized by the outgoing  national working committee. So before  Oshiomhole  came party structures in  many states had been hijacked by one of many contending groups. In some states the outgoing NWC left utter confusion, naked stalemate.
Paris Club refund: Okorocha confirms receipt of N12.6 bn
In Imo,  results of congresses were transmitted to Abuja even though no congresses held. Oshiomhole   tried to tip toe around the minefields. He ordered repeat congresses in Imo and a few other states.  All that became visible was arbitrariness. No healing took place. The party structures  only switched hands.  No cohesion was forged.  If the party had a clean register of members,  open direct primaries could have leveled the playing field.
But nothing worked in Imo because at every stage those who came as supervisors were of the tribe of Esau. And the resident governor played emperor rather than father.
In the Imo APC primaries everything wrong with our politics came to the fore.
Subscribe for latest Videos