… as rescue operations continue
By Egufe Yafugborhi
PORT HARCOURT— RELATIVES of victims trapped in the seven-storey building that collapsed in Port Harcourt, Rivers State, continued to keep vigil at the site as rescue operations continues.
Wike tasks INEC on credible elections in 2019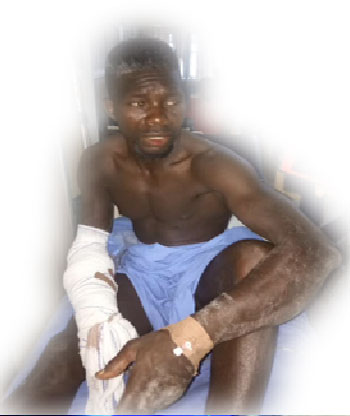 At press time yesterday, no fresh body or survivor had been pulled out of the rubble.
Meanwhile, at the Braithwaite Memorial Hospital in Port Harcourt, 39-year-old Emmanuel Ikuje, one of the earliest rescued survivors, explained how he escaped death.
Ikuje, a Benue indigene, said: "I have been doing oil works for such big projects for years. What I have seen is one or two floors collapsed due to defects. I have never encountered a case where entire floors of a seven-storey building crumble to the ground.
"I narrowly escaped. I cannot give exact figures of people on the ground floor waiting to be paid by the project owner. Suddenly, the house came down on us, majority crowded at the front entrance area.
"I tried escaping, but the beam dropped towards me and it struck me down by my right arm and a mix of sand and broken concrete covered me. I found breath to shout for help. After minutes of digging around much of my buried body, I came out alive."
21-year-old Elijah Benjamin, a plumbing apprentice, was rescued with a suspected broken spine as doctors probe into his case at the BMH where he lay motionless on a stretcher when Vanguard visited.
His mother, Gift Benjamin, who hails from Akwa Ibom, told Vanguard, "He can't move his body. They are telling us his spine is affected and he can't open his mouth.
"He was supporting his boss on plumbing at the building site. That his Oga is still trapped inside."
John Paul, 39, from Plateau state, another artisan rescued alive couldn't talk from the pains of bruises sustained.
Paul's elder brother, Francis Pam, however, disclosed that, "His case is not too serious and the doctors have been giving him meaningful attention since the government first moved some of them to a private hospital before transfer to BMH. It is well. We thank God"
Meanwhile, a National Emergency Management Agency, NEMA, personnel on the continuing rescue operations, yesterday, said there was still a ray of hope for people to find trapped relatives.