By Soni Daniel, Abuja
Apparently worried that the democratic progress so far recorded  by Nigeria could be torpedoed if the 2019 presidential  election in the country does not produce a credible and acceptable result, the United Nations  (UN) has opted to meet with some influential Nigerians and explore ways to ensure  the success of the country's general elections.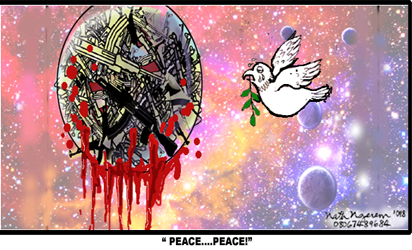 The meeting, Sunday Vanguard learnt, last night, is scheduled for the middle of December in the Federal Capital Territory, FCT, Abuja,  and will be attended by what the UN calls 'respected voices' in Nigeria such as former Heads of State, current governors, lawmakers and other political and religious actors.
A UN source in Abuja, who confirmed the development to Sunday Vanguard, said that the UN Special Representative  to West Africa and the Sahel,   Mohammed Ibn Chambas, had already given approval for the peace parley after meeting with President Muhammadu Buhari, the PDP National Chairman, Mr   Uche Secondus, some party leaders, governors and leaders of the legislature last week.
"We acknowledge the achievements recorded by the National Peace Committee in Nigeria before and after the 2015 elections, and we just want to build on that momentum to ensure that the next general elections  in Nigeria come and go  peacefully and the results are accepted by the winners and losers without any crisis," the UN official explained.
"In essence, the UN wants to drum into the heads of all Nigerians that they must do all they can to bring about  credible, free and fair polls whose result everyone at home and abroad would be proud of so as to take the Nigerian democratic success a notch higher.
"That is why we are looking at those who have positive influence in the country like former heads of state, serving and former leaders and some religious and traditional leaders, whose voices are well respected to be part of the peace conference we are putting up in the middle of December."
https://www.vanguardngr.com/2018/11/2019-apc-says-kwara-politics-has-taken-a-new-direction/
The planned meeting comes a day after the Peoples Democratic Party, PDP, raised the alarm that the APC-led administration was planning to scuttle the 2019 polls, especially the presidential election, and plunge the country into avoidable violence and called the UN to intervene before it was too late.
Although the party did not provide the evidence of how the APC government planned to torpedo the  elections, it, however, said that the Presidency was militarizing elections in the country and making it impossible for a free contest.
But the APC immediately dismissed the allegation as untenable and baseless and said that it did not require any response from the opposition party.
https://www.vanguardngr.com/2018/11/south-east-has-right-to-develop-along-other-regions-osinbajo/