By Felix Ayanruoh
The Delta State Capital is a one-time colonial capital of the Southern Nigeria Protectorate, strategically located on a hill at the western edge of the Niger River, overlooking Onitsha, across the Niger Bridge. The city is a complex hive of human activity that highlights all that's inspiring and beautiful about modern life and it's historical past.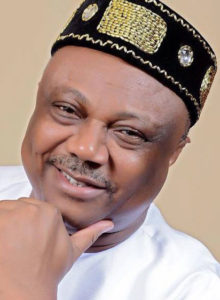 2018 results forecast: Cowry Asset expects companies to maintain 2017 dividend payout
Like any state capital, it is more than any other city in the state. It is the seat of government for Delta State. It connects our hopes and dreams, representing the wishes and aspirations of all Deltans, defining our essence as one people, though tribes and tongues may differ, Asaba is the symbol of our unity as a people.
As the engine room where policies, innovation  stream forth to affect all nooks and crannies of the state, it is the expectation of every single Deltan that our state capital Asaba should be the epitome of development, a model for infrastructural epitaph and centre for trade and commerce.
However since 1999 when the the Peoples Democratic Party, PDP-led government took over the rein of governance of the  state, the capital has remained an epicentre of infrastructural decay and deterioration, which is more evident in densely populated parts, characterized by slum, overcrowding, under supply of public amenities, bad roads, and u flood among others.
We expect extremes in capital cities — except in the case of Asaba which is all too often viewed as one, big, monolithic mess. Folks and strangers elsewhere can't even imagine the existence of overwhelming flood with the Niger River nearby in a state blessed with both human and natural resources.
Unlike neighbouring states capitals with revitalized districts sizzling with creative fervour, that exudes prosperity, charm and bustling city centre neighbourhoods along with extensive urban renewal plans, Asaba capital city is a conglomerate of false starts and failures by the present and past PDP-led administrations.
There are gaps in infrastructure, housing, road network, healthcare, law enforcement, schools, transportation — on a massive scale not seen in many other state capitals in the Niger Delta region.
These glaring deficiencies in our beloved capital city occupies a big part of the beautiful mind of Chief Great Ovedje Ogboru, Delta State All Progressives Congress, APC governorship candidate. Ogboru has given deep and contemplative thoughts on how to position Asaba as a resurgent city that will be beneficial to all Deltans.
The Ogboru-led government will on inauguration kick start the already prepared plan that will lift the city from its present state to one that all Deltans will be proud of.
The People's General will carry out a holistic review and overhaul of the Asaba Capital Territory Development Authority Agency, ACTDAA, to play the lead role in infrastructural renewal. So far, this agency only functions in the minds of its creators, nothing substantial and sustainable is on ground after almost four years of its creation.
The recent election year roll out of construction and rehabilitation of roads by the Okowa-led government is a testimony of the failure of his government and disdain for the capital city. The ability of any city to create employment for its residents is a factor that will always sustain the essence of the city and its capacity to attract developed human capital.