The Market indices of the Nigerian Stock Exchange (NSE) dropped marginally on Tuesday by 0.08 per cent, reversing the previous day's gain.
The All-Share Index dipped by 27.26 points or 0.08 per cent to close at 32,417.70 compared with 32,444.96 achieved on Monday.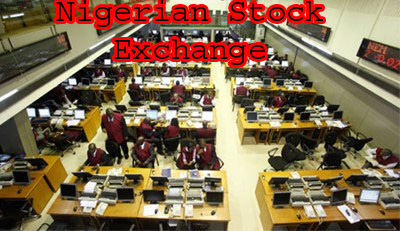 Similarly, the market capitalisation, which opened at N11.844 trillion, shed  0.08 per cent to close lower at N11.834 trillion against N11.844 trillion on Monday.
Unilever recorded the highest price loss of N3 to close at N42 per share.
International Breweries trailed with a loss of N2 to close at N30.50, while Nigerian Breweries also lost N2 to close at N88 per share.
Northern Nigeria Flour Mills declined by 60k to close at N5.90, while Presco dropped 35k to close at N53 per share.
Conversely, Nestle led the price gainers' table with a gain of N5 to close at N1,405 per share.
Okomu Oil Palm followed with a gain of N2.60 to close at N75.80, while CAP gained N1.55 to close at N30 per share.
Cadbury added 65k to close at N10.30, while Guaranty Trust Bank grew by 45k to close at N37 per share.
Newsmen report that the volume of shares traded grew by 189.29 per cent in spite of the drop posted by the market indicators.
Consequently, investors exchanged 349.53 million shares worth N1.46 billion in 2,832 deals.
This was in contrast to the 120.82 million shares valued at N1.34 billion achieved in 2,662 deals on Monday.
Royal Exchange Assurance dominated trading activities, accounting for 231.65 million shares worth N48.65 million.
FCMB Group followed with 26.22 million shares valued at N44.61 million, while Guaranty Trust Bank traded 12.29 million shares worth N450.19 million.
Fidelity Bank exchanged 11.37 million shares valued at N20.64 million, while Zenith International Bank sold 6.63 million shares worth N144.89 million.
NAN