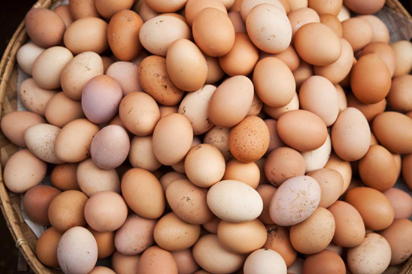 Eggs
By Michael Eboh & Fortune Eromosele
The Poultry Association of Nigeria, PAN, has stated that Nigeria would record an annual revenue of N620 billion and a daily revenue of N1.7 billion, if 50 per cent of its population consumes at least, an egg per day for one year.
In a presentation in Abuja, yesterday, National President of PAN, Mr. Ezekiel Mam, stated that despite its immense economic potential, eggs can also play an important role in eliminating global hunger by providing a high quality source of protein.
Mam, who was represented by the Director General of PAN, Mr. Onallo Akpa, noted that currently, an average Nigerian consumes 70 pieces of eggs annually, adding that if Per capita consumption of eggs increased to 100 eggs per person per year, annual revenue from eggs would rise to N340 billion.
He said, "The egg industry all over the world is very strategic to the politics and economic development of any country. In Nigeria, the political economic importance of the poultry industry evidenced by the fact that poultry industry has been consistently contributing over 25 per cent to the Agricultural GDP of the national economy.
'In order to achieve the objectives of the Millennium Development Goals, MDG, and the Sustainable Development Agenda ahead of us, the importance of poultry products, especially chicken and eggs, which contributes about 36.5 per cent of the protein intake of Nigerians would need to be taken seriously. Eggs and chicken are critical pillars to the successful attainment of the MDG for agriculture and health.
https://newlive.vanguardngr.com/2018/10/afdb-approves-10m-for-capital-market-operations-energy-infrastructure/
"In Nigeria, with rapid population growth, and with high level of poverty and insecurity, how do we feed the population with food that contains the required nutrients and vitamins that the citizens could afford? Egg is the answer."
Mam further stated that in the biological values of different sources of protein, egg holds the second highest valued protein with an estimate of 93.7 percent after the natural breast milk, which have 100 percent.
He also added that PAN had continued to deliver life changing projects in some of the most impoverished areas of the country, pointing out the work of the Association demonstrates the egg industry's commitment to sustainable development and eradicating food poverty.
He quoted a report of the Harvard School of Public Health and other experts, which stated that there was no relationship between egg consumption and cardiovascular disease as it is saturated fat that raises cholesterol rather than dietary cholesterol.
"The moderate egg consumption, which is defined as one egg per day is not associated with increased risk of heart disease," he explained.
Mam lamented that there is no government investment in the poultry industry, as all are privately driven, and therefore beckons on government as a matter of policy to resuscitate national programmes that would assist to ameliorate the health of Nigerians using egg as part of the country's nutritional program.
https://newlive.vanguardngr.com/2018/09/nigeriall-faithfully-implement-sdgs-buhari/