Lagos – Rev. Adewale Elias, Zonal Superintendent, Foursquare Gospel Church, Cement Zonal Headquarters, has appealed to the nation's leadership to return to the vision of Nigeria's founding fathers, for better integration.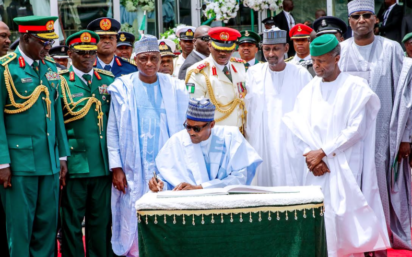 Elias, during the Independence Day rally organised by the church on Monday in Lagos, said that division among Nigerians along ethnic and religious lines was getting wider and needed to be corrected by the nation's leadership.
He said that several Nigerians were no longer enjoying the freedom, liberty and unity that the founding fathers fought for during independence.
"Our government should go into the archives and see what freedom means.
"What we know about Nigeria in the past is that United We Stand. Let our political leaders come to the roundtable and go back to how we started, look at our constitution and uphold it,'' Elias said.
The cleric called on the National Assembly to evolve laws that would make institutions work and make both leaders and citizens accountable, to attract speedy development to the nation.
He appealed to President Muhammadu Buhari to intensify his fight against corruption and make it all-inclusive, for Nigeria to be great again.
Elias appealed to the President to evolve programmes that would unify all Nigerians.
"What has not been happening in the past 30 years has started happening, which is a surprise to so many of us who saw Nigeria in the 60s and 70s.
"We attended the same primary, secondary schools and tertiary institutions with Moslems and we did not have any problem. We loved each other as one and worked together in unity.
"We did not discriminate along religious and ethnic lines, but in the last 10 years, we have begun to see divisions leading to various conflicts.
"This has created disunity in the military, government and among different people, giving birth to Boko Haram and other groups.
"The menace has crept into various regions.
"The solution is for individuals to begin to develop act of love for each other.
"Both Islam and Christianity preach love for one another, and both religions do not support killing,'' he said.
The cleric said Nigeria is a secular state and all religions had the right to propagate their beliefs, as the people have a free will.
He said that the Independence Rally organised by the church was to create awareness on the real freedom that only Jesus offers.
"We are having this rally for kingdom expansion, to let people know about our church programmes.
"We are using the rally to invite people to the freedom Jesus gives.
"As long as you refuse to serve Jesus, you will remain in bondage. Come and join us at the Foursquare Gospel Church at our programme titled, "No More Shame'', this Friday at Orisumbare in Idimu, Lagos,'' he said.
Elias called on all Christians to continue to pray for unity and greatness of Nigeria. (NAN)