THE Senate and House of Representatives made a dream resumption for legislative business after over two months of annual recess which they embarked upon on 24th July 2018. They were supposed to resume on Tuesday, 25th September 2018 but had to defer it due to political obligations.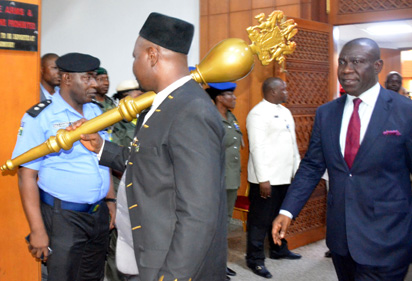 Ordinarily, that the two chambers of the nation's legislative arm resume after a prolonged break should not be a big deal. But in this case, great anxieties had built up because some leaders of the Senate and House of Representatives had switched political parties, triggering raucous clamours for the election of new leaders.
The President of the Senate, Dr. Bukola Saraki and other senators had defected from the ruling All Progressives Congress (APC) to the main opposition People's Democratic Party (PDP). The Minority Leader of the PDP, Senator Godswill Akpabio, had also resigned to join the APC. Other defections in the House of Representatives took place, topped by the switch of the Speaker, Hon Yakubu Dogara, from the APC to the PDP.
https://www.vanguardngr.com/2018/10/real-estate-firm-holds-home-property-fest/
The National Chairman of the APC, Comrade Adams Oshiomhole and many leaders of the Party, had vehemently pushed for the removal of Saraki and Dogara from office and their replacement with presiding officers from his party as, according to them, APC still had the majority in both chambers. In particular, the Senate Leader, Senator Ahmed Lawan who most likely stood to gain from leadership change insisted that since Nigerians voted for the APC, it must be allowed to control the National Assembly.
However, when the doors of the federal parliament were thrown open on 9th October 2018, Nigerians were pleasantly surprised to see a calm and sobre resumption of legislative business. In fact, the main business at the Senate was the quality attention paid to the 17 letters from President Muhammadu Buhari as well as his request for N346 billion to fund the budget of the Niger Delta Development Commission (NDDC).
Perhaps, the outcome of the primaries, especially in the ruling APC in which the fates of many candidates were left hanging helped douse the zeal to pursue the APC's agenda for leadership change. Perhaps, the party realised it did not have the numbers to achieve that purpose. That the lawmakers have put aside partisan differences and focused firmly on pending urgent national assignments is a win-win for all. We had strongly advocated for this. The time and resources that would have been spent in a selfish yet quixotic quest for leadership change is now being put to public good.
The National Assembly must continue to shun partisan politics and work closely with the Executive for the good of the nation for the remaining period of their tenure.
https://www.vanguardngr.com/2018/10/apc-primaries-ganduje-inaugurates-12-man-reconciliation-committee/